Published: Saturday, September 11, 2010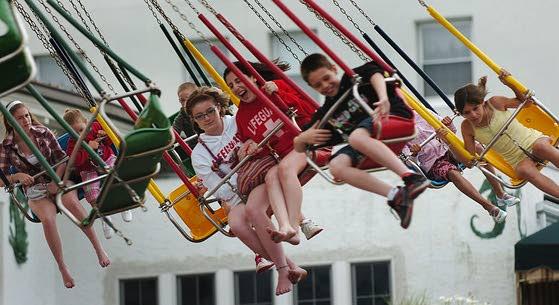 Playland Castaway Cove in Ocean City. (The Press of Atlantic City / Ben Fogletto)
Fall into fun
By MICHELLE BRUNETTI POST, Staff Writer
Labor Day may be over, but for local moms and their kids, the fun just keeps coming.
Today alone, there are so many great events for families it's tough to pick which to attend. There's everything from a Pirate Day Celebration on East Bay Avenue in Barnegat, to a Kite Festival on the beach in Cape May. And with fewer people around, there's less competition for everything from parking spaces to rides, food and entertainment.
Kate Warden, of Ocean City, and her 8-year-old daughter Aislyn will be going to Funday at Playland's Castaway Cove at 11th Street and the Boardwalk in Ocean City, where Aislyn's favorite ride is the Double Shot that drops her from 110 feet in the air. They'll be having a great time for a cause - raising money for the Ocean City Humane Society's special needs animal fund. For $10 per person, they'll get wristbands giving them unlimited access to all the rides at Playland from 1 to 5 p.m.
"We plan to take two to three of Aislyn's friends with us to the Playland event this year," said Warden, a shelter worker. "We'll do the rides, get ice cream on the Boardwalk and take a run down on the beach. We tend to do most of our Boardwalk activities in late spring, early summer and in fall. It's a more relaxing time for parents and kids."
"Local residents appreciate that we do this after the season," said Kevin Fischer , assistant manager of the Humane Society, of the third annual event. He said the agency will have information available there about special needs animals that have been helped and adopted, and those now being treated at the shelter.
Executive Director Bill Hollingsworth said last year about 900 people attended the event, raising several thousand dollars for the shelter's animals with medical conditions, such as heartworm problems and injuries that require surgery or special equipment.
Shannon Giunta of Somers Point will be attending the 10th annual Dean Randazzo Cancer Foundation's Surf for a Cause and Beachfest with her sons Nicholas, 12, and Vincent, 10.
"This is the third or fourth year they have participated. A lot of their friends do it. They do surf contests all summer long, but this is the big one and they look forward to it every year," she said.
The daylong event starts at 8 a.m.and runs to about 3:30 p.m. on the beach at Decatur Avenue in Margate, to raise money for cancer research and awareness, and provide financial and emotional support for people battling the disease. There's a surf contest, a volleyball tournament, a 5K beach run, a family run/walk, and an after-party starting at 4 p.m. at Ventura's Greenhouse deck on Benson Avenue. Registration to participate starts at 7 a.m., but families who want to come down to watch the surfing and volleyball can stop by any time, free of charge, said Dan Cellucci, president of the foundation.
"Bring a beach chair and stay all day. The Clay Station (of Egg Harbor Township) will be there doing pottery for kids," he said. "Reds Jersey Mex Cafe in Ocean City (formerly Rojo's) will be selling Mexican food. The owner donates 100 percent of his proceeds back to the foundation."
Giunta said when her sons were younger they went just to watch the surfers, and there was plenty to see. "There are constant heats going on throughout the day. There's always somebody to watch in the water. "
Beach activities are free, but there is a $25 admission fee to the after-party, which includes a buffet of Ventura's food, he said.
Hundreds of families will go to the 31st annual Good Old Days Festival at Kennedy Park in Somers Point. The free event opens with a 9 a.m. 5K "Run for Bud," then goes on from 11 a.m. to 6 p.m. with live music on two stages, games, and food. Shuttle bus service is available, and money raised funds scholarships for graduating high school students from Somers Point.
And fun like that will continue well into Fall.
Next Saturday, Sept. 18, the Wings and Water Festival at the Wetlands Institute in Stone Harbor opens. It gives families the chance to learn about the natural world in southern New Jersey, while sampling food, art and crafts of the region. That same day, the New Jersey State Fireman's Convention Parade will be held in Wildwood Crest along New Jersey Avenue, the perfect event for little tykes who are in love with fire engines and big equipment.
Then Sunday, Sept. 19, take your little ones to the "Lightning on the Water" powerboat race at 4 p.m. in Atlantic City, sponsored by the Offshore Powerboat Association, from Delaware Avenue near Trump Taj Mahal to Albany Avenue and back.
And there's so much more. For a full listing of family-friendly activities from today well into fall, click on this story at www.pressofatlanticity.com.
Contact Michelle Brunetti Post:
609-272-7219
Family friendly events
Today
Pirate Day Celebration: Daylong festivities along East Bay Avenue in downtown Barnegat kickoff 9 a.m. with patriotic procession to Birdsall Street for 9-11 observance ceremony, live music, children's entertainment, produce market, vendor and craft fair to 4 p.m.; evening entertainment 6 p.m. on public dock on East Bay, live music, on-water pirate reenactment, fireworks at dusk, shuttle buses from parking lots at Town Hall and St. Mary's parish on West Bay Avenue. http://www.barnegatchamber.com" target= "_blank">www.barnegatchamber.com
"Winnie the Pooh": Children's theater, 6 p.m., at Surflight Theatre, Engleside and Beach avenues, Beach Haven, $10, reservations suggested. Call 609-492-9477.
Kites over the Cape: Kite festival, 10 a.m. to 5 p.m., Decatur to Gurney streets, on the beach in Cape May, national champion kite makers and fliers, many free children's activities.
Atlantic County Great Strides 5K Race and Fair: Cystic Fibrosis Foundation benefit, 11 a.m., registration 10:30 a.m., Estell Manor Park, Route 50, $25. 609-271-9511.
Surf For A Cause & Beachfest: Dean Randazzo Cancer Foundation fundraiser, 8 a.m. (7 a.m. registration), Decatur Avenue beach in Margate, surf contest, volleyball tournament, 5K beach run, family run/walk, after party at Ventura's Greenhouse deck, 106 S. Benson Ave., registration fees and information call 609-226-2982 or visit http://www.deanrandazzocancerfoundation.org" target= "_blank">www.deanrandazzocancerfoundation.org
Second Annual Host Family Event: For families hosting with Cultural Care Au Pair or families interested in learning more about the au pair program, 3 to 6 p.m., Gillian's Wonderland Pier, Ocean City. 609-705-5841 or visit jpetinga.aupairnews.com
Funday at Playland's Castaway Cove: Humane Society of Ocean City benefit, unlimited rides with purchase of $10 wristband, 1 to 5 p.m., 11th Street and the Boardwalk, Ocean City.
Good Old Days Festival: Scholarship fundraiser, 11 a.m. to 6 p.m., Kennedy Park in Somers Point, "Run for Bud" 5K run at 9 a.m., live music on two stages, games, food, shuttle bus service available, bring lawn chair, free admission. www.spgoodolddays.com
"Disney's Alice in Wonderland Jr.": Kids at Cumberland Players production, 7 p.m. Saturday, Sept. 17 and 18; 2 p.m. Sunday and Sept. 19, Little Theater, Sherman Avenue, Vineland, $10. 856-692-5626 or http://www.cumberlandplayers.com" target= "_blank">www.cumberlandplayers.com
Sunday
Night at the Movies: "Raiders of the Lost Ark," 8 p.m., Kennedy Plaza on the Boardwalk, at Mississippi Avenue, Atlantic City, free. 609-344-8338.
Children's Back to School Party: 2 p.m., Eagle Theater, 208 Vine St., Hammonton, $10, $8 seniors and children 12 and younger. 609-704-5012.
"Family Fun Days": Arts and cultural programs for families, Sundays through Dec. 26, Wheaton Arts and Cultural Center, 1501 Glasstown Road, Millville, free admission for children 17 and younger, open 10 a.m. to 5 p.m., $10 adults, $9 seniors. 856-825-6800 or 800-998-4552 or visit http://www.wheatonarts.org" target= "_blank">www.wheatonarts.org
Richard Somers Day: 3 p.m., on the grounds of Somers Mansion at the Somers Point Circle, parking at Gregory's Restaurant, Mac's Restaurant old lot and Footmarks, all along Shore Road in Somers Point, rain location City Council Chambers, City Hall.
Sept. 18
Mutt Strut: Animal Outreach Shelter Building Fund benefit, 8 a.m. to noon, rain or shine, Cape May Beachfront Promenade, Beach Avenue, Cape May, register 8 a.m. outside Convention Hall, $1 per leg ($2 per person, $4 per dog), children younger than 10 free with adult, door prizes, auction, giveaways.
Boardwalk Family Fun Fest: 9 a.m. to 6 p.m., Sept. 18 and 19, juried craft show, face painters, pony rides at 11th Street, Ocean City.
Air Festival Weekend: Sept. 18 and 19, Municipal Airport, 26th and Bay Avenue, Ocean City, 10 a.m. to 3 p.m. Sept. 18, ground display, exhibits, model airplane demo, antique car and truck display; Aerobatic Air Show 1 to 3 p.m. Sept. 19 from Sixth to 14th streets over the ocean and Boardwalk. 609-525-9223 or 609-525-9300.
Wings N' Water Wildlife Festival: 10 a.m. to 5 p.m. Sept. 18 and 19, Wetlands Institute, 1075 Stone Harbor Blvd., Stone Harbor, free trolley shuttle to sites in Avalon and Stone Harbor. $12 adults, $5 children, two-day admission. 609-368-3871 or www.wetlandsinstitute.org
Annual New Jersey State Firemen's Convention Parade: 1 p.m., from Crocus Road in Wildwood Crest, along New Jersey Avenue (viewing stand at 17th and New Jersey Avenue), to North Wildwood, prizes presented at the Wildwoods Convention Center at 8 p.m. 856-433-0386 or njfireconvention.com
Sept. 19
"Lightning on the Water": Powerboat race, noon to 4 p.m., Offshore Powerboat Association race on a four-mile oval from Delaware Avenue (north of Trump Taj Mahal) on the north end to Albany Avenue on the south end, Atlantic City, free.
Sept. 24
Irish Fall Festival: Sept. 24 to 26, along Olde New Jersey Avenue, North Wildwood, vendors 8 a.m. to 7 p.m., free live Irish entertainment; main music tent live entertainment $10 per day or advance three-day pass $20; parade 1 p.m. Sept. 26 from 24th and Surf avenues to Spruce and Olde New Jersey avenues. 1-800-IRISH-91.
Sept. 25
Movie: "Ponyo," 2 p.m., Stafford Township branch of the Ocean County Library, 129 N. Main St., Manahawkin, rated G, free. 609-597-3381.
Fall Funfest By the Bay: Gilda's Club and The Margate Business Association benefit,10 a.m. to 7 p.m. Sept. 25, 10 a.m. to 6 p.m. Sept. 26, Amherst Avenue, from Decatur to Coolidge avenues, Margate, craft show, live music, demonstrations, activities, food vendors, parking at Tighe School, Jitney transportation between Essex and Coolidge avenues on Ventnor Avenue and Amherst Avenue between Essex and Benson avenues, benefits , www.marvelousmargate.com
BBQ 'n Chili 'n Cheesesteaks Cook-Off: 3 to 8 p.m., rain date Sept. 26, 600 block of Landis Avenue, Vineland, tastings available for nominal fee, live musical entertainment, homemade wine competition, free admission. 856-794-8653 or visit www.mainstreetvineland.org
Sept. 26
"Glassmaking at Batsto" and "Glass Works of Hermann City": 1 p.m., Batsto Cultural and Community Insight presentation, Visitors Center Auditorium, Historic Batsto Village, Route 542, Wharton State Forest, Washington Township, Burlington County, $10; also, 27th Annual Antique Glass and Bottle Show, 9 a.m. to 4 p.m. 609-561-1665.
Oct. 2
Renaissance Festival: 10 a.m. to 5 p.m., Oct. 2 and 3, Willow Creek Vineyard, 168 Stevens St., West Cape May, music, food, theater, demonstrations, vendors, crafts, children's events. 609-465-3963 or capemayrenfest.com
Oct. 9
Harvest Festival: 6 to 10 p.m. Oct. 8, noon to 10 p.m. Oct. 9 and 10, Rosehnhayn Fire Hall, 678 Morton Ave., Deerfield Township, parade, live entertainment, arts and crafts show, amusement rides, games, Sing Fest competition, food court, fireworks, $1 admission Oct. 9 and 10, children free. 856-455-3200 or visit dthf.org
South Jersey Pumpkin Show 2010: 10 a.m. to 6 p.m. Oct. 9 and 10, Atlantic County 4-H Fairground, 3210 Route 50, South Egg Harbor section, Galloway Township, artists, crafters, live entertainment, professional home show companies, food vendors, Pumpkin Dessert Baking Contest, Little Miss Pumpkin Show contest, Pumpkin Weigh-Off contest, $2 admission, free to age 6 and younger, free parking. 856-765-0118 or http://www.sjpumpkinshow.com" target= "_blank">www.sjpumpkinshow.com
4-H Train Show/Sale: 10 a.m. to 4 p.m. Oct. 9 and 10, Shore Mall (site of former Value City store), Black Horse Pike, Egg Harbor Township, operating train layouts, displays, vendors, presentation of "Tale of the Blue Comet" 11 a.m. and 2 p.m. both days, Thomas the Tank Engine layout for kids to operate, free admission, donations to the Community Food Bank of New Jersey- Southern Branch accepted. 609-602-9221.
Oct. 15
Family Outdoor Movie: "Toy Story," 7 p.m., Royal Suites Healthcare and Rehabilitation, 214 W. Jimmie Leeds Road, Galloway Township, free. 609-402-6966.
Dec. 12
"The Nutcracker": Performed by New Jersey Ballet, 1 and 4 p.m., Middle Township Performing Arts Center, 212 Bayberry Dr., Middle Township High School, Cape May Court House, $20 adults, $18 senior, $10 children. 609-463-1924 or www.middlepac.com