Published: Thursday, October 14, 2010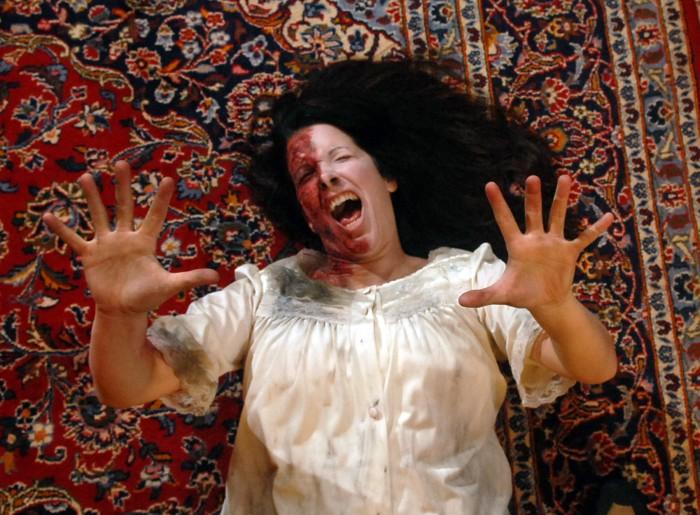 Sandy Nickel, of Cape May, and Garrett Brough, of the Villas, in full costume. Actors from the show "Murder at the Physick Estate - The Unspeakable Secret," written by Ray Crew, have some Halloween fun at the Physick Estate, in Cape May. Sunday, October,10, 2010 ( Press of Atlantic City / Danny Drake)
Halloween means making merry mischief throughout southern New Jersey
By REGINA SCHAFFER, For At The Shore
It begins as a typical Cape May trolley tour. Henry - a trolley tour guide - takes his unsuspecting tourists on a ride through the town's Victorian streets, taking in the sights. The tour, however, is anything but normal. Riders soon find themselves unceremoniously shoved into the Emlen Physick Estate, where ghosts - both upstairs and down - are waiting to "greet" them.
"These are ghosts who have been there for a long time, and they have unfinished business," says Ray Crew, the writer behind "The Unspeakable Secret," part of the popular "Murder at the Physick Estate - A Halloween Horror Show."
The tourists who find themselves trapped with the undead soon learn exactly what that unfinished business is, Crew says.
"You hear screams, gunshots, glass breaking," Crew said. "You see people with their scalps ripped off. It's pretty bloody stuff. You hear their stories and you start to put the clues together. You soon come to realize that all these ghosts have one thing in common - and that's what the secret is."
"The Unspeakable Secret" is a new addition this year to Cape May's lineup of Halloween events, sponsored by the Mid-Atlantic Center for the Arts and Humanities. The show, Crew notes, is definitely a bit scarier than the typical haunted Victorian offerings - and that was the plan.
"That's kind of been our approach all along, to be edgy," he says. "I try not to make (the shows) the typical, hokey, Halloween stuff. I try to give the characters an edge, to keep the audience off balance. The story is compelling enough that it will keep you engaged."
Crew says having the 1879 Physick Estate as a backdrop, which is long believed to be Cape May's original haunted house, helps create the perfect mood for the show.
"You could never just create this anywhere," Crew says. "(The Physick Estate) is a phenomenal backdrop to do theater. It's not a haunted house - I want to make that clear. It's a play, where you're actually walking among the actors. And yes, you will be scared to get up sometimes. But we aren't doing this just to jump from behind walls and say boo. We're telling a story here and hoping to weave some history in too."
"The Unspeakable Secret" trolley tour and show is offered 8:30 p.m. Fridays, Oct. 15, 22 and 29, and Wednesdays, Oct. 20 and 27. Admission is $25 for adults and $20 for children ages 3 to 12. For more information call 609-884-5404 or go to http://www.capemaymac.org./" target= "_blank">www.capemaymac.org.
Of course, the spirits aren't just lurking in the Physick Estate in Cape May this Halloween season. In fact, if you ask psychic medium Craig McManus, ghosts are hiding in plain sight just about everywhere, from Washington Street to the creaky hallways of the bed and breakfasts, to the beach.
"What's really cool about all of this is it gives people another reason to visit Cape May," McManus says. "There are so many haunts along the mall, for example, that we really don't get to talk to."
McManus, also an author and "ghost writer" for Exit Zero Magazine in Cape May, has been leading his own annual Halloween trolley tour, "A Cape May Ride with the Ghost Writer," for several years. This year, McManus is adding "A Lighthouse Ride with the Ghost Writer," which includes a trolley ride. Once at the Cape May Lighthouse, McManus says an encounter with an actual ghost would not be unexpected.
"Cape May has so many interesting haunts, that I tell people … you can find any kind of haunting there," he says. "There's been quite a bit of activity."
McManus says it's no surprise the off-season becomes the prime time to make contact with a few spirits.
"Come Labor Day, it gets quiet," McManus says. "And I think the ghosts, when the living are away, the ghosts will play. It becomes a ghost town, in both senses of the word."
Lighthouse tours are offered Friday, Oct. 15, and Saturdays, Oct. 16, 23 and 30, at 8 p.m. Admission is $20 for adults and $15 for children ages 3 to 12. For more information, go to
Local haunts offering a screamingly good time
Atlantic County
Haunted Lighthouse Tour: Visit Absecon Lighthouse Oct. 30 for the "true" ghost stories that prompted a visit from Syfy's "Ghost Hunters." Visitors will watch the "Ghost Hunters" episode featuring the lighthouse, then will be able to climb the tower to search for evidence. Reservations requested. Hours: 5 to 8 p.m., last climb 7:30 p.m. Tickets $5. Call 609-449-1360.
Haunted Hayride and Maze: 7 to 11 p.m. Fridays and Saturdays in October, 7 to 10 p.m. Sundays, Fleming's Auto Parts junkyard, 353 Zion Road, Egg Harbor Township. The Scullville Volunteer Fire Department hosts this event. Hayride $9, maze $4. Combination ticket $12. Call 609-927-2588, ext. 11. http://www.scullvillefire.org/" target= "_blank">www.scullvillefire.org
Haunted Hayrides: 6:30 to 10 p.m. Oct. 16, 17, 23, 24, 25 and 30th. Birch Grove Park, Burton Avenue, Northfield, $6. Last non-haunted, family hayride makes its rounds Oct. 29, $3. The Friends of Birch Grove Park Society will serve complementary snacks. Call 609-641-3778 between 9 a.m. and 6 p.m.
"Rocky Horror": The Eagle Theatre in Hammonton will present "The Rocky Horror Picture Show" by the eXposed Theatre Company 11:59 p.m. Oct. 22, 23 and 29. $15 includes a bag full of props. Advance ticket reservations are recommended for individuals and groups. Call 609-704-5012. http://www.theeagletheatre.com./" target= "_blank">www.theeagletheatre.com.
Screaming's Run Haunted Walk: Leaming's Run Gardens, 1845 Route 9, Cape May Court House, resumes its Halloween happenings, which this year include guided candlelit tours of the woods and the exploration of the Leamingwood Asylum (for mature audiences only). 7 to 11 p.m. Oct. 22, 23, 29 and 30. Tickets are $7 per event, $12 for both. Call 609-465-5871 or go to http://www.screamingsrun.com/" target= "_blank">www.screamingsrun.com
Haunted History Tour: 8 p.m. Oct. 22. Historic Smithville's Village Greene and Paranormal Books & Curiosities pair up for this evening of tall tales and true stories of Smithville's haunted past. $5, with proceeds going to Autism Speaks. Children younger than 6 free. Reservations recommended. Call 732-455-3188 or e-mail info@paranormalbooksnj.com
Cape May County
Phantoms of the Physick Estate: 1 to 4 p.m. and 6 to 9 p.m. Oct. 16, 23 and 30, and 5 to 8 p.m. Oct. 31. 1048 Washington St. $12 for adults, $6 for children 3 to 12. Call 609-884-5404 or 800-275-4278 for reservations; http://www.capemaymac.org/" target= "_blank">www.capemaymac.org
Trunk or Treat: The Wildwood Crest Recreation Department hosts its fourth annual "Trunk or Treat" 6:30 p.m. Oct. 28. Bring your Halloween-decorated vehicle to the Wildwood Crest Pier parking lot at Heather Road and Ocean Avenue, where you can distribute candy from the trunks of your vehicle to children outfitted for Halloween. DJ, refreshments and prizes for the best decorated vehicles. Free, but pre-registration is required. Forms available at the Crest Pier Recreation Center. Call 609-523-0202.
Cumberland County
Haunted Creek Ride: "Swamp tours" every Thursday to Sunday through Oct. 31. Hours: 7 to 9:30 p.m. Thursdays, 7 to 10:30 p.m. Fridays and Saturdays, and 7 to 9:30 p.m. Sundays. $10 per person and must be 10 or older to ride. Beaver Dam Boat Rentals, 514 Old Beaver Dam Road, Newport. Call 856-447-3633 or go to
Ocean County
Haunted Seaport: Tuckerton Seaport, 6 to 9 p.m. Oct. 22 and 23th. $8 for non-members, $5 for members. Hayrides are $2 with paid admission and are free for members. Black Pearl haunted boat rides will also be available for $10 per person. 120 W. Main St. (Route 9), Tuckerton. Also benign, non-scary kids' activities, including a pumpkin patch. Call 609-296-8868 or go to www.tuckertonseaport.org
Regional Haunts
Night of Terror: Creamy Acres, open Thursdays, Fridays and Saturdays in October, plus Halloween week. Hours: 6 to 9 p.m. Thursdays and Halloween week Monday through Thursday, and 6 to 10 p.m. Fridays and Saturdays. Closed Sundays. 448 Lincoln Mill Road, Mullica Hill. General admission $30 for all attractions; $35 for all attractions on Oct. 16 and 23. VIP admission $60. Call 856-223-1669 or go to www.nightofterror.com