Published: Sunday, January 16, 2011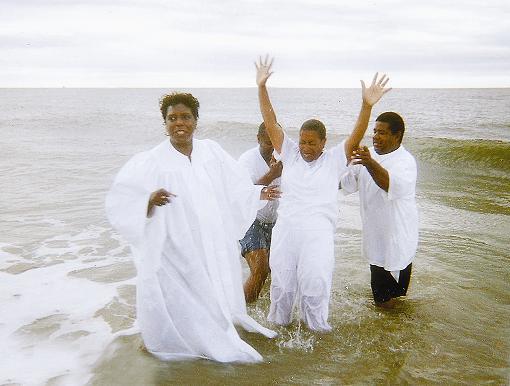 The Rev. Pauline Couch, pastor of Cape May's Allen African Methodist Episcopal (A.M.E) Church, performs a baptismal ceremony on the beach at Cape May Point. The picture is featured in the 'Can I Get A Witness' exhibit.
Learn the history of black churches in Cape May at MAC exhibit
Churches in Cape May County had a great impact on area African Americans during the 19th and 20th centuries, and contributed to the birth of what came to be known as the "black church" in the United States. Now, all of that history can be found in the exhibit "Can I Get a Witness! A Testament to the Black Church in Cape May County" at the Carriage House Gallery in the Emlen Physick Estate.
The exhibit features artifacts, photographs and documents that tell the story of the impact the church had on Cape May County African Americans, and of their contribution to the birth of the black church. The exhibit opens Monday, Jan. 17, at 4 p.m. Admission is free. A free panel discussion will be held Sunday, Feb. 20, at 4 p.m. The exhibit is co-sponsored by the Center for Community Arts (CCA) and the Mid-Atlantic Center for the Arts & Humanities (MAC). Gallery hours and days vary. Call 609-884-5404 or 800-275-4278 or go to capemaymac.org.