Published: Friday, April 30, 2010
Atlantic City Aquarium Video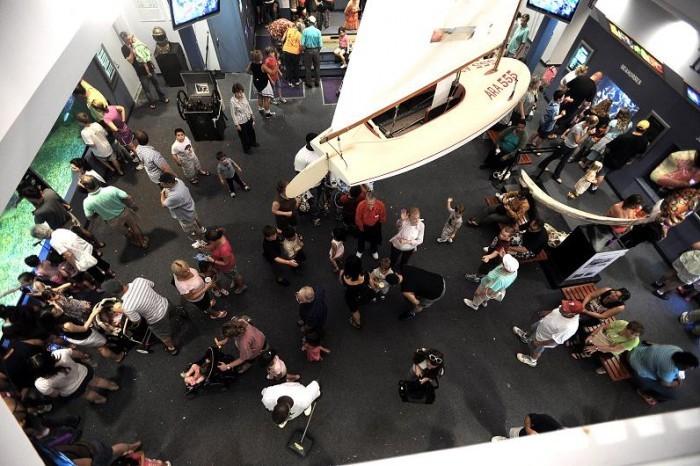 People fill the Atlantic City Aquarium in Atlantic City.
Atlantic City Aquarium
BACKGROUND: This aquarium holds more than 100 varieties of fish and marine animals. The attraction is part of Atlantic City's Gardner's Basin.
A 23,000-gallon tank that holds sea bass, stingray and tiger sharks, among other fish, is one of the main exhibits, along with a 750-gallon Touch Tank, where guests can literally get a feel of marine life such as sea urchins, shrimp and spider crabs. While you're there, check out the rest of Gardner's Basin, which includes a marina and several restaurants.
INSIDER INFO: There are regular feeding shows, with divers talking about the sea life found at the aquarium. The aquarium is kid-friendly, there are even ferrets to entertain the family. There's a gift shop at the entrance, but it's small.
WHERE: The aquarium is located at 800 N. New Hampshire Ave. in Atlantic City's Historic Gardner's Basin. http://maps.google.com/maps?hl=en&ie=UTF8&q=aquarium&fb=1&gl=us&ei=duThS7GPN4m09gSWkLCTAw&ved=0CDgQtgMwBA&radius=0.31&sll=39.379393,-74.422245&sspn=0.007646,0.011673&split=1&rq=1&ev=zi&hq=aquarium&hnear=&ll=39.37863,-74.41982&spn=0.007646,0.011673&z=16&iwloc=A" target="_blank">CLICK HERE FOR DIRECTIONS.
HOURS AND COST: The aquarium is open 10 a.m. to 5 p.m daily. Admission is $8 for adults, $6 for seniors and $5 for children age 4 to 12. Call 609-348-2880.
ON THE WEB: http://www.acaquarium.com/" target= "_blank">http://www.acaquarium.com/