Published: Wednesday, April 14, 2010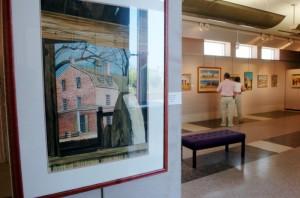 The art center hosts exhibits with a local flavor.
Atlantic City Art Center
BACKGROUND: The Art Center has exhibits of paintings, sculpture and photographs. The center also hosts other activities such as concerts, demonstrations, and book readings. There is a local flavor to this Art Center, where many of the exhibits display artists from Cape May, Philadelphia, and Atlantic County.
INSIDER INFO: After visiting the center, stop in at the Atlantic City Historical Museum, which is also located on Garden Pier.
WHERE: Located on Garden Pier at New Jersey Avenue and the Atlantic City Boardwalk. http://maps.google.com/maps?hl=en&ie=UTF8&q=art+center&fb=1&gl=us&ei=hPbhS6mNHYb68wTNwqSHAw&ved=0CB0QtgMwAw&radius=0.16&sll=39.361162,-74.416108&sspn=0.004031,0.005836&split=1&rq=1&ev=zi&hq=art+center&hnear=&ll=39.361262,-74.416108&spn=0.003824,0.005836&z=17&iwloc=A" target="_blank">CLICK HERE FOR DIRECTIONS.
HOURS AND COST: Admission is free. There is a free public parking lot at the end of New Jersey Avenue. The art center is open daily from 10 a.m. to 4 p.m. Call 609-347-5837
ON THE WEB: http://www.acartcenter.org/