Published: Tuesday, April 27, 2010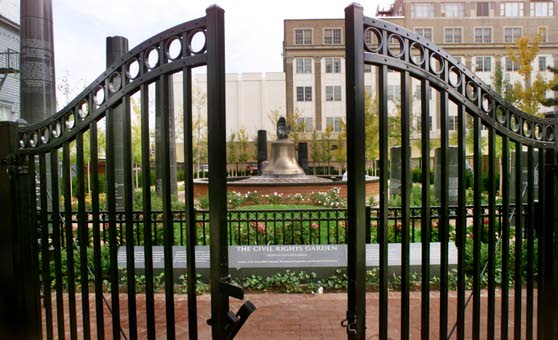 The Civil Rights Garden in Atlantic City.
Civil Rights Garden in Atlantic City
BACKGROUND: Pay tribute to the men and women who campaigned for equal treatment by visiting the Atlantic City Civil Rights Garden. The monument is dedicated to history, events and people of the Civil Rights Movement.
INSIDER INFO: The sculpture garden is comprised of 11 granite columns, winding pathways, plants, flowers, gingko trees and sculptures with inscriptions. The garden cost $2 million to construct when it opened in November 2001. The columns are inscribed with quotes from slaves and students, presidents and preachers, all discussing the struggle of black Americans for equal treatment.
WHERE: The garden is located at Pacific Avenue and Dr. Martin Luther King Boulevard. CLICK HERE FOR DIRECTIONS.
HOURS AND COST: Open all day; free. For more information, call 609-347-2165 or 609-347-0500.
ON THE WEB: http://www.atlanticcitynj.com/visit/DirectoryCliDetail.aspx?CliID=16327