Published: Thursday, July 22, 2010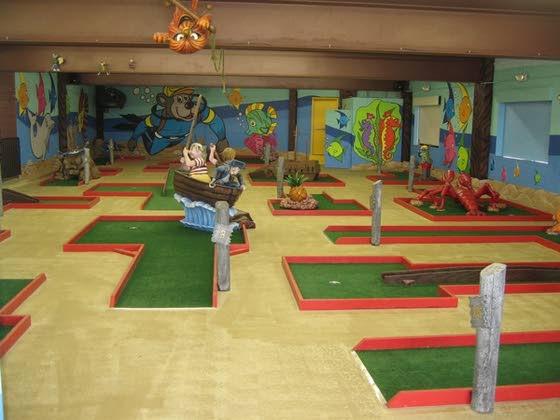 Indoor mini-golf in Ocean City
On a really rainy day, real golf isn't much fun. But the kids can have a great time playing miniature golf while it's raining - and stay dry doing it - if you find a miniature-golf course with a roof over it.
On Ocean City's Boardwalk, Gillian's Wonder-land Pier opened an indoor mini-golf course in April.
Two blocks south on the Boardwalk, Ciarra Dougherty, 15, of Philadelphia, was finishing up Under The Sea Miniature Golf on a sunny day, but she's sure kids would enjoy the covered course in the rain. She liked the black-light setup that casts the whole course in a neon glow.
And a few more blocks south, Medieval Fantasy Black Light Mini Golf has "seven holes of black-light, six holes indoor and six outdoor," worker Steve Chapman said. "I call it the value pack in mini-golf."
Martin DeAngelis
If you go
Locations: Wonder's Silly Sea Quest mini-golf, Gillian's Wonderland Pier, Boardwalk at Sixth Street, 609-399-7082; Under The Sea, Promenade Food Court, Eighth Street and Boardwalk, 609-398-0302; Medieval Fantasy, 1336 Boardwalk, 609-938-0579. All in Ocean City.
Websites: Wonder's, http://www.gillians.com/" target="_blank">www.gillians.com, Under The Sea, www.ocfoodcourtnj.com, Medieval Fantasy, http://www.medievalfantasy.com./" target= "_blank">www.medievalfantasy.com.
Hours: Wonder's, 10 a.m. to 10 p.m. daily.; Under The Sea, 9 a.m. to 11 p .m. daily; Medieval, 9 am to midnight daily.
Cost: Wonder's and Under The Sea both $5; Medieval, $6.50 until 6 p.m., $7.50 after.
What moms want to know: Stroller friendly? Yes. Bathrooms? Yes. Food on site? Yes.