Published: Thursday, April 15, 2010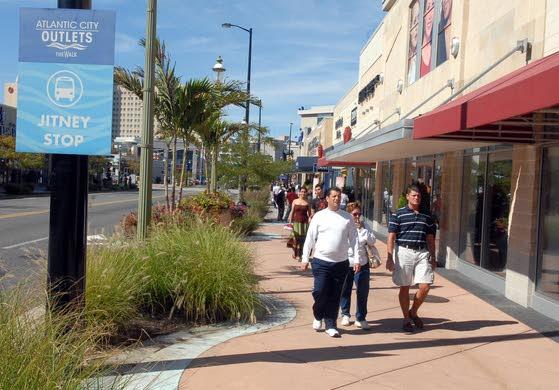 Shoppers walk Michigan Avenue at The Walk.
The Walk - Outlet shopping in Atlantic City
BACKGROUND: The Walk is one of Atlantic City's most popular shopping communities. The outside shopping mall is packed with outlet and traditional stores. It spans Atlantic, Artic and Baltic avenues in Atlantic City, close to where most visitors enter the city via the Atlantic City Expressway.
The Walk is a great way to enjoy a beautiful day while also doing some shopping for you and your whole family. Stores at The Walk include The Banana Republic Factory Store, Carter's, The Children's Place, The Coach Factory Store, The Converse Outlet, the Corningware, Corelle, Revere Factory Store, the Eddie Bauer Outlet, Guess Factory Store, J. Crew, Liz Claiborne Outlet, and Osh Kosh.
There are also a variety of places to eat, including Applebee's Neighborhood Grill & Bar, Auntie Anne's, The A.C. Diner and Ruby Tuesday.
INSIDER INFO: In the summer and at Christmastime, the Walk can be insanely busy, but on an average day, it is less crowded than the mall and offers fresher air and more unique shopping options. Park at a nearby casino, at the Atlantic City Convention Center or at lot on the street.
WHERE: The Walk is located along Atlantic, Arctic and Baltic Avenues. http://maps.google.com/maps?hl=en&ie=UTF8&q=%22THE+WALK%22%2B%22ATLANTIC+CITY,+NJ%22&fb=1&gl=us&hq=%22THE+WALK&hnear=%22%2B%22ATLANTIC+CITY,+NJ%22&cid=0,0,3412086121707532934&ei=Zz7jS4XXA4P78Abi6vSmDQ&ved=0CBMQnwIwAA&ll=39.361842,-74.436643&spn=0.007963,0.019205&z=16&iwloc=A" target="_blank">CLICK HERE FOR DIRECTIONS.