ATLANTIC CITY — Two decades ago, the H-Tract, the marina parcel of land where Borgata Hotel Casino & Spa sits, was expected to be home to at least three, possibly four casinos.
While only Borgata was built on the property, 15 acres of buildable land are still available, which could potentially be home to a joint project between MGM International, owner of Borgata, and Caesars Entertainment Corp.
The two casino companies announced Thursday in a press conference with Gov. Chris Christie in Trenton that they are looking to do a joint project in the resort. Caesars owns three properties in Atlantic City, including Harrah's Resort, which is next to Borgata, separated by Renaissance Boulevard and a 15-acre parcel of land that once was supposed to be home to a Circus Circus Casino.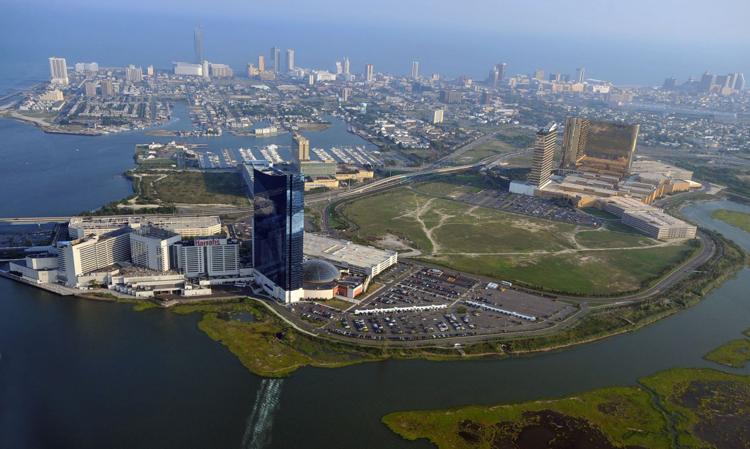 No details on the project were released, but Christie said formal announcements could come in the next couple weeks.
"We own a tremendous amount of land on Renaissance Point," said James Murren, chairman and CEO of MGM Resorts International, while not saying whether that would be the site of the project. "We are going to be working with our friends at Caesars to find out how we can further move Atlantic City along."
Since purchasing a controlling stake in Borgata, MGM officials have made it clear they plan to make improvements to the more-than-85-acre site that houses the casino.
Last year, MGM bought Boyd Gaming's stake in Borgata for $900 million. During a state Casino Control Commission hearing on the sale in July 2016, John McManus, MGM Resorts International executive vice president and general counsel, hinted at a potential development around Borgata.
TRENTON — MGM Resorts International, owner of Borgata, and Caesars Entertainment Corp. are l…
"I don't have anything firm," said McManus during the hearing. "But with all the adjacent property we have in Las Vegas, in the past few years, we have not been building hotel casinos. We've been building entertainment venues, food and beverage, retail."
McManus said one of the Las Vegas projects, called The Park, has public art and outdoor spaces.
"It's an exciting thing. So I think those are the types of things," he said.
McManus said during the hearing they would explore retail, entertainment and meeting spaces.
"I don't want to lead anyone to believe that we're going to build another casino and connect that, at least in the near term. But we have an awful lot of land. And that was certainly a motivation in targeting the Borgata for acquisition," he said.