The potent cold front sweeping through the East Saturday will bring issues to the passing and kicking game for the Eagles Divisional Round matchup against the Falcons. 
After being near 60 degrees at midnight, temperatures will continue to fall as the day goes on. The closer it becomes to game time, the more layers that you will need on if you are tailgating outside, falling quickly through the 40s and 30s. A jacket with two layers underneath, pants, wool socks and a hat will keep you warm. Of course, feel free to sub in your Eagles attire wherever you would like. 
When kickoff occurs at 4:35PM, the temperatures should favor the Eagles over the domed Atlanta Falcons. Temperatures will start just above the freezing mark at the start, dropping below freezing near half time. By the end of the game, it will be in the upper 20s. While no rain or snow is expected, the winds will be stiff throughout the game. 
Nick Foles and Jake Elliott, if you are reading this, you might want to ask the team to kick toward the south end zone in the second half.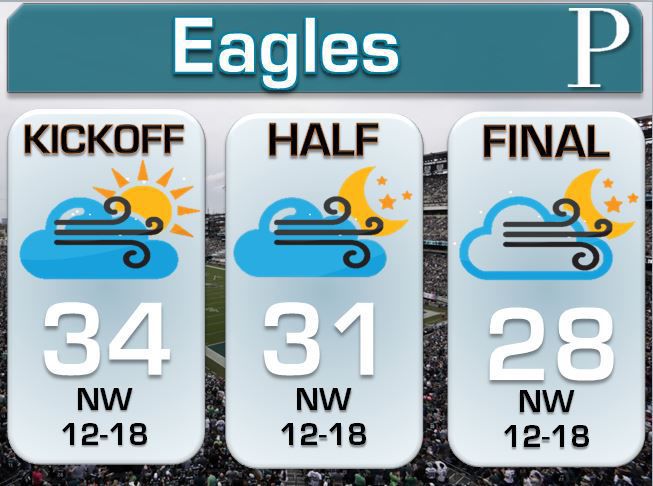 Winds will be sustained at 12-18 mph. That can enough to disrupt passes. Long kicks can get swallowed if you are kicking into the north end zone. Plus, that does not even take into account that field goal percentage drops in 21-30 degree weather after 25 yards. Therefore, if the Eagles win the toss, choosing the defend the south end zone first is a good idea.