The coastal flood advisory issued on Sunday for South Jersey has been upgraded to a coastal flood warning, still in effect until 1 p.m. on Monday. High tide will center around the Monday morning commute, making travel difficult along the shores. 
Here are some local closures due to flooding: 
- Route 40 in West Atlantic City is now open after being closed Monday morning due to flooding. 
- South Shore Road between Route 30 and W. California Avenue is closed until further notice due to flooding, according to Absecon police. 
- The George Redding Bridge is closed in Wildwood due to flooding, according to police. 
8:30 a.m. update: Thankfully, Long Beach Island looks to stay in minor, rather than minor fl…
The combination of the strong southeast winds and the new moon on Sunday is the culprit for these high waters. High tide on the New Jersey oceanfront occurs between 8:00 a.m. to 10:00 a.m. Monday morning. High tide on the back bays occurs later than the high tide on the oceanfront.
The storm surge will be 2 to 3 feet above the astronomical tide.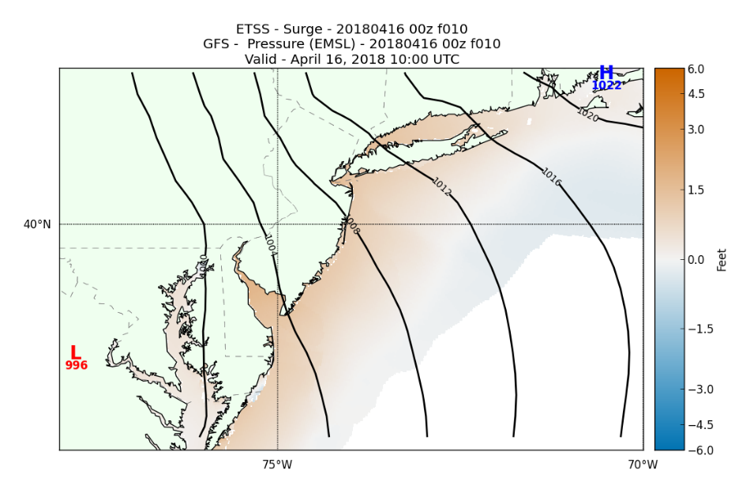 In moderate flood stage, nearly all bayside roadways flood. In the more vulnerable locations (Atlantic City, Ventnor City, North Wildwood, Ocean City) road closures will be likely. Along the Atlantic Ocean beaches, water will run up to the dunes. Structures that are not on stilts or raised become susceptible to water damage at this level. 
Here's Texas and Atlantic Avenues in Atlantic City. Lots of floooding this AM. The water is way higher than my rain boots, for reference. pic.twitter.com/CflV4B13pw

— Erin Serpico (@ACPressSerpico) April 16, 2018
Coastal residents should be on alert for rising waters and take appropriate action to protect property. Do not drive your vehicle through flood waters. The water may be deeper than you think it is. You will be putting yourself in danger and your vehicle may be damaged, leading to costly repairs. Remember, the water you drive through is salt water, not fresh.