8:30 a.m. update: Thankfully, Long Beach Island looks to stay in minor, rather than minor flood stage during the Monday morning high tides. From Brigantine to Cape May, and then to the Delaware Bay, moderate coastal flood stage is still expected. Tides will peak through 10 a.m.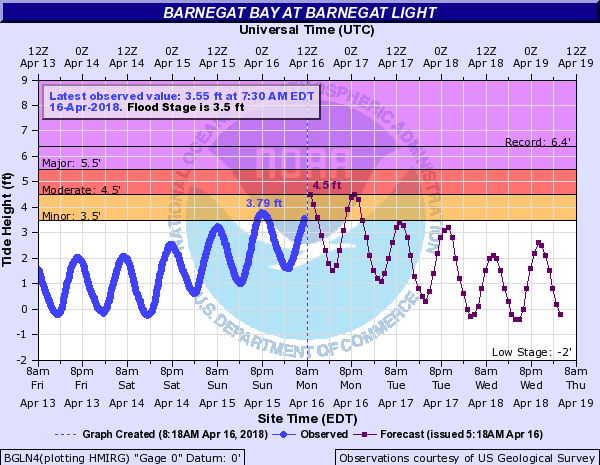 A hose of heavy rain is moving out of Cumberland County and is now over Cape May and Atlantic Counties. Expect a wind driven, heavy rain through 9:30 a.m. Ocean County will then see this between 9 a.m. to 10 a.m. There will be puddles and isolated flooded out roadways, so take it slow out there. A few small streams and creeks with just spill over their banks as well but would not impact your drive unless the road is right along there.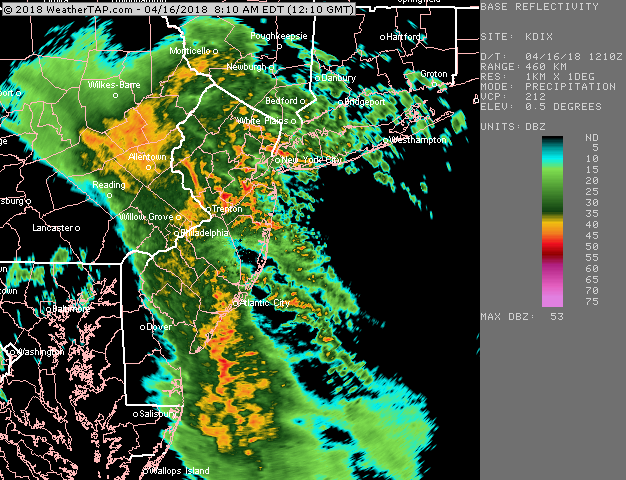 After this line of rain passes, we should wind up with one to two inches of rainfall (locally even higher) across all of South Jersey. New Jersey State Climatologist Dave Robinson has noted that our corner of the state has been the driest over the past thirty days, with barely over an inch of rainfall.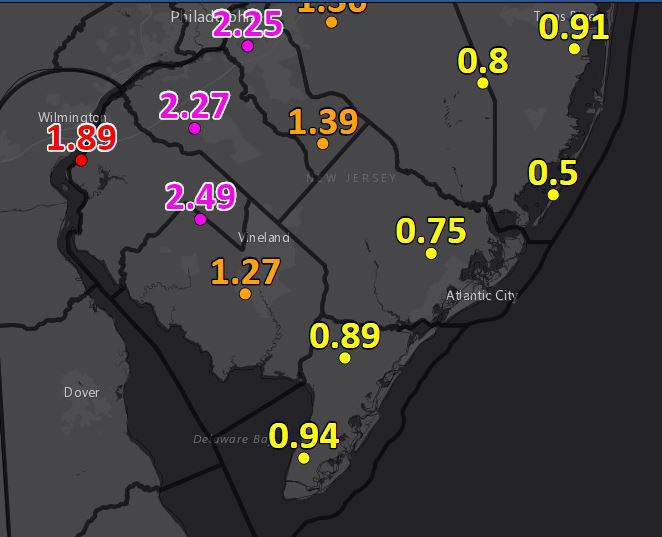 6:15 a.m. update: A coastal flood warning is now in effect for all of South Jersey. The story is updated to reflect this and provide additional details. 
A storm system that brought 1 to 2 feet of snow to the Upper Midwest and 25 tornadoes Thursday, Friday and Saturday will continue to rumble through South Jersey on Monday. Pockets of coastal and stream flooding and strong winds will be with us for the first half of the day.
We had drizzle and some rain Sunday night, accompanied by a strong offshore flow. Rain will continue into Monday morning, making for a slick commute. Six to 10 a.m. will be the main event, as a line of rain passes. The air mass just a few thousand feet above our heads is very unstable, with only the onshore wind putting the lid on it here. If we can break into that air aloft, then we will be talking thunderstorms, not heavy showers.
Wind gusts have been in the 30s on the mainland and up to 50 mph at the shore. This will continue into the day. Flying garbage cans and lawn furniture are probably going to be the case at the shore. Even a couple of torn shingles are not out of the question here.
A coastal flooding warning is in effect for all of South Jersey, an upgrade from Sunday's coastal flood advisory. Moderate flood stage is expected with Monday morning's high tides, which will occur between 8 a.m. to 10 a.m. In moderate flood stage, bayside roads likely become impassable. Flooding can occur up to a couple of blocks inland. Some damage to vulnerable structures may begin to occur.
By midday, the cold front will pass. Winds will flip to the northwest. Temperatures will fall from a morning high in the low 60s into the 50s. A few showers will carry into the afternoon, but by the time we get to sunset, all will be dry. One to 1.5 inches of rain is expected in total. A few streams and creeks will run high.
No denying spring, Wednesday will be just what the doctor ordered. The morning will be a bit chilly, in the mid-30s, but warms up to the low 60s under a sun-filled sky.