NASCAR champ Truex Jr. still a Jersey boy at heart: Weinberg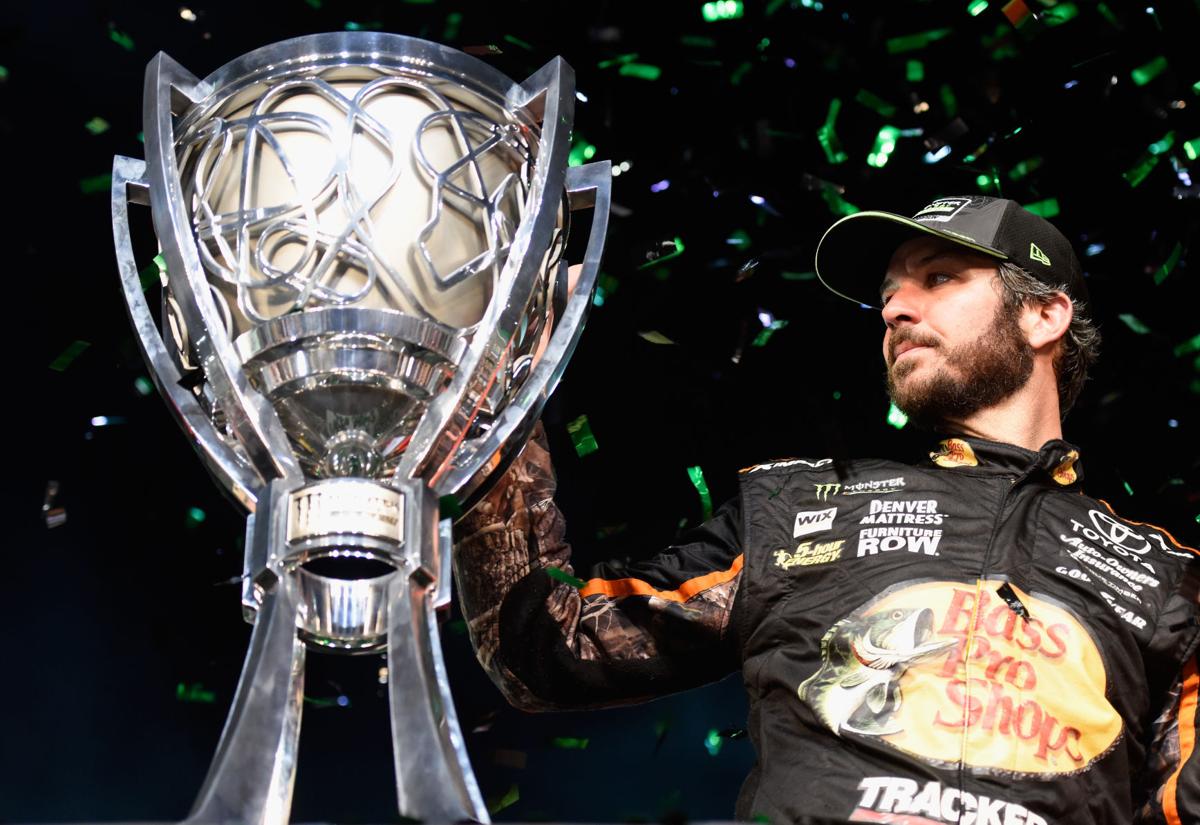 Cup champ Truex Jr. always a Jersey boy
{child_byline}DAVID WEINBERG
Staff Writer{/child_byline}
As soon as Martin Truex Jr. crossed the finish line last Sunday to win the Monster Energy NASCAR Cup Series Championship, a number of cities, towns and regions claimed dibs on him.
Because he drives for Denver-based Furniture Row Racing, the "Mile High City" celebrated his feat.
Since Truex now lives in Charlotte, North Carolina, the "Queen City" decided to crown him.
Forget about it, Denver. Go take a "Mile High" leap.
No shot, Charlotte. You're better off focusing on the Carolina Panthers.
Truex, who grew up in the Mayetta section of Stafford Township, is as (New) Jersey as corn, tomatoes, Jon Bon Jovi and Bruce Springsteen.
If he could sing, he might be starring in "Jersey Boys."
More specifically, he's from this end of the state, just like Hammonton blueberries, Lucy the Elephant (Margate), Kelly Ripa (Voorhees) and Mike Trout (Millville).
"I'm proud of being from Jersey," Truex said a few hours after taking the checkered flag. "And I'm from the good part of it — South Jersey. All my family and a lot of my friends are still there in Stafford Township, where I'm from."
He provided more proof a few minutes later.
Midway through his news conference at Homestead-Miami Speedway, while answering questions about the race, he suddenly paused and asked, "What's the score of the Eagles game?"
Told they were winning 7-6 at the time of what would become a 37-9 victory, he smiled while someone from Denver asked why he cared?
"'Cause I'm an Eagles fan," he shouted. "We're 8-1. (Now 9-1). How's your team doing?"
Truex grew up a Philly sports fan. He's been known to take in Flyers' games during the brief NASCAR offseason.
When the Eagles held training camp at Lehigh University, Truex would often stop by to chat with Eagles place-kicker David Akers and other players while getting ready to compete at Pocono Raceway.
He credits his NASCAR success to his background. As a young teen, he began racing go-karts at New Egypt Speedway in Ocean County. When he turned 18, the 1998 Southern Regional High School graduate graduated to modified cars at Wall Stadium in Wall Township, Monmouth County.
"Not many people realize that New Jersey has quite a history in our sport," said Truex, who became the first New Jersey driver to win the NASCAR Cup Series Championship. "It dates back to the 1940s and 1950s, when guys were racing on dirt tracks. I owe a lot to those guys for paving the way."
He also credited his father, Martin Truex Sr., for helping him grow as a driver and as a person.
The elder Truex, now 69, raced in what is now the NASCAR Xfinity Series in the 1980s and 1990s while also building the family clamming business, Sea Watch International. He insisted that his oldest son learn both businesses.
"He's a self-made man," Truex said of his father. "He came from nothing and worked with his brothers (Barney and Curtis) to build that business. He taught me how to work for what you get in life. He made me work in the shop when I was 11, made me work on the clam boats in high school so I could afford to race. I wouldn't be here if it wasn't for him."
Later in the news conference, Truex was asked by someone who's clearly not from the Garden State if winning the NASCAR Championship meant he was more famous than Springsteen.
He pointed out with a laugh that it's not even close.
Being "The Boss" of NASCAR isn't too shabby, however. And he's probably passed a few other Garden State natives, such as Frankie Valli.
He is, after all, a Jersey boy.
(David Weinberg's Extra Points column appears Wednesdays and Sundays in The Press.)