A look back at the 2017 Atlantic hurricane season as we enter quiet weather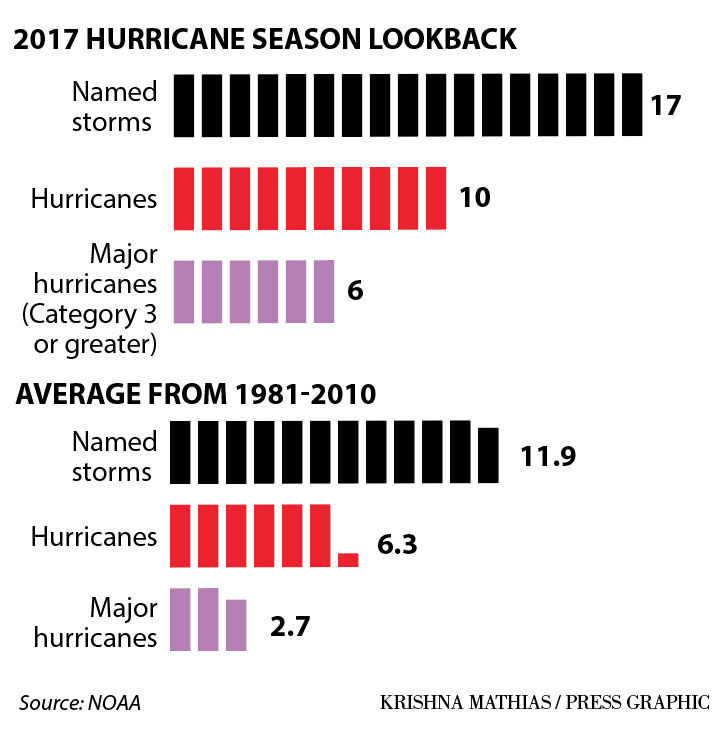 I believe that is how we will remember the 2017 Atlantic hurricane season. Let us start with the wacky.
Hurricane season officially began June 1, but that did not stop us from having an early start. Tropical Storm Arlene was the first, waking us up to the tropical season between April 19-21. Moreover, it was only the second tropical storm noted for its early start.
Hurricane Jose was a rarity, too. The storm did not travel in a line, but rather looped north of Hispaniola for Sept. 14 and 15. That was just part of its seemingly endless lifespan. With 21 days to its name, it was the longest lasting tropical system since 2012.
Now, for the catastrophic.
Harvey, Irma and Maria. These storms will be etched in our memories and will likely be retired by the National Weather Service.
All three struck land as a major hurricane, each bringing distinct havoc. Harvey brought massive flooding to Texas. Near Nederland, Texas, 60.58 inches of rain fell, a U.S. record for a surface rain gauge. Irma brought the first Category 5 landfall to the Leeward Islands, including the British Virgin Islands. Then, it blasted through the Florida Keys, with winds not seen there since the Labor Day Hurricane of 1935. Meanwhile, Maria doubled down on the Leewards, saving its worst fury for Puerto Rico. It cut out power to every house, business and light without a generator. A humanitarian crisis is still unfolding there.
Tropical Storm Cindy, Tropical Storm Emily, Hurricane Nate and Tropical Storm Philippe all made landfall on U.S. soil as well (you may remember Philippe for its remnants, which created the loss of power to 1.2 million people in New England).
As a whole, this season ranked near the top of the charts. There were 17 named storms, 10 hurricanes and six major hurricanes during 2017. This ranks fifth, tied for fourth and tied for third, respectively, for all time. Truly, this was one season to remember.
Turning quickly to our forecast, rain showers will end by the morning commute. The weekend then will be partly sunny, at worst, with highs in the 50s, very comfortable for the first weekend in December.