Another summery day awaits, but so does Jose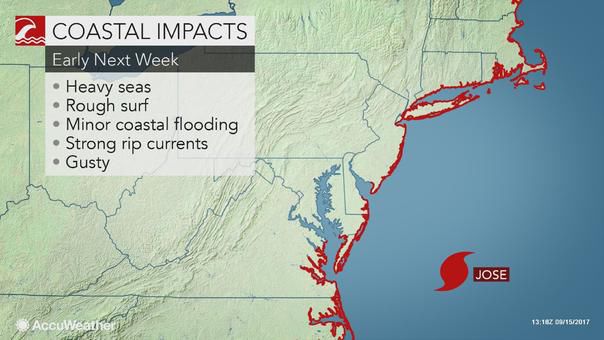 Another warm, summery day is expected across South Jersey today. Just like Saturday, isolated pop-up showers are possible.
The surface is expected to break 80 degrees in many places again Sunday; however, there is still some cooler air aloft. The difference in temperature creates the instability, as heat wants to rise. The rising heat from the surface takes moisture up high, where it condenses and forms the pop-up shower.
Again, I only see a micro-chance of this, as most of the day will remain dry, sunny and somewhat muggy. Winds should be light off the ocean, and overnight lows should struggle to dip below 70.
Monday should start a noticeable increase in onshore flow intensity as Jose nears from the south. The northern side of Jose's counterclockwise flow will begin driving more Atlantic Ocean water onto our beaches. Therefore, I expect higher than average tidal cycles by Monday afternoon, if not earlier.
Between Monday night and Wednesday morning is the expected period of impact from Jose. I still believe Jose's core will pass New Jersey well offshore. I expect our region to possibly deal with some fringe effects on Jose's northern and eastern sides as the system tracks by. These effects could include rain from Jose's outer spiral bands, gusty but manageable winds off the ocean, minor to moderate coastal flooding, intensified surf and beach erosion. The meat and potatoes of Jose's secondary effects on New Jersey would be mid-Tuesday.
By Wednesday night and especially by Thursday, Jose should be well on its way to the northeast, away from New Jersey. There is debate on coastal New England impact, especially Cape Cod. In Jose's wake, our region should see a refreshing northerly flow for a few hours. The region overall, however, should remain warm and muggy through most of next week.
Once the upper-level ridge over the eastern U.S. breaks down, a cold front will ultimately come through and cool our region down. The earliest that could happen would be later in the weekend, possibly even early next week. We won't be too far from October then. With that said, the next seven days should sustain above-average temperatures with stubborn humidity. Other than Jose's outermost rain bands in the Monday p.m. to Wednesday a.m. period, there is not much rainfall expected in the mid- to long-range forecasting period.