Quiet today, but rain, wind and possibly a few flakes arrive this week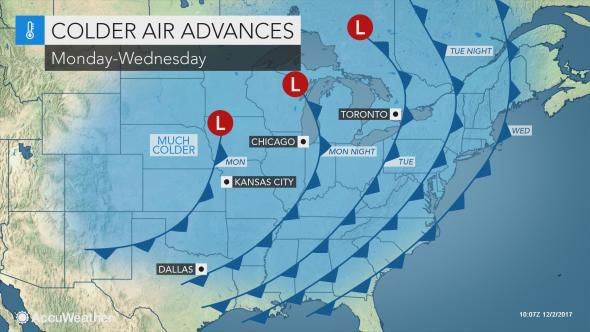 The first full week of meteorological winter will certainly feel like it by the time we get to the end. True "heart of winter" temperatures and even a few flakes of snow are in this forecast.
First, though, let us enjoy Monday. We have high pressure centered in New England. While we had high pressure Sunday, the lack of midlevel disturbances swinging through will keep more sunshine around Monday. Highs will be near 55 degrees, just above average for this time of year.
The pattern then becomes more amplified as we go into Tuesday, and for the rest of the week. Tuesday we will go up the roller coaster as strong southwest winds surge in. Temperatures rise into the low 60s for the afternoon (records around South Jersey are in the low 70s). Moisture will fill in, though I believe that most of the day will be dry. Keep the umbrella for the evening commute hours, however, as rain showers will start up about then.
About a 12-hour period of rain will fall overnight into Wednesday morning. Rain of ½ to 1 inch is expected by the time all is said and done. It will not be enough for any flooding issues, just a good, old-fashioned soaking.
Then, the mid-December cooldown that has been talked about for close to two weeks now will arrive. The gates to the Arctic will be unlocked, rushing in cold, polar air. The brunt of the chill will be in the Midwest, but the Northeast will have its fair share. Dry air will bring forth plenty of sun Thursday, but highs will be only in the low 40s. Friday and Saturday will also all be in the low to mid-40s. Lows will be in the 20s, a good reminder that winter is here.
A low-pressure system will ride along a stationary front on Friday and an upper-level system will roll through on Saturday. Between these two systems, we will be good for at least isolated showers during this time. We are also in a favorable enough pattern for a rain-snow mix at some point, especially if it occurs at night. Accumulating snow is no guarantee.
I will have the column tomorrow, but please welcome Alexa Trischler as our new freelance meteorologist. Like me, she is a Rutgers alum. She is also a South Jersey native.