The Press of Atlantic City will be providing live updates from different areas in our region throughout the day. Check back as the nor'easter intensifies. 
1 p.m.: 
12:15 p.m.: 
The snow map has been updated. Snow is beginning to fall in Buena, Upper Deerfield and Western Cumberland County. The biggest change is the Delaware Shore Bay in Cumberland County, where 3 to 6 inches is not anticipated. Half foot amounts of likely in Hammonton, Vineland and Stow Creek.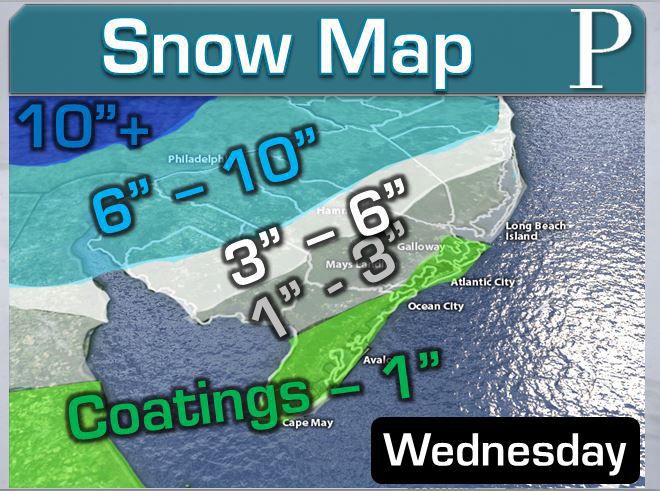 10:45 a.m.:
Our nor'easter is strengthening and getting underway. The midday model runs are coming in have been supporting the colder scenario. I have been leaning this way for the past couple of days (I will explain why below). A half foot of snow is likely for parts of our area. A Winter Weather Advisory has been put in place for Ocean County, an addition by the National Weather Service. 
We have been raining all morning long. Winds flipped to the east and a nose of warm air poked into Southeast Jersey. It was really just our corner of the state! Look at the radar. It is snow practically everywhere else!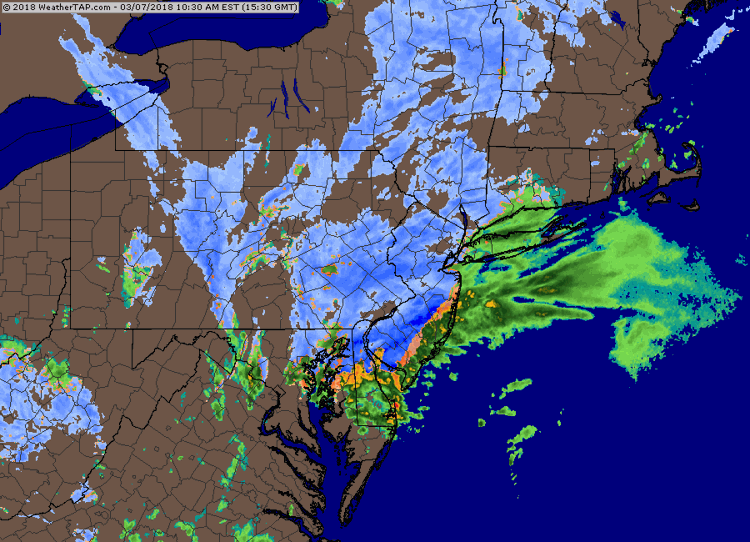 This radar loop is through 10:30 a.m. Do not believe the blue in Cumberland county, it is not snowing... yet. However, winds have flipped to the north in Millville and Vineland. They are cooling, and will flip to snow around lunch time.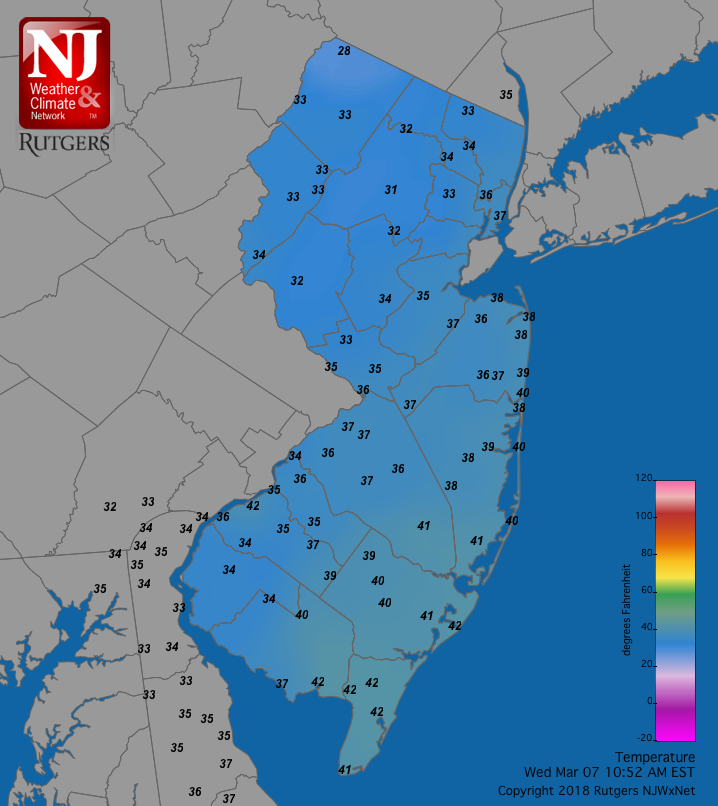 Winds will start to turn northerly with time today, as low pressure moves north of us. Temperatures will cool down, and we will be able to tap into the cold air aloft, changing rain to snow. Rain will start to turn over to snow in western Cumberland and Atlantic Counties first, slowly working its way south and east. By the p.m. commute, most everywhere should be snowing.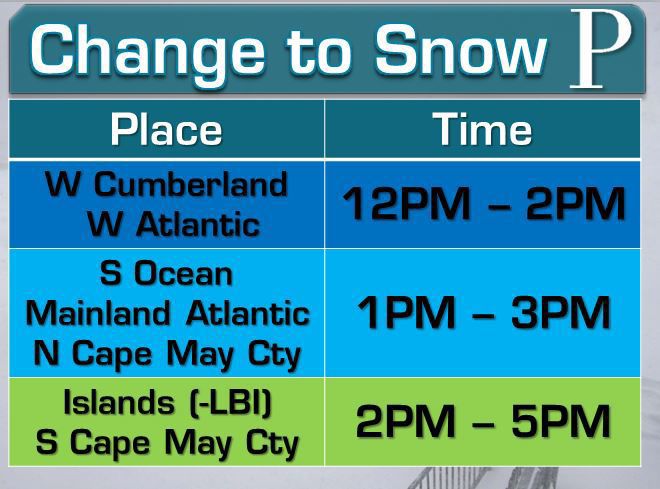 The snow that does fall with be a typical Jersey snow, dense and wet! It will make for tough shoveling. In addition to it being a sloppy snow, it will be coming down heavy at times. Snowfall rates one inch an hour or greater will make it stick on the roads, regardless of the previous rain, temperatures or March sun angle. Please exercise caution this afternoon. The DPW crews do their best to make sure the roads are safe.
We are also in the middle of a high tide. Minor flood stage is expected across all of our shores. For most there will not be any problems. However, beach erosion will continue, especially in places weakened by last Friday's storm. Flooding will reduce this evening and into Thursday.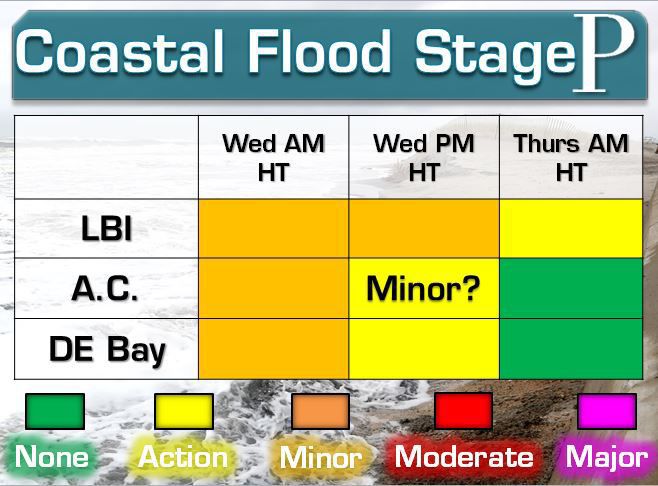 For the past couple of days, I have favored a colder and snowier solutions for us. The reason is because of the models. Part of Meteorologist is looking at the models, but part is looking at what is behind them. The models had the low pressure system right at the coast, but also 50 miles east of there. This poked more warm air into our area, putting lower totals. 
However, the real low pressure was fifty miles east. That is 50 more miles of colder air to work with, giving higher totals. It is part of why weather never gets old! 
Original Story 
Wind, snow, rain and coastal flooding. We have heard this story before, just a few days ago, in fact. We will do it all over again on Wednesday.
Early Wednesday morning, rain is mixing with snow away from the coast. This will flip to all rain by the morning commute, as low pressure moves offshore east of the Garden State. Low pressure will then move out toward New England, changing rain to snow, even heavy snow, before ending Wednesday evening. To help make this storm easier to decipher, here is the breakdown, by impact.
Wind
Winds will not be as severe as last weekend. This will be more of our run of the mill Nor'easter. Sustained winds of 15-25 mph will be coupled by 40 mph gusts on the Mainland and 50 mph gusts along the Shore.
Trees or power lines that may have been compromised last weekend threaten to fall down Wednesday. Isolated power outages are expected, especially in areas that receive the most snow as well as along the coast. In addition, beach erosion will continue.
East Point Lighthouse in Danger from Erosion
The dune system protecting the East Point Lighthouse was breech during this past weekend storm, putting the lighthouse in danger of being swallowed by the Delaware Bay in the event of another storm.  The township and the county, piled sand in front of the lighthouse as an emergency measure. 
Snow
This is a classic I-95 Nor'Easter. For South Jersey, the nearby water cuts down on totals.
As colder air funnels in on the backside of the storm, rain will change to snow. Start times vary from the early afternoon in western Cumberland County to perhaps the last few minutes of the storm in Cape May. Snow that does fall will be wet. Snow may be heavy at times, which can stick to roads, regardless of temperatures.
Totals range from scattered coatings to 2 inches in Cape May county, Cumberland and Atlantic Counties ranges from scattered coatings at the shores to potentially a half foot along Route 54 from Hammonton to Vineland. Ocean County will range from scattered coatings to around 3 inches west of the Parkway.
Rain
Rain, heavy at times, will fall this morning until it changes over to snow. Prepare for extra travel time. Not including melted snow, between a half inch to an inch will fall. Streams and creeks will be OK, but a few roads may pond up.
Coastal Flooding + Beach Erosion
We sustained minor to moderate beach erosion from last weekend's storm. That is not bad, but our defenses are weakened. Another round of minor to moderate beach erosion is expected. In addition, minor flood stage is anticipated during the Wednesday morning high tide.
What's Next?
We dry out on Thursday as the winter feel continues. Highs will be in the mid-40s with a partly sunny sky. It will take a chunk out of the snowfall. Friday will be about the same, though isolated snow flurries will be around.