Rest of the work week is quiet as we cool down into Thanksgiving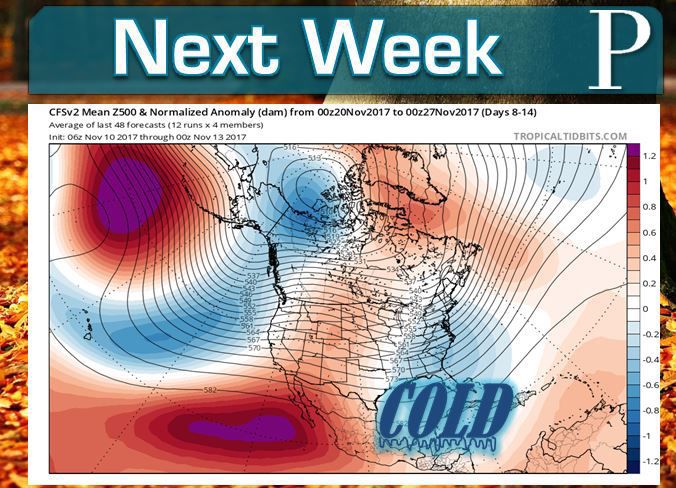 After a few days away to be with family, I am happy to be back with you (on the back of your newspaper, I might add).
Monday was a raw one, with rain throughout the morning and midday. Looking over the numbers, we received anywhere between 0.25 and 0.5 inches of rain across the area, with a few higher amounts around Atlantic City and Cape May. This was a good, plain, vanilla rainfall for us. Flooding issues were nonexistent, and we dried out nicely overnight.
We will keep with issue-free weather through the rest of the week. The sunshine we have this morning will give way to a few afternoon clouds, as a weak low-pressure tries to develop south of Long Island. Highs will be in the low to mid-50s. Wednesday will then be a great, crisp November day, under a mostly sunny sky.
The only blip in the radar for the rest of this week is early Thursday. A cold front will push through South Jersey. While a cloudy start is expected, nothing more than isolated rain showers will be the case during the morning commute. If you really do not want to chance being wet, bring an umbrella.
Friday will be quiet, with sunshine. A large, closed area of low pressure will roll in for Saturday and Sunday. Breezy, southwest winds will pop temperatures into the mid-60s during the day. As the system arrives, though, so will periods of rain. This will continue into Sunday, likely ending by the afternoon. Keep it in mind if you have outdoor plans.
Do not get too excited, but if the front clears out early enough Sunday, we may be able to break out the word of winter, snow.
There will be plenty of lake-effect snow to go around in the Poconos. Meanwhile, it is tough, but not impossible, to see this down in South Jersey. If any falls, it would likely just be conversational flakes, perfect to talk about as a few fly around.
This then brings us up to our first of the big three holidays, Thanksgiving! In addition, it will be an all-important travel week. I am expecting a colder-than-average week, with plenty of days struggling to reach 50. The pattern is not looking active, though.