Snow Saturday, followed by cold
Some of you may say the cold is no good without the snow.
You will get your wish Saturday.
A system from the Midwest will wring itself of moisture, but then re-develop offshore, bringing a daytime's worth of broomable, fluffy snow.
First, the timing. Snow developed and is falling over much of South Jersey. It will be light and scattered at first. However, periods of snow are expected during the midday and afternoon. This is especially true north of the Atlantic City Expressway. Then, between 1 and 4 p.m., the system pulls away, ending the event. A brief snow squall is not ruled out during the evening, but I would put it under a 50/50 chance.
As you may imagine, snow will have no problems sticking to roads and sidewalks given the recent cold stretch. Traveling will be a little slick at times, but as long as you give yourself extra time, you should not have any issues.
In terms of accumulations, I am expecting 1 to 2 inches for Atlantic, Ocean as well as northern Cumberland and Cape May counties. For the rest of Cumberland, as well as Cape May County, a coating to less than 1 inch should be all that falls.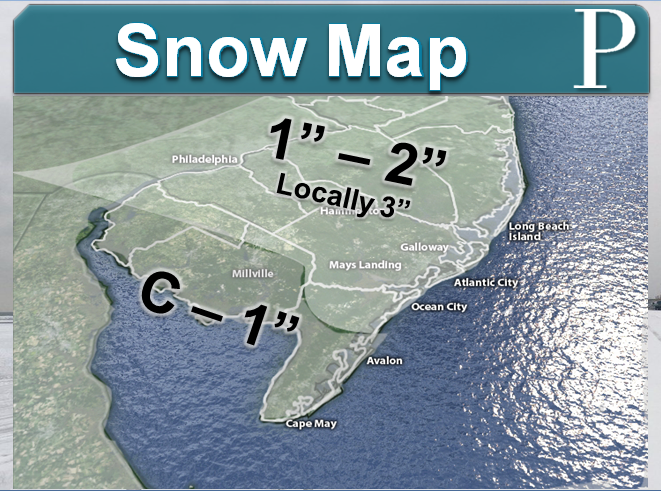 Also, there could be localized 3-inch amounts. If the storm strengthens on the earlier side, more moisture will get thrown onto the island. Furthermore, the high snow ratios (15:1 instead of the usual 10:1) can help squeeze out a little more powder.
After this passes, strong northern winds rush down from Quebec, bringing us right back down the thermometer. We end 2017 and begin 2018 the same, with highs in the low 20s and lows around 10. There will be plenty of sunshine, but it will not do much.
With winds of 15 mph, wind chills will struggle to get above 10 or even 0 at night. Please bring the hat, scarf, gloves and whatever you need to celebrate the New Year. Also, remember to keep your pets indoors and in the heat, too.
The weekend's forecasted cold weather has event organizers reconsidering several first day d…
Tuesday will be much like Sunday and Monday, with a high in the low 20s.