Summer still reigns with warm, humid weekend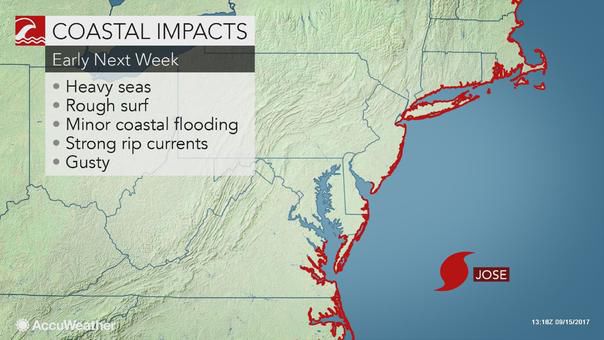 Good morning! Warm and sunny conditions are expected today. This kind of weather reminds us on the calendar that it is, indeed, still summer.
High temperatures should crack 80 degrees for locations away from the ocean. Areas along the immediate coast could max out in the upper 70s. Winds should be light out of the east, which should keep some humidity lingering. Overnight low temperatures will likely struggle to fall below 70, especially along the coast.
Sunday will be more of the same. Warm, sunny and slightly humid conditions are expected with winds a little more out of the northeast rather than east. Another warm late-summer day. Both Saturday and Sunday have a small wildcard chance of instability-driven isolated showers.
Above the swampy air mass are colder winds, which could spell a recipe for such. Most should stay rain-free for the weekend.
Sunday night through Wednesday morning is a complicated forecast given much influence from Tropical Storm Jose. I still believe Jose's core winds will stay offshore. However, Jose might not stay far enough offshore for zero impacts.
My primary concern is the prolonged period of onshore flow, which will last at least three high tides and possibly four. We're also running up toward a new moon Wednesday.
My greatest concern is minor-to-moderate coastal flooding along the immediate coastal areas. Increased wave heights, dangerous rip currents and beach erosion are a given.
Rainfall amounts and wind speeds are my secondary concern. I expect the core of Jose or its remnants to recurve to the northeast after paralleling the East Coast near the Outer Banks of North Carolina. This puts the Outer Banks and Cape Cod in the cross hairs for heavier rain and wind but not so much New Jersey.
Once Jose or its remnants move away, winds will shift back to the west. Temperatures should remain warm, but most of the humidity will be gone. A dry 80 will feel much more pleasant than a humid 80.
Marine conditions are expected to relax heading into next weekend. Wave heights will return to average and the risk of dangerous rip currents should subside. Beach erosion should leave a solid temporary footprint along the beaches. We then turn our attention to more tropical activity in the Atlantic Ocean as we close out September.
Everyone have a great Friday and please be safe!