The full breakdown on Wednesday's nor'easter in South Jersey
We have one last quiet day Tuesday before a nor'easter brings another round of rain, snow and wind to the area.
Temperatures Tuesday morning start out in the upper 20s to around freezing. 
We will have plenty of sun to start the day. However, high pressure will retreat north and the makings of our storm system will first be seen during the afternoon, with increasing clouds.
A low-pressure system in the Great Plains moves into the Midwest during the day. It will then transfer its energy off the DelMarVa coast, where it will form a new low pressure and intensify. Rain showers develop between 7 and 10 p.m. Tuesday.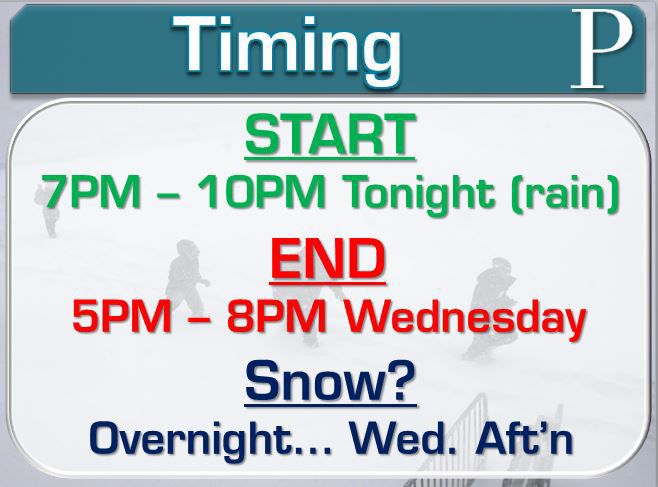 As the rain intensifies, it is possible that snow will mix or change over from rain after midnight. The best potential for this to happen will be the further inland one and closer to I-95. I do not believe the majority of our accumulation occurs during this time. However, an inch or two could fall, mainly sticking to grassy and colder surfaces.
On Wednesday morning, low pressure will make its closest pass to New Jersey. Since low pressure systems spin counter-clockwise, east winds will howl in from the mild Atlantic Ocean. This will flip any snow falling to rain in time for the morning commute. That will be saving grace. However, it will be a wind-swept rain and you will need the rain gear, and a few extra minutes, commuting.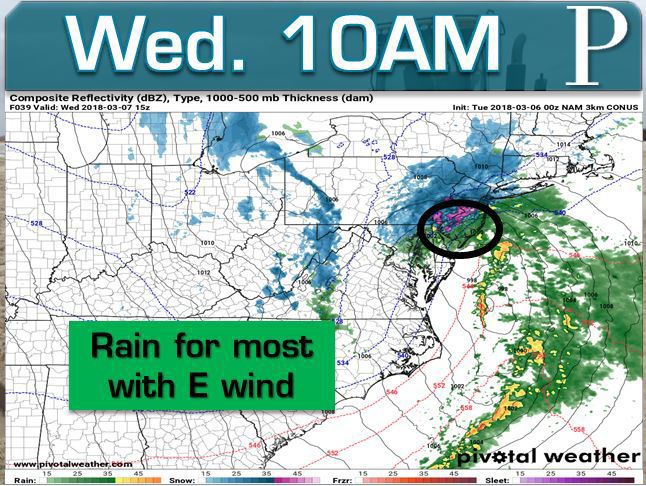 Then, during the afternoon, we go from wet to white for many of us. Winds will turn northeast as the low tracks toward New England. This will cut off the source of mild air and be able to tap into the cold air aloft. When rain turns heavier, it will flip to heavy snow.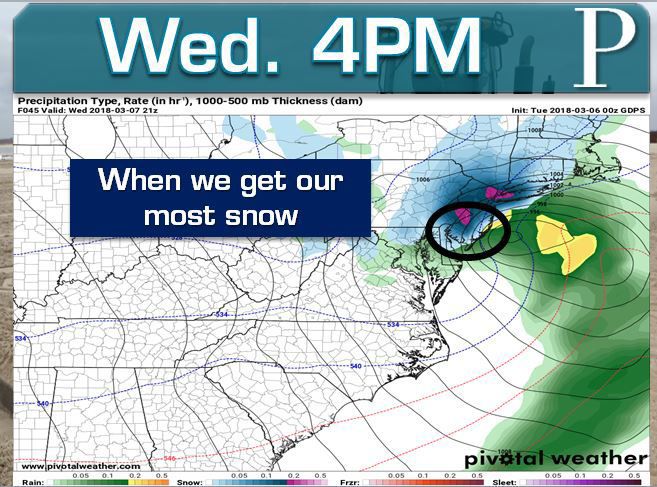 For those west of the Parkway and away from the Delaware Shore, a 4-7 hour stretch of a sloppy, wet snow will fall. Snow will be for a less period of time along the coasts and east of the Parkway. Snowfall rates of 1 inch - 1.5 inch per hour will be able to stick on roadways, regardless of the previous rain or air temperature. 
The snowfall map is posted below. In general, you go from a coating in Cape May to 4 - 7 inches in western Atlantic and norther Ocean county. When the winds flip will be key Wednesday afternoon. I lean high because of the intense precipitation that will fall from the sky and it should be able to counterbalance some of the warming.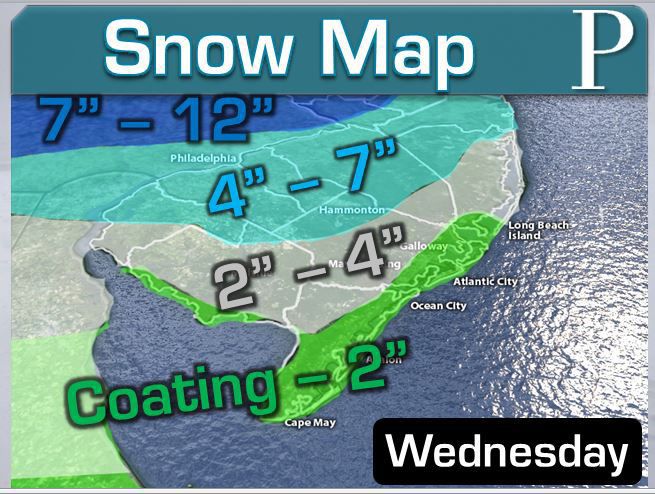 It will not just be about the snow either. Winds are a concern. Gusts will top out around 50 mph at the Jersey Shore, with 40 mph gusts likely at times on the Mainland. This will not be as bad as last weekend's historic Nor'easter. However, it will be enough to blow snow and rain around, as well as bring isolated areas of damage.
Some trees and power lines are likely already compromised from last weekend. Wednesday will add salt to the wound. A few downed trees and isolated power outages are not ruled out. This is especially true where the most snow will fall, putting extra weight on them.
Moving to coastal flooding, the Tuesday and Wednesday morning high tide cycles will both be in minor flood stage. Thankfully, it will not be as long lasting as the previous coastal storm; waters should be much lower after Wednesday morning.
Do anticipate tricky traveling in the susceptible spots, where cars may have to be moved. Most will be OK, though.