Thunderstorms, rain likely dominate Friday, but clearing by weekend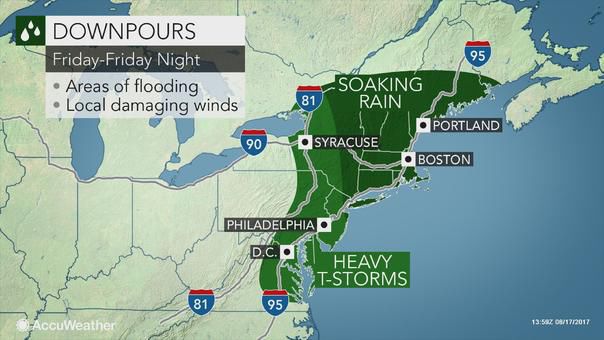 Good morning! Friday and Saturday feature unsettled weather as a cold front moves through the region.
The first area of precipitation should arrive between 6 and 10 a.m. Friday along a prefrontal trough.
A prefrontal trough is just an elongated area of low pressure that likes to form linear segments of showers and thunderstorms. We then should see a break in the rain for late-morning through afternoon hours, followed by more rain and possibly thunderstorms along the cold front itself late Friday into overnight hours.
The cold front, and all associated rainfall and thunderstorms associated with such, should clear the South Jersey coast by sunrise Saturday. There's a chance this happens even earlier, closer to midnight Friday, which should make most people happy.
This means a much better Saturday and Sunday are expected. I'd give Sunday the nod for the better day simply because remnant clouds and humidity could linger for the first part of Saturday. But both weekend days are looking pretty good for outdoor plans and activities.
I would like to note that temperatures will still easily reach into the 80s, despite the lower humidity post-frontal passage.
The nice stretch of weather between Saturday and Monday should conclude with unsettled conditions returning to the region Tuesday and Wednesday. Wind flow will switch to the south, which will allow humidity to build back into the region.
Therefore, rainfall and thunderstorms are possible early next week on an isolated-to-scattered basis. Not a washout, though.
The tropics remain active, however no threats of landfall exist for the East Coast in the near future. We might be tracking one of three waves crossing the Atlantic toward the Caribbean next week, but again, none of them pose New Jersey disruption for now.
Water temperatures should remain in the mid-70s with persistent southeast swell.
Everyone have a great Friday, and please be safe!