Tides Run High Today, then Something for Everyone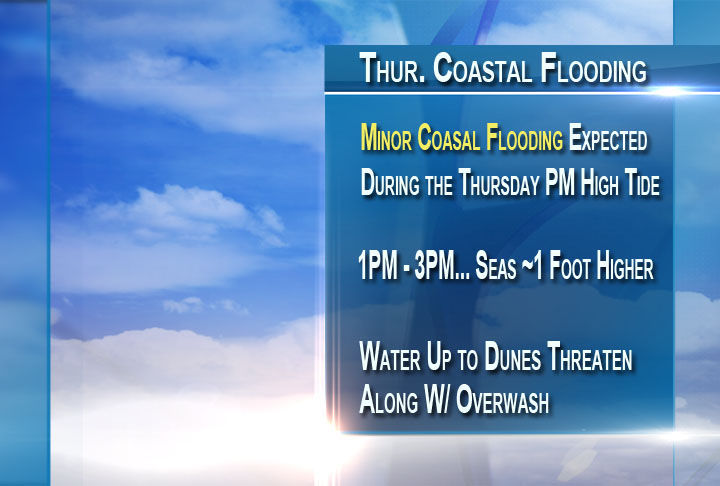 If you like gray, raw weather, there will be a couple of days for you.
If you are missing the shorts and sandals already, do not worry, the warm weather will be back.
Looking for rain? We have that.
And, finally, looking for that crisp autumn day to enjoy? That will arrive too.
The only steady part of the seven-day forecast is that quick-moving systems will pass through. The last of Wednesday's spotty rain showers will taper off early with rain.
While it is nothing notable, it is much needed, given the dry weather over the past couple of weeks.
You will remember Thursday more for the wind than the rain, though. East-northeast winds will sweep in, with gusts in the 30s as temperatures settle into the 50s. Between the onshore winds Wednesday and Thursday, coastal flooding will be a concern during the afternoon high tides.
Minor flood stage is expected from Brigantine south, with slightly lower waters likely on Long Beach Island.
The good news is no structural damage is expected. However, overwash onto shoreline roads, especially along the bay, is anticipated, along with ocean water running close to the dunes.
Moving forward, Friday will be another breezy day. The sky will be partly sunny to mostly cloudy as highs warm into the mid-60s. Believe it or not, that is seasonable for this time of year. You will not need the umbrella, but with this setup in place, areas of drizzle are possible during the later part of the day.
Then, just as quickly as we turn to the weekend, we will warm up yet again. High temperatures will rise into the 70s Saturday and the low 80s Sunday!
As we start the work week, a cold front will pass sometime Monday. This will bring a line of showers or even a rumble of thunder, but most of the day looks dry.
Crisp Canadian air will clear out the humidity as we go into the middle of the week.
It will be right on target for mid-October, with highs in the 60s.