With the hustle and bustle of the holiday season, it's somewhat routine for folks to run to the mall with blinders on, heavily focused on completing their mission to check off all the little Dylans and Julias on their shopping list.
But this holiday season, Tanger Outlets The Walk is offering guests an opportunity to take a break from the stresses and strains that come with city shopping, and enjoy ARTeriors, the fourth pop-up art exhibit created by the Atlantic City Arts Foundation.
This may be the East Coast, but Country Club Tavern and Package Goods is straight out of the…
ARTeriors is a temporary "collaboration of artists turning an unused space into a lively and eclectic experience for residents and visitors of Atlantic City," says Joyce Hagen, executive director of the arts foundation and an artist herself in ARTeriors. "The ACAF ARTeriors program temporarily takes over properties in Atlantic City that are 'in transition' — condemned, for sale, for rent, vacant — and gives them a renewed life for a short period of time. Properties selected for an ARTeriors event undergo a quick transformation by local artists, and then are opened to the neighborhood and the general public to enjoy."
The unused space for ARTeriors: Tanger Outlets The Walk is the former Wet Seal store, located between Aeropostale and American Eagle. The free exhibit commences with an open-to-the-public VIP reception for $25 from 4:30 to 7:30 p.m. Friday, Dec. 8, and runs weekends through Dec. 23 with hours of 11 a.m. to 5 p.m. on Saturdays and noon to 5 p.m. Sundays.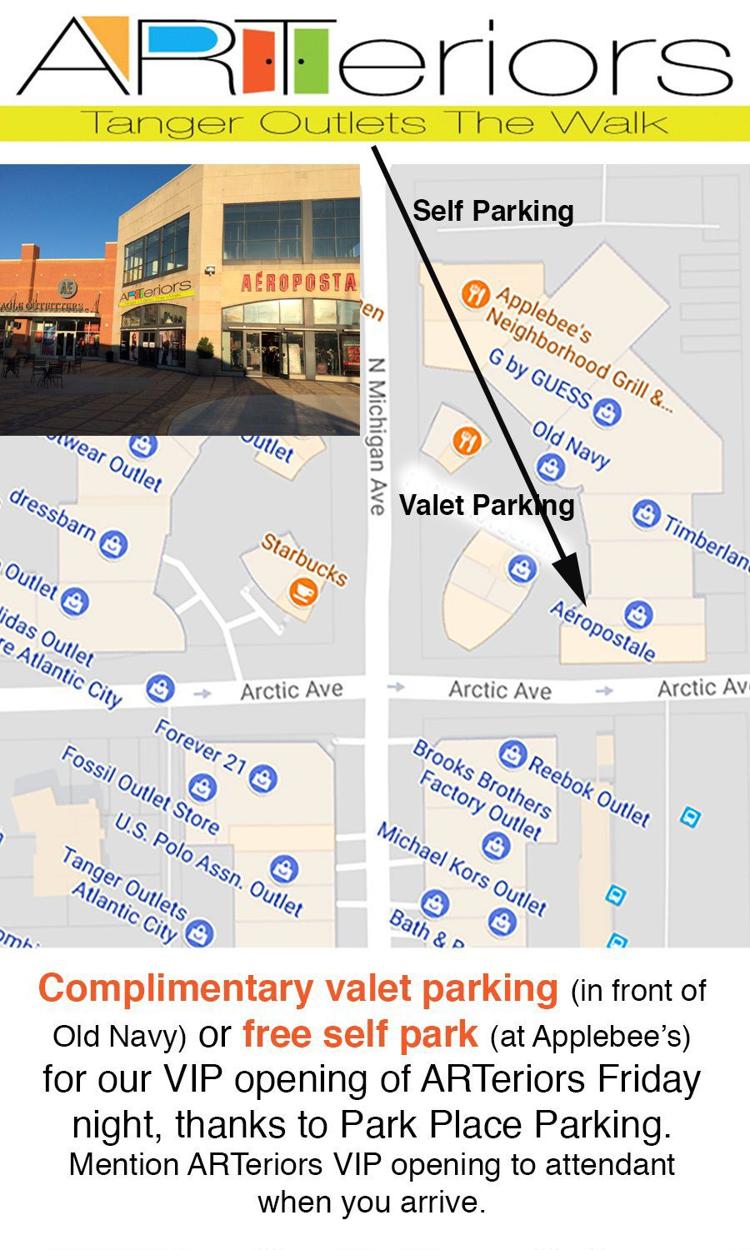 "It has been proven time and time again that arts projects have universal appeal and can play an important role in improving the quality of life for urban residents and to aid communities working toward their redevelopment goals," Hagen states.
Artists creating a variety of two- and three-dimensional installations for this particular ARTeriors are Ed Alvarez, Nastassia Davis, Christian Mauriello and Jorge Azcona, Marjorie Preston, Karl Rosenberg and Rob Rossiello. There will also be graffiti art by Marcus Hughes and a participatory interactive exhibit created by Chung-Fan Chang and Hagen.
There are plenty of options for holiday-themed shows this time of year. Everything from ligh…
"The space donated to us by Tanger Outlets The Walk creates unique opportunities for the artists who are creating installations. Some artists get to work on a larger scale than they've worked before, others are inspired by fixtures and items that were left by the previous tenants," explains Hagen, who created a concept participation installation that's relevant to art, the holiday season and the casino culture with Chang. "For the artists, the process of creating in these spaces in the presence of a group of artists all working in different media on different concepts on a shoestring supply budget is challenging, but rewarding. ARTeriors artists always create a collective exhibit that is exciting for the community."