For years, artist Michael Kenney — or Michael J, as he prefers for his paintings — hated art.
As a boy, he'd follow his mom, a painter, around and draw beside her — he even enjoyed it for a while and grew to become pretty good at pencil work. His supportive parents encouraged him in his artistic endeavors. But once he realized that he was simply mimicking the style of other artists that he admired (Greg "Craola" Simkins, Tristan Eaton and Alex Pardee), he put the pencil down.
"I started hating art because I was doing what others were doing," says Michael J, 27, who also cites Andy Warhol and Banksy among his influences. "I finally took what I liked from everybody, threw in my own style and made my own thing. Now I paint what I like. I love that I create my own style."
His style can be seen on 14 canvases at the Ocean City Arts Center in his solo show "Identity," which runs through July 31.
In "Identity," Michael J, who is also a middle school math teacher, paints popular and iconic figures — Marilyn Monroe, Audrey Hepburn, Jim Morrison, to name a few — and eliminates his or her face, replacing it with a mesh of colors and abstract images.
The purpose is to illustrate his own perception of that person's true identity, as well as challenge the viewer to construe their own interpretation.
In Michael J's Audrey Hepburn portrait, he used spray paint to cover her visage with bold, multi-colored dots. "From what I've seen and from various interviews, she (Hepburn) was a very vibrant, very cool person — on the surface. That's the person I see as Audrey Hepburn."
His Marilyn Monroe, who with the exception of her conspicuously deep scarlet lips, is also done with sprayed-on dots, but mostly of varying shades of blue. "When I see Marilyn, I see her lips first. And blue … blue is a sad color. She left the world too soon."
As excited as Michael J is of this opportunity to exhibit his solo works, he's even more jazzed to display two pieces for which he collaborated with 16-year-old Dylan Brown, an abstract artist with Down syndrome. "He paints his abstract image first, then I paint on top," explains of the process. "He's incredible."
The partnership with Brown fits in with the bigger intention of "Identity" — to inspire people "to be the best that you can be."
Michael J was challenged to do better by Jack Devine, board president of the O.C. Arts Center, who happened upon Michael J's work at the Boardwalk Art Show a few years back when he was just starting out.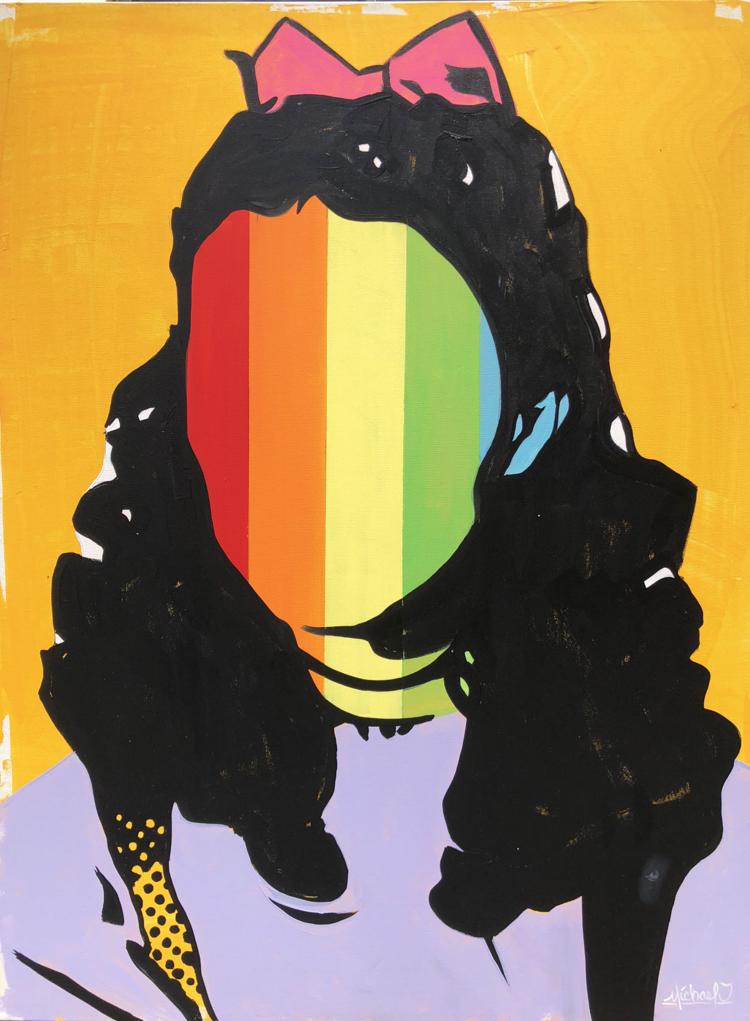 "Jack was the first person to come into my booth. He told me what he liked and what he didn't like. He was the first to really critique my work. It made me take a step back," he recalls. "I thought I was going to change the art world, but he made me realize I had a lot to learn."
The part-math teacher/part-artist hopes that his work will educate others.
Ask anyone in Cape May where the best place to catch a sunset is, and they'll likely respond…
"When I paint I want my art to speak to people … I want it to have a meaning behind it, to inspire people. Today, everybody wants to be somebody important. They think if they're not making a movie or making music, then they're not making a statement.
"But you don't necessarily have to be the most famous person in the world. I've stripped away their faces (Audrey, Marilyn) and you still know who they are.
"I could strip away your face and people will still know who you are," implying that life is about one's spirit, and not one's physicality.