Gwenn Seemel's upbringing is almost as colorful as her portrait work. Born in Saudi Arabia, she moved to Oregon with her parents when she was still a baby, lived on and off in France, and is now residing in Surf City.
"I could have actually become a citizen of Saudi Arabia, but with a French citizenship from my mom and an American citizenship from my dad, I figured that was enough," she laughs.
She very vividly remembers the time when she seriously thought about being an artist — at 6-years-old, when she and her 9-year-old brother were playing, pretending the pull-out sofa was a spaceship and they were traveling in outer space.
Unless it's part of the script, breaking into tears during a play is considered a theatrical…
"Like a lot of siblings, he was always hard on me, letting me know who's the boss," she recalls. "He was the 'captain' (of the spaceship), and while he was talking, and I was drawing on our 'console'/pillow. He looked over and said, 'that's not so bad.' It was a lukewarm compliment, but coming from my biggest critic, it was huge."
Knowing she wanted to pursue art, she double majored in studio art and French in college in Oregon, a deal she made with her parents who paid for her education.
"If art didn't work out, they wanted me to have a back-up plan," she says. "I could always teach French."
What she discovered was that learning a foreign language wasn't the only way to communicate with others. Her art — portraiture specifically — was also a venue for conversations.
"When I do portraits, I skip over 'how's the weather' and go into detail and get more in-depth with the person I'm painting," Seemel explains. "It's about communication and getting to know who I'm communicating with.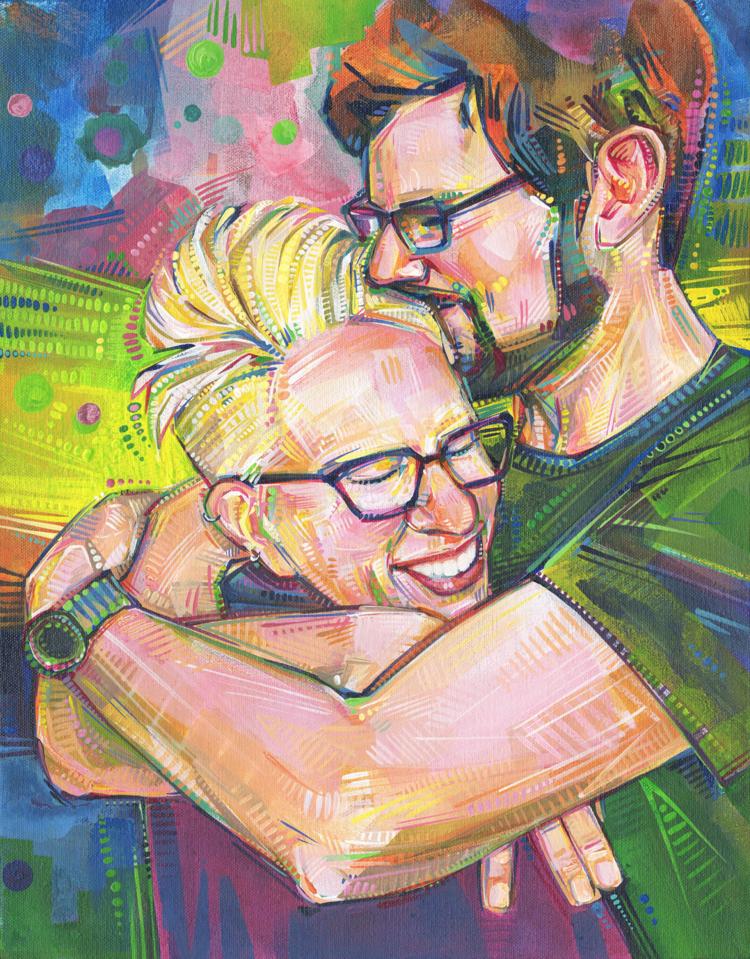 "Obviously, I have a vision. You can't be an artist without a driving force that you want to communicate."
Her unique painting style, a more modern and vibrant take of Van Gogh's, was inspired by an intaglio printmaking class she took as a teen. Not knowing how to draw well at the time, the cross-hatching technique utilized in intaglio eventually became her trademark approach to her painting.
"When I moved to paining, continuing with those cross-hatching marks came naturally," she says. "And looking more into Van Gogh's work and seeing a show by Arnold Mesches (the late New York artist who did some cross-hatching), that sort of solidified the mark making for me.
"All of us are made of atoms — energy is always vibrating — it's this constant dance. These little marks are a reminder of what we're made of."
For those who follow my monthly column, you may recall that I started the year off with a pi…
Her portraits, both of humans and animals, seem to delve into the souls of her subjects and bring individual characteristics to the surface of each. Thus, she adjusts her palette to suit her subject's personality, even if it goes against her own.
"Bright and happy colors are more me. But I like when I paint a subject in suitable tones for them — it pushes me," she says. "But if it were up to me, everything would be a rainbow."