Carlo Marsini is aware there are a lot of Italian restaurants … a lot.
In fact, just in the tiny town of Somers Point there are at least a half dozen.
But his new Somers Point creation — Marsini's Kitchen — is very different from your typical Italian takeout joint. It's a place where creative, out-of-the-box ideas meet traditional, homemade goodness to conceive an Italian experience that will attract adventurous foodies and make grandma happy at the same time.
 // <![CDATA[ // <![CDATA[ var _informq = _informq || []; _inform…
Take the appetizer menu, for example. It starts with empanadas ($6) — not exactly Italian in nature, but Marsini's spin makes them seem like they came from Sicily, as they are filled with chicken, prosciutto, spinach and mozzarella. And they change on a regular basis.
Up next, Mom-Mom's Meatballs ($8.50), a Marsini family recipe that has Somers Point buzzing, just like it did when Marsini ran his Margate-based catering company. Now that's Italian!
But there's also fries ($4) that can be dusted with your choice of Old Bay or parmesan rosemary and even topped with Marsini's signature pulled pork that the chef braises for 24 hours — yep, you read that right: 24 hours; pepper shooters ($6); hand-breaded chicken cutlet tenders ($8); and Italian sausage and broccoli rabe ($9) that would make Tony Luke proud.
That eclectic approach carries throughout the menu.
Soups ($4, $6, $10) include a homemade escarole — "Shkaaa-dole" — loaded with soft, tender, green goodness and perfectly formed, equally tasty mini meatballs in an excellent chicken broth. As good as it was, the soup of the day was even better: a creamy tomato bisque that had a bit of spice and great tartness with a skewered grilled cheese over the top of it to perfectly warm a chilly day.
Those little extra touches are what separates Marsini's from many others.
Popular salads include a roasted beet ($11) with arugula, goat cheese, crispy red onions and golden balsamic dressing, and a house ($5, $10) with mixed greens, cherry tomatoes, carrots, dried cranberries, diced cucumbers, blue cheese crumbles and balsamic, but, of course, we saved room for the good stuff.
1. The What: An annual three-day shopping extravaganza where the amazing shops and boutiques of Avalon and Stone Harbor conveniently convene i…
An array of sandwiches include everything from a classic Italian ($10) to a chicken cutlet Italiano ($11) with broccoli rabe and long hots. But we couldn't pass up the smoked grilled cheese ($12), and we were glad we didn't. A beautifully buttered and grilled Rando's Bakery sourdough oozed smoked gouda, gruyere and cheddar cheeses combined with some nicely-flavored smoked pork — although maybe a little too much of it, which overpowered the sandwich — and fried onions. Despite that, it is worthwhile decadence.
The flatbreads are THE main attraction at Marsini's, and for good reason — they are delightful. The dough is crispy and light as a feather, and customers can choose from a simple Margherita ($12) or the awesome looking meatball fra diavolo ($15) with homemade meatballs, cherry pepper ricotta, mozzarella and tomato sauce, but the special flatbread of the day screamed for us to try. Flatbread Italiano was the ultimate treat of the night: a white ricotta square pie with homemade chicken cutlets, broccoli rabe, sliced long hots, provolone and prosciutto. We recommended to the manager that it should be added to the regular menu. He didn't need our recommendation; it's already in the works. So no need to thank us.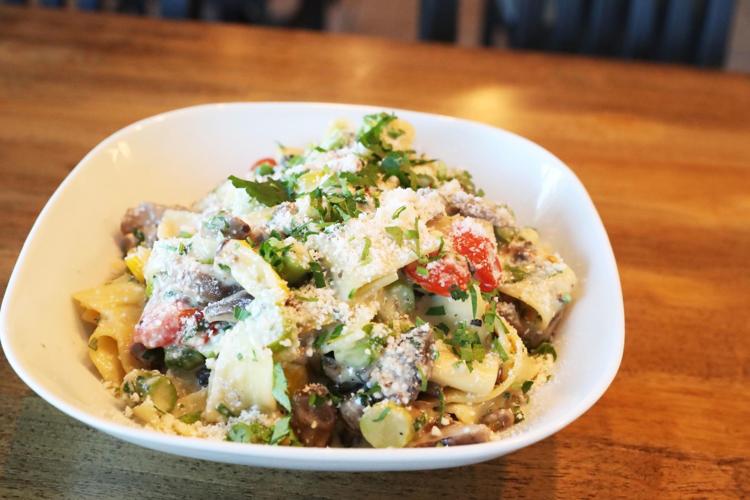 Our only disappointment of the night was our pasta choice: Lala's alfredo ($15) featured tri-color tortellini with peas and prosciutto in an underwhelming creamy cheese sauce. Bland with unimpressive, store-bought, cheese-filled pasta, we barely touched it and needed to add our own grated parmesan to add flavor. But we can't wait to return to try the spaghetti and meatballs ($16); the seafood bucatini ($24) with shrimp, crab, rosa sauce and fresh herbs; and the sausage cavatelli ($19) with sweet Italian sausage, broccoli rabe, roasted peppers and white wine butter sauce.
Part of the fun is seeing Marsini and his crew making everything through the open kitchen that once served as the pizza counter of the former Emilio's Pizzeria. Marsini says the kitchen is the place where he needs to be because it's where he comes alive, and just watching his big smile light up under his newsboy cap while working the line is infectious.
The talented chef and new restaurateur will continue to cater out of his new location, and the catering menu is equally impressive, boasting packages like "The Shindig" starting at $12 per person.
Marsini's is the type of restaurant that can quickly become a local gathering place. Although the interior is simple and far from lavish with its tables pushed together tightly to accommodate as many hungry patrons as possible, it's a fun dining experience. On our visit, customers who arrived separately were passing food to each others' tables and sharing bottles of wine they brought with them.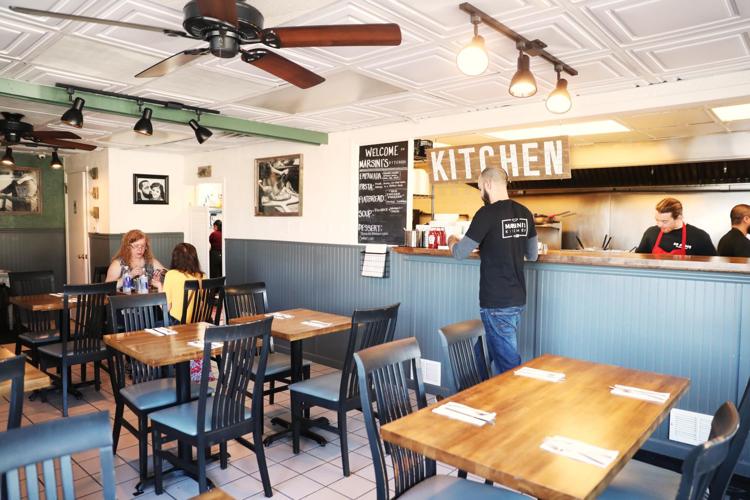 "Hey Tony, try this grilled cheese; I am way too full to come close to finishing it," one customer said.
"Thanks, brother, try this flatbread; it's off the hook," Tony replied.
That's the kind of place we want to dine.