St. Patrick's Day means many things for many people. For some, it's a religious celebration in honor of the saint who, according to legend, drove the snakes out of Ireland. For others, it's a chance to sling back pint after pint of Guinness before deciding to get an ill-advised clover tattoo. And then there are those for whom St. Patrick's Day is less about beer and more about another beloved beverage — McDonald's Shamrock Shake.
The Shamrock Shake is released annually for a limited time around St. Patrick's Day. The light green, mint-flavored shake is available for about a month, causing devotees to flood the drive-throus of McDonald's nationwide for their annual fix.
St. Patrick's Day sits pretty low down on the totem pole of holidays. It's not a day for gift-giving. Few decorate their homes for it. It has …
When we found out that our resident foodie — Associate Editor Ryan Loughlin — had never had a Shamrock Shake, we rushed over to the nearest McDonald's to remedy this lapse. After trying the green concoction, two disparate opinions emerged, with associate editor and resident fast-food aficionado Rebecca King, claiming the shake to be a delightful, seasonal treat, well worthy of the hype, and Ryan asserting that the Shamrock Shake is less-than-impressive with a flavor that hardly resembles real mint.
Many questions emerged from this experience: "Why are mint-flavored things associated with St. Patrick's Day?" "Is it just because they're green?" "What does a Shamrock actually taste like?"
We don't have the answer to these questions, but what we do have is a roundup of places offering mint-flavored milkshakes, similar to the Shamrock Shake, that even Ryan can approve of. Feel free to ponder the aforementioned questions while slurping down one of these treats.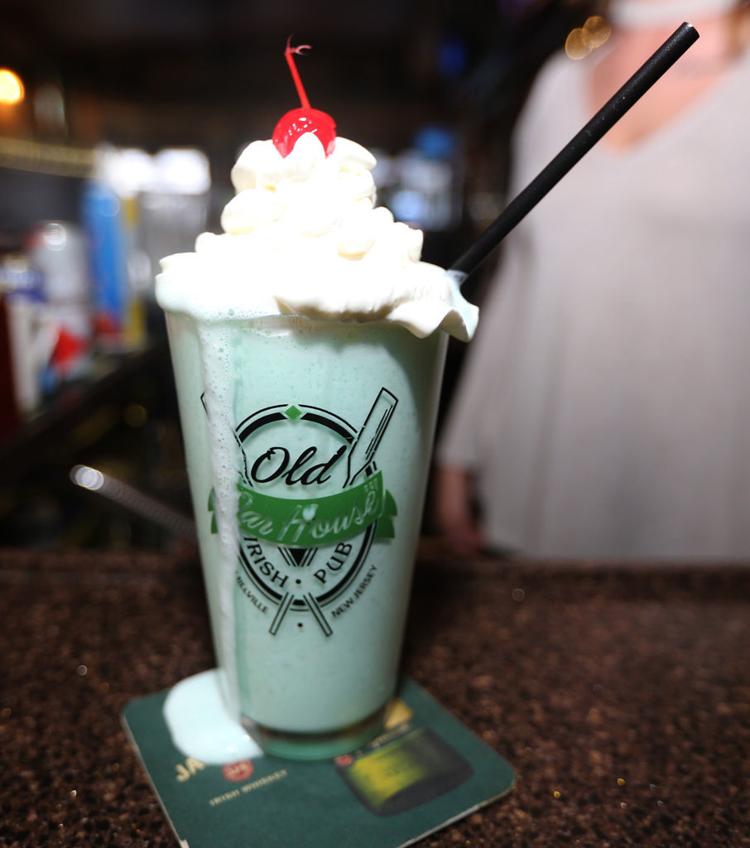 For a creation in the style of a traditional Shamrock Shake, look no further than The Old Oar House, which offers a mint milkshake that can be enjoyed outside of the savage fluorescence of a McDonald's dining room, in the much warmer atmosphere of an Irish pub. For St. Patrick's Day, The Old Oar House will also offer themed shots, including Irish whiskey, Irish Car Bomb, Irish Breakfast and Baby Guinness shots, for those looking for beverages of a more adult persuasion.
A favorite among the upper management of Harrah's, the Grasshopper at AC Burger Co. is sort of a spiked Shamrock Shake. It combines Crème de Menthe, Bailey's and Frangelico for a frosty treat that will have you feeling the luck of the Irish.
Of course, the incomparable Borgata Baking Company has not only one, but three St. Patrick's Day-worthy treats. First and foremost, its mint chip shake is a chocolaty stand-in for the Shamrock Shake, but if that doesn't satisfy your sweet tooth alone, you can go back for seconds with a non-sippable cup of mint chocolate chip ice cream or a bright green lime macaroon.
McCullough's Pub & Restaurant
The Lucky Shake at McCullough's — made with Kahlua, Crème de Menthe and Sexton Irish whisky, of course blended up with vanilla ice cream and topped with whipped cream — is not the only Irish treat that will be offered there on St. Patrick's Day. From noon to 10 p.m. Saturday, McCullough's will feature a special Irish menu with options like potatoes leek soup, fish and chips, corned beef and cabbage and Irish lamb stew. Go for the shake, stay for the meal!
This boutique chocolate store in Golden Nugget offers perhaps the most vibrantly green shake on the list. We're not sure what makes The Chocolate Box's mint chocolate chip shake so bright, but it's sure to get you in the spirit of the holiday.
The Shamrock Shake-esque options at Trop are so extensive, it needs its own category to cover them all. First, there's Broadway Burger Bar, which is offering two levels of milkshake this St. Patrick's Day. For a tame option, try its Peppermint Patty Milkshake. Or, step it up with Broadway Burger Bar's monster of a milkshake: The Luck or the Bull, a green vanilla lime shake stacked with sprinkles, chocolate syrup, cookie crumbles and more.
Over at Chickie's & Pete's, an adult Shamrock Shake will be offered, made with Stoli Vanil Vodka and Creme de Menthe. Plus, Mrs. Fields in Trop has 15 percent off its Shamrock Breezer smoothie through St. Patrick's Day.
Check out another spiked Shamrock Shake at Harbor Burger Bar. Or, opt for the Lucky Martini, the bar's other minty green drink. Harbor Burger Bar is attached to Harbor Theater, so you can catch a movie while you're there.
Located at 271 96th Street, Stone Harbor. Find it on Facebook.