It's late October and downtown Hammonton is bustling with people looking to grab a quick meal and a hot beverage to cuddle during the soon-to-begin Halloween parade. A huge night for business, main street shop-owners will not have time to enjoy the festivities — among them Ricky Alverio, whose new business the Funky Cow Café is just beginning to make a name for itself.
Alverio works the room, cleaning up tables, checking on diners, doling out cups of homemade hot chocolate and greeting every potential customer who wanders in.
"Welcome to the Funky Cow Café! Have you been here before?" he asks. If the answer is "no," he walks them through the menu, explaining the difference between his savory and sweet waffles — a welcome distinction for many who don't know what to make of such pairings as braised shredded beef, pickled onions, horseradish mousse, sharp cheddar cheese and a waffle.
"Try some of my soup," he says, rushing to the back to bring out a hearty sample of his homemade "funky beef" soup.
There are so many unique and interesting pockets of South Jersey. Sure, individual shops, restaurants and venues are nice to visit, but someti…
Needless to say, Alverio's approach to owning a restaurant is anything but hands-off. His zeal is refreshing and perhaps necessary for one attempting to open a new business. Downtown Hammonton has transformed over the past few years, blossoming from nothing-special to a travel-worthy destination, but this has not been without a few casualties — the town has seen many promising businesses shutter before their time.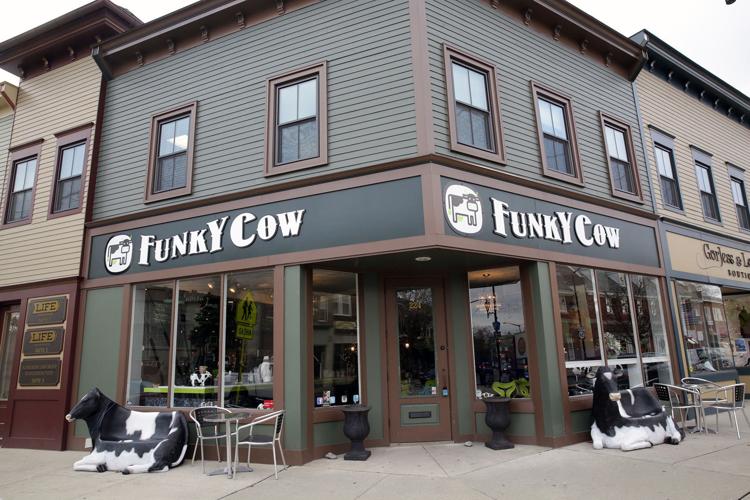 That said, the Funky Cow Café seems poised for success. Alverio and his entrepreneurial partner Jeff Geiger have made a splash with their savory and sweet waffles, having sold over 13,000 waffles since opening in September.
With a splashy sign and eyebrow-raising cow benches outside, "funky" is exactly the word. The concept behind the café came to Alverio in a moment of inspiration while on a trip to Cape May.
"The name Funky Cow came up as I was driving down Route 9," Alverio explains. "I got a call saying a there was a viable space in Hammonton that was a former self-serve frozen yogurt place. I said to myself, 'I would be buying ice cream machines. We aren't going to be able to sustain ice cream on main street Hammonton. I need a café.'
"I thought it would be nice if I served sandwiches, but I didn't want to do it on typical bread. I thought, 'oh my god, I'm going to do sweet and savory waffles.' I used the f-word then, and I thought I needed something along the lines of 'f'ing cow.' That's where the Funky Cow came from. I immediately called Jeff and told him."
Alverio's love of cooking goes back to his grandmother's kitchen when he was just 9 years old. Armed with his Childcraft Encyclopedia — which Alverio keeps at the Funky Cow with him — he began to hone his skills in the kitchen at a young age.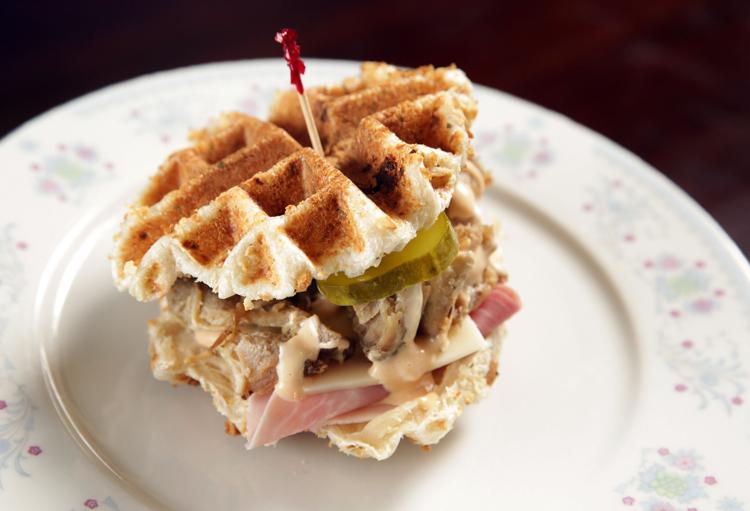 Since then, he's gone on to create such specialties as Lola's Cuban Waffle: fresh roasted pork, ham, pickles, Swiss cheese and "funky" mustard on a homemade savory waffle; the Funk'n Chicken: grilled chicken, bacon, a cheddar cheese blend, lettuce, tomato and creamy sriracha on a savory waffle; and the Holy Cow: roasted turkey, lettuce, tomato, bacon and mayo on — you guessed it — a savory waffle. Beyond the sandwiches, the Funky Cow also offers a variety of soups, salads and healthy bowl dishes like their Funky Lane: blended organic Sambazon acai with blueberries and apple juice topped with banana, organic granola and honey.
Their desserts are just as exciting as their savory concoctions, and put the "cow" the café's name. Thought up by Geiger, they include Apple-Ala-Mooooo: warm glazed apples with a cinnamon sugar crumb topped with vanilla custard on a sweet waffle; and the PB-n-J Explosion: peanut butter and grape jelly sandwiched between two sweet waffles. More waffle and ice cream sandwiches are soon to be released, thanks to Geiger's sweet contributions to the menu.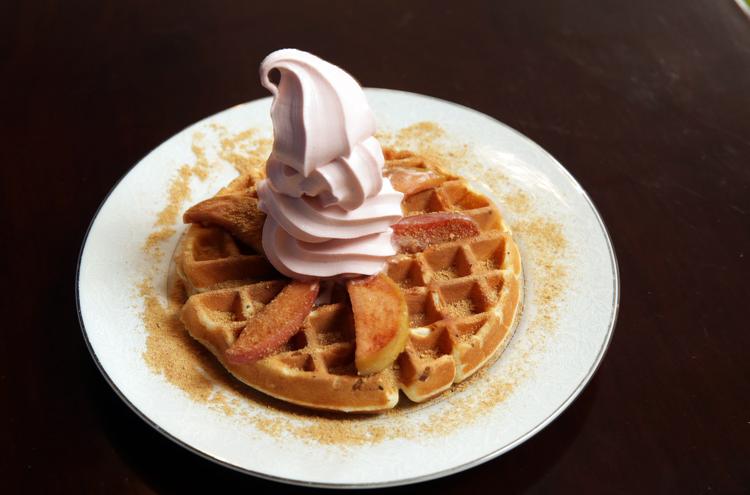 Elbow-deep in waffle batter, Alverio has become somewhat of a waffle expert, able to pull out dates and figures as to when the first waffle maker was made and the history of this sweet-now-savory food. Although they have been dined on since just about the beginning of time, with the opening of the Funky Cow, Alverio has begun a waffle renaissance, at least in South Jersey.
Chances are you may be a turophile — or know someone that is a true cheese connoisseur. If s…
"All the old is new now. Everything from years ago is the new trend," he says of his decision to center his café on waffles.
The Funky Cow fills a void in the downtown area with its energetic, casual vibe. Hammonton's Bellevue is fringed with eateries — among them beloved standards, cozy cafes and swanky restaurants. What was formerly missing from this tapestry was a place to grab a quick, quality meal that doesn't break the bank. With its modern, clean, inviting atmosphere, the Funky Cow Café fits the bill.