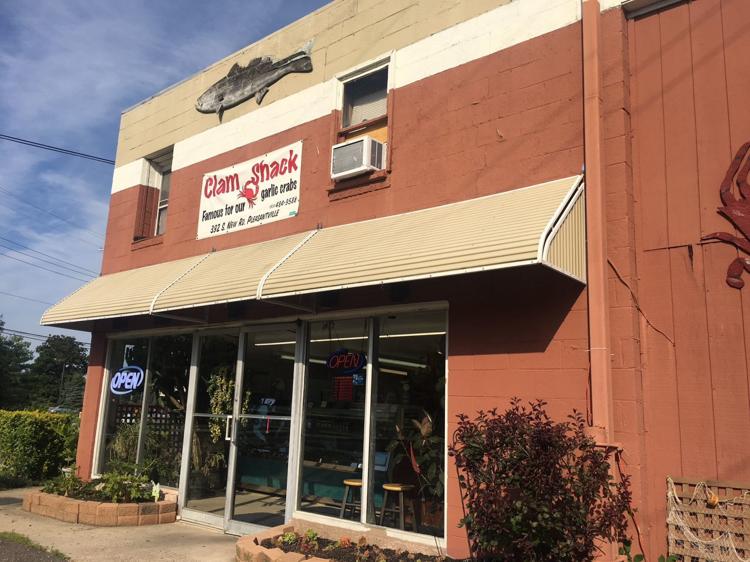 392 S. New Road, Pleasantville; Go to Facebook.com for more info.
I must admit, something about a seafood shack being located in Pleasantville made me a bit skeptical. After all, part of the charm of most of these places is that they are located a stone's throw from the water, offering patrons the opportunity to head there straight from the beach to dine among the divebombing seagulls. At Clam Shack in Pleasantville you are unlikely to run into any sandy-footed sunbathers or stealthy waterfowl, but what you will run into is a simple fish market willing to steam or fry up some seriously delicious seafood. The seating is minimal, with just a pair of high top tables outside, so if you are traveling with a big group you may want to grab your food to go. And whether you stay or take out, you won't be disappointed in your meal. Consider this another lesson in not judging a book by its cover.
Fried colossal shrimp: I hit paydirt right out of the gate with these. A golden batter clung to some of the largest and most flavorful shrimp I have ever had. Not even a hint of that fishy taste that occasionally seems to sometimes lurk in the background of the flavor profile of this dish, I could have just eaten these and nothing else and the day would have been a raving success. You can get these shrimp in smaller sizes such as jumbo, but after tasting these, I can't imagine ordering anything other than the colossals.
Shrimp macaroni salad: An interesting twist on a side dish, this cross between shrimp salad and macaroni salad seems so obvious, it's a surprise that it is not offered on more menus.
Fried oysters: Large locally caught oysters are the pride of the Jersey Shore seafood scene and the ones at the Clam Shack do not disappoint. Sweet, mild (and not chewy) they checked all the boxes and came out on top.
Fried lobster tail: A giant cold water lobster tail battered and deep fried and served with a side of butter spiked with hot sauce, this was truly an indulgent treat. Be forewarned though, the butter is pretty spicy, so if that bothers you, feel free to be a wimp and order the regular butter for dipping.
Tuna macaroni salad: While the shrimp version earned high praise, its tuna-themed sibling scored much lower due to the unwelcome addition of olives and what appeared to be some type of pickle relish mixed in. Hard pass.