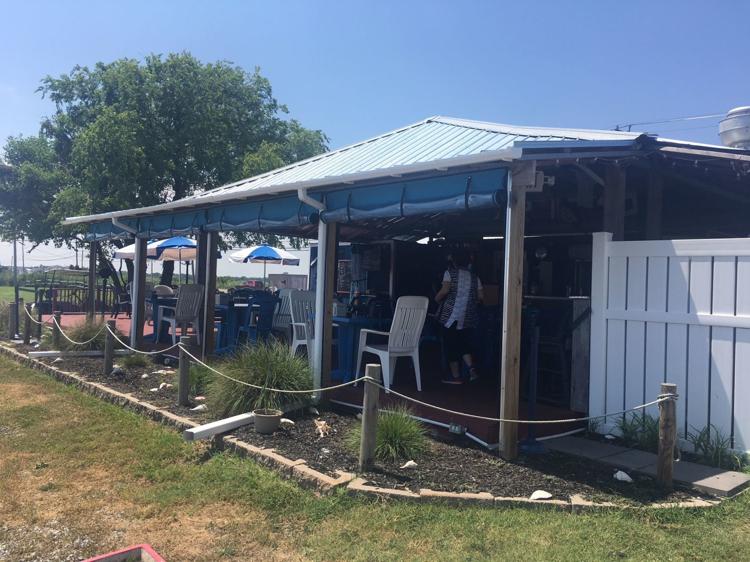 On the Fourth of July, in the blasting heat of the midday sun I set out with a group of friends on another Shackin' Up adventure. This time we ventured south to Cape May, to a spot called Fish Cakes that a reader had suggested I try. From a visual standpoint FishCakes ticks all the boxes for a proper shack — rustic vibe, waterfront views of the marina, breezes shooting through the open-air structure, simple presentation and not a cloth linen in sight. Of course the seafood was on point too, but this may be the only time that I can honestly say it was bested by an order of donuts.
Blueberry lemonade: I'm a sucker for a homemade lemonade, and while they offer more exotic options here such as the blood orange creamsicle version, my pick is the simple blueberry lemonade. Nearly impossible to not enjoy a beverage like this on a sweltering day.
Ahi BLT: Served on toast this made for a nice change of pace from all the more traditional fried seafood dishes I normally order when Shackin.' The ahi served to lighten up the heaviness of the blt as did the wasabi aioli which took the place of the mayo one might expect to find on a sandwich like this.
Fish 'n' chips sandwich: Corona battered cod topped with pickles, housemade chips and a malt vinegar aioli all on a toasted brioche bun made for an impressive lunchtime treat. The malt vinegar aioli made it a standout among more common shack style fish sandwiches.
Hot cinnamon sugar donuts: Easily the best thing we ate all day. A donut fresh out of the fryer is delicious in general, but these were really something special. Yes I would come here for donuts even if I was planning on ordering no seafood at all. They are that good. You can get them with dipping sauces, but they are not needed.
Crab and corn dip: The menu clearly states that this combo of lump crab meat and corn was to be in a creamy sauce but what we were served was literally just crab and corn. Dry. Nothing against crab or corn, but this is not really a dip. And I wouldn't call it a salsa either. I don't know what to make of it frankly, but don't order it.
Hot cinnamon sugar donuts