WEEK 2: Crab Daddy's
581 W. Ocean Heights Ave., Somers Point
Crab Daddy's is a relatively new arrival to the Somers Point seafood scene, opening the doors of its modest space in 2017. Run by the husband-and-wife duo of Jon and Patty Ernst, the building is part fish market, part restaurant. The large, airy room that houses both feels larger than it is thanks to some high ceilings, and the whole space is lightly accented with an assortment of harpoons, buoys and oversized fishing bobbers, all helping to produce just the right visuals to pair with the menu, which features an abundance of classic seafood dishes.
New items get added constantly, and due to the fact that they receive deliveries of fresh fish daily, they can accommodate special orders of just about any type of fish with only a day's notice.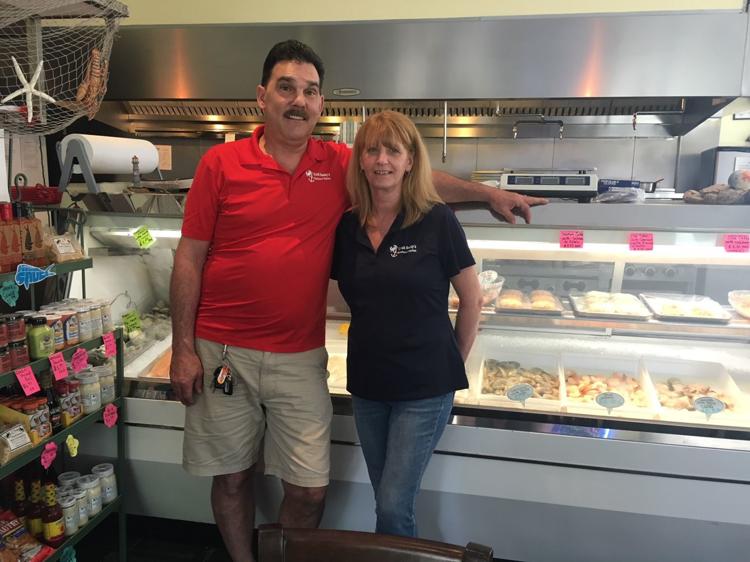 Prior to opening up Crab Daddy's, Jon Ernst used to sell live blue claws out of his van. Nowadays he can be found manning the grill, fryers and steamer pots at Crab Daddy's. Constantly surrounded by seafood, one would imagine Jon to be a huge fan of the stuff.
"I'm allergic to it!" he says with a chuckle. "I can't eat any of the stuff I cook really; maybe a bit of flounder, but most of it is off limits." And that is where Patty comes in, serving as the official taster of all of Jon's recipes and offering honest opinions on each of them.
Not wanting to leave poor Patty with the burden of tasting everything, I decided to step in and help her out, so I grabbed a seat and a soda and ordered up a seafood feast.
App: Hush puppies ($3.99)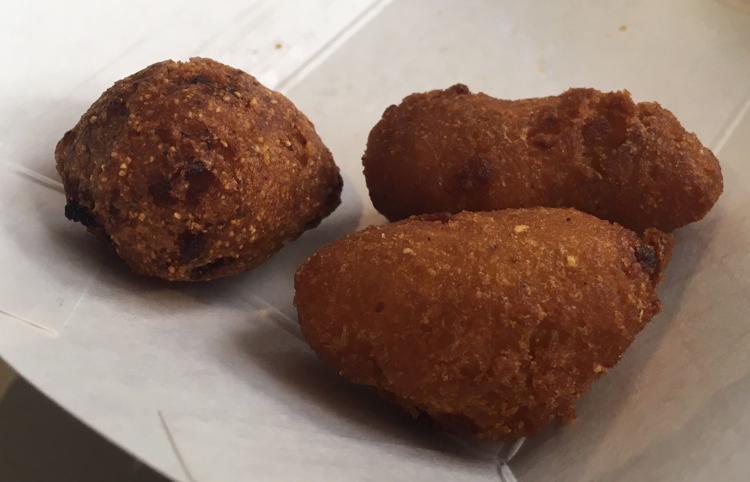 I'm not sure exactly how these deep-fried, corn-based fritters became the go-to side dish for seafood, but whoever came up with the idea was a genius and a personal hero of mine. The ones at Crab Daddy's came served in a simple cardboard boat and were quite good — crunchy but not greasy with a soft interior, I found them to be both a great way to start the meal (they beat plain ol' bread and butter any day) as well as a perfect complement to the main course.
Main dishes: Fried flounder, fried scallops, fried shrimp, fried crab cake
The easiest way to sample a variety of seafood is with some kind of combo platter. This one featured four selections, each coated in their extra-crunchy, homemade breading which brought a welcome bit of golden brown texture to each item. The flounder was massive — one of the largest filets I have ever been served, it easily could have been sliced in half and used to make two fried fish sandwiches. The shrimp were perfectly cooked and flavorful and not hard or rubbery. Each paired well with a dunk of tartar sauce, which I have to recommend over the cocktail sauce, which was partially frozen in the middle (likely just the result of a fridge being turned up too high, but still, it made for a less than appealing presentation).
But the real star of the show was the crab cake. Made from a recipe their daughter came up with on the spot one day, it was loaded with real crabmeat (no filler), and the balance of spices is spot on. Crab cakes can often be ruined by a chef that goes too heavy on the spice, as crab meat has such a mild flavor it is easy to overpower it, but the version here was just right. They also serve a broiled version that doesn't feature the heavy breading.
I didn't love the scallops, but in fairness, I have never been a huge fan of that particular shellfish. Rarely does a scallop win me over and, in this case, I wasn't wowed, but a true fan might enjoy them.
Overall, Crab Daddy's was a thoroughly enjoyable lunch, and their addition to the already excellent dining options in Somers Point is a welcome one. If they were to throw a few picnic tables outside it would really complete the experience, but even as is, it's worth the trip. With fresh seafood, friendly owners and one of the best crab cakes at the Jersey Shore, Crab Daddy's has a lot to offer.
Keep it: Fried flounder, fried shrimp, fried crab cake, hush puppies
Throw it back: Fried scallops, cocktail sauce
Trophy winners: Fried crab cake, fried flounder