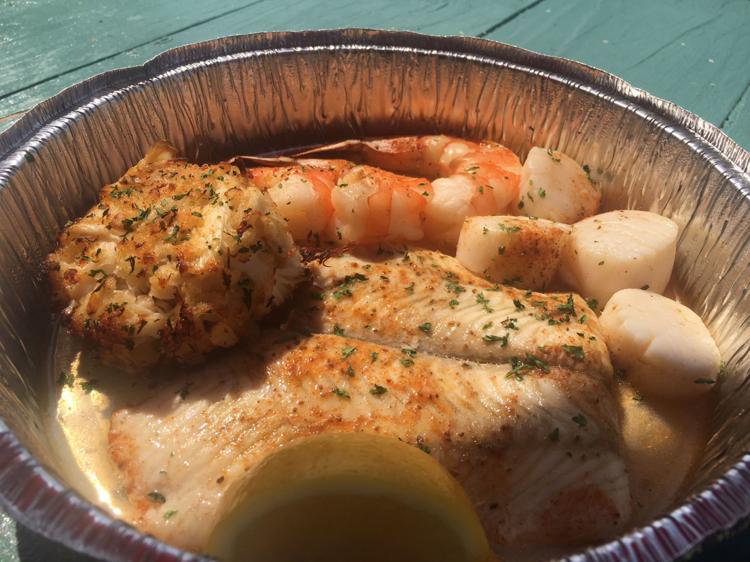 Crab Shack Seafood Market
For its size, Brigantine has relatively few dining options. Perhaps it's due to being Atlantic City's next door neighbor, but often when I visit, I find myself scratching my head as to where to grab a quick bite. Though I had never heard of Crab Shack Seafood Market, its very existence on Brigantine was enough to get me excited. Part seafood market, part restaurant, the Crab Shack offers just the right rustic beach vibe for a spot located only about a block and a half from the surf. Inside the market is decorated thoroughly with the prerequisite crab nets, buoys, fishing rods and seahorses, all of which do their job setting the tone. Outside a lineup of picnic tables awaits, each with a much needed umbrella, which was a godsend on a hot day like the one in which I visited.
New England clam chowder ($8.50)– Creamy and flavorful, their take on this classic soup was a win. Hearty and with the right amount of clams to satisfy.
French fries – Crinkle cut fries perfectly cooked and built for dipping. A lot of places get this wrong, the Crab Shack got it right.
Broiled captain's combo ($25.99)– This mix of shrimp, scallops flounder and a crabcake was not bad, but it was bland. While the seafood itself was fresh, from a flavor standpoint it was uninspiring. On the plus side, the shrimp were very large, which is a nice bonus not often seen in a combo like this.
Lobster roll ($23.99)– Starting to see a pattern here … the lobster roll was impressive to look at, as it was packed with big chunks of lobster meat and not much else, but the lack of any topping besides a dusting of spices really hurt this dish. Butter and a squeeze of lemon would be the obvious go-to in this situation, as it was a hot lobster roll, but neither were offered. Add to that a bun that was completely soaked through with water thanks to an unwanted leaf of iceberg lettuce, plus a ridiculously high pricetag and I ended up pretty unhappy.
Hush puppies ($6.99)– a seafood shack classic, this app was unfortunately overcooked and thus, very dry.
Tartar/Cocktail Sauce – Packets of sauce are never OK at a place that charges this much for an entrée. It's lazy. This isn't McDonald's. A homemade tartar or cocktail sauce can and should elevate a great seafood dish. It could have been a lifesaver here. Another miss.
Trophy winner: Clam Chowder