Teresa Doughten has had pretty much every job imaginable in the food business. She was a restaurant host, waitress, cook, private caterer, busser, food vendor, administrative bookkeeper and more before she finally had enough of taking orders from others.
"It was time to open up my business and go out on my own," Doughten says.
And so, Teresa D's Bruncheonette was born.
The original premise of the annual Wine Tasting Art Show, presented by At The Shore and prod…
Situated on a long stretch of road on a sprawling plot of land in Ocean View, Teresa D's has the look of a big, country home. In fact, one could drive right past it and not realize the difference, but for the big stony parking lot and brightly painted sign.
Inside, the restaurant is the picture of rustic charm. Repurposed wood lines the walls, tangled twinkle lights rest on a counter top, and inspirational signs are propped up around the restaurant, whispering encouragement to its guests. It's homey — and literally in a converted home — which is exactly suited to Doughten's vision.
"The menu is developed from our own family recipes like the loved 'Gmom Burger' and previous experiences in other restaurants," Doughten says.
In fact, many aspects of her business can be traced back to her family, including her desire to cook in the first place.
"When I was 17, my grandfather said, 'You are no Betty Crocker,'" Doughten says. "That has been my motivation ever since throughout my entire career in the kitchen."
Even Doughten's emphasis on breakfast and brunch foods has an origin deeply rooted in her past.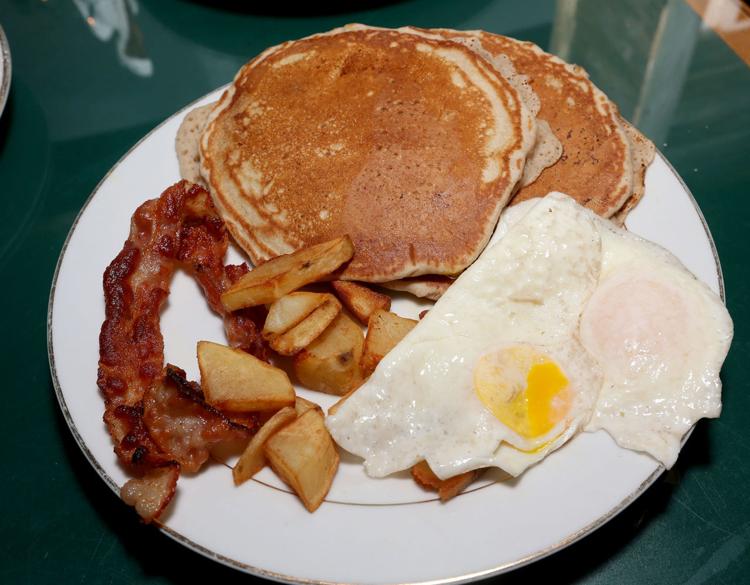 "My mother Barbara would say, 'Breakfast is the most important meal of the day, as it gets you on the right foot,'" she recalls. Clearly, her mother's words left an impact, as it has been Doughten's job for the past four months — when Teresa D's opened — to get people walking out of her restaurant's doors with full stomachs, ready to face the day.
A glance at the menu leaves one big impression — everything is affordable. The "Good Morning" menu is a mix of American standards: a stack of pancakes for $4.95, cream chip beef for $6.95, a pork roll, egg and cheese sandwich for $3.80. A cup of coffee, tea, hot chocolate or juice is only $1, and if you bring your own cup it's 75 cents. For those who dream of the days when prices were low and portions were big — Teresa D's Bruncheonette is the solution.
The "Good Afternoon" menu is much of the same. Offerings like the Italian burger ($5.25) with broccoli rabe, roasted peppers and provolone cheese, the aforementioned Gmom Special Burger ($4.50) with lettuce, tomato, onion, mustard, mayo and ketchup, wings ($5.50) in hot and spicy or barbecue, and the roast pork sandwich ($6.95) all keep within the American tradition of simple, tasty foods.
When Chris Bellino works in his kitchen, he's a monster. As he single-handedly prepares a ca…
"I can create multiple dishes on and off the menu with simple ingredients," Doughten says, a testament to the items she offers at her restaurant. "My specialties are store-made soups and my ability to improvise."
The soups she mentions change from day-to-day, but are chock-full of ingredients, that befits Doughten's on-the-fly cooking technique.
From the comfortable, relaxed design to the familiar food, it's clear that the restaurant that bears Doughten's name is truly an extension of her heart.