The original premise of the annual Wine Tasting Art Show, presented by At The Shore and produced in concert by the Casino Reinvestment Development Authority and Greater Atlantic City Concierge Association, was to provide scholarships for students either entering or already pursuing a career in hospitality. While this still remains true, this wine and art show has truly morphed into a major networking event among Atlantic County's business men and women.
"This has become a great networking opportunity for our business community," says Doreen Prinzo, manager at the Casino Reinvestment Development Authority, of the annual event that's celebrating its 10th anniversary 5 to 8 p.m. Wednesday, Feb. 7, at the Noyes Arts Garage.
Though this event remains true to its original goal (helping students in the hospitality field), on top of now being a swanky venue for which to exchange business cards, it is, since its inception, primarily just a really great way for local and regional artists to gain exposure.
"When we first started the event, there weren't many opportunities for artists to show their work. The artists were there, they just didn't know where to go. When we provided the Wine Tasting Art Show, it was a good platform for artists. I don't want to say we started the trend, but (we did) realize that artists need places to show art," Prinzo says.
Prinzo is thrilled to see the arts scene growing more and more every year in Atlantic City.
"The demand for art keeps growing, not just with visitors, but locals," she says. "You don't want to always travel (to Philly) to see a play or go to a museum. And you can see a play here at Dante Hall. Or you can walk around the Noyes Arts Garage and see different artists. It's nice having the arts close.
"Luckily, it seems we're opening more galleries these days, and the area is becoming more artsy. We have the (Atlantic City) Arts Foundation, of course the Arts Garage, The Claridge Hotel is showcasing art … and there are a lot more cultural events now than in the past.
"And even though our event is more networking nowadays, mostly everyone who comes leaves with something they have purchased from an artist."
At The Shore's Wine Tasting Art Show began 10 years ago at the Carisbrooke Inn Bed & Breakfast, where each artist had a full room in which to display work. It quickly grew out of the bed and breakfast and moved to the Sheraton Hotel, then to Atlantic City Country Club. For the past four years now, it has found a home at the Noyes Arts Garage.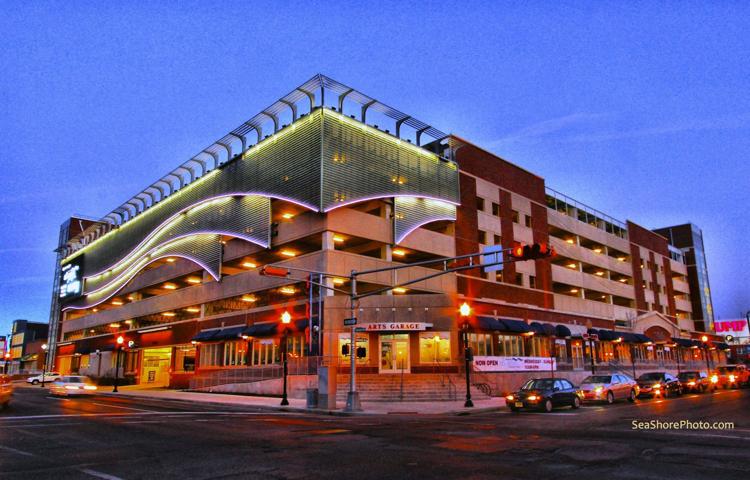 "It (Arts Garage) is a great place to see different artists, because there's different art all the time." Prinzo says.
Regardless of location, the charitable aspect is what really counts, and throughout the years the GACCA and the CRDA Foundation have been able to dole out nearly 80 merit awards and scholarships totaling more than $63,000.
The Noyes Arts Garage already hosts a permanent array of artists who display work there year round. However, Prinzo and her team actively solicit for additional artists from throughout Atlantic County and surrounding regions.
One artist who has been on hand for most of the event's tenure is Margate resident Jon Baker, known for his surf art, as well as his paintings of iconic A.C. images. His art has become some of the most sought-after at this event each time.
"This show is one of the best mixers of the year," Baker effuses. "The turnout is great (because) I think everyone is looking for something fun to do in the winter. And the location and on-site parking make it easy to attend."
New artists are, of course, always welcome, Prinzo ensures — especially if they offer something that varies from other artists.
"We look for a variety of different art so that attendees will find something that will appeal to them," she says. "We also look for new artists who can bring a fresh perspective to the event."
However, competition to be included is tough because usually no more than nine artists will get in.
Fabrice Allen of FABulous Mosaics, whose mosaics can be seen in shows all over Cape May County, has tried to enter the Wine Tasting Art Show for the past few years, only to be told that all slots were filled.
This year, however, an artist backed out unexpectedly at the last minute and Allen was ready to take his place.
"I was attracted to the show for a number of reasons — mainly having the opportunity to present my work to a new audience," Allen says. "Being that it's an annual event, the show has garnered a great reputation, and I feel it will allow me to introduce my work to the art crowd in the Atlantic County area. In addition, I have been looking to participate in one of the Arts Garage events or possibly showcasing my work there full time."
Prinzo is grateful for the immense amount of support provided by local businesses who either help sponsor the event or donate the more than 50 silent auction items, like spa days from Qua Spa at Caesars, an overnight stay with dinner at Resorts Casino Hotel, tickets to the A.C. Beer & Music Festival, restaurant dinners, golf rounds, wine baskets and more.
Many of the artists have also donated items for the auction such as prints by Steve Kuzma, photography by Greg Alber and originals by Simone Simone and Kenny Ho.
Guests can also enjoy wine tastings carefully selected by Gallo Family Wines and craft beers from Harrison Beverage and Tuckahoe Brewing Company. A selection of complimentary hors d'oeuvres will be provided by Ducktown Tavern and complimentary desserts will be offered by Spectra Food Services.
And, as always, the incredible Stockton Faculty Band will perform throughout the evening.
"This is a special year, we're trying to make it 'pop' a little more than usual," says Prinzo, who along with her team have thrown in a few "extras" to celebrate the event's 10th anniversary.
Instead of bringing in nine artists to the Arts Garage, there will be 11. Prinzo is also excited about the additions of Magician Joe Holliday, as well as a pop-up show by the Atlantic City Ballet.
"We have always showcased physical art — paintings, sculpture, jewelry. Now we'll have stage art by Joe Holliday the magician and we'll have the ballet come and do a pop-up performance," she says excitedly.
"There's more than one kind of art."