I will just come right out and say it — I love hot dogs. They might even be my favorite food. But as someone who grew up in North Jersey, a place where you can't walk 50 feet without running into an amazingly good hot dog, South Jersey has left me somewhat (read: VERY) underwhelmed when it comes to this most beloved American treat.
But despite the comparative scarcity of great hot dogs in the southern portion of our state, I kept hearing rumors about a small group of local spots that were apparently serving up some pretty impressive franks. Places with exotic names like "Maui's Dog House" and not-so-exotic names like "Hot Dog Tommy's." So, literally in the middle of a work day, I dropped everything, mapped out a route and spent the next two days traveling to five of the hottest hot dog spots on the coast of South Jersey to see whose dog is head of the pack.
Stop 1: Junior's Doughnuts & Dogs
Junior's is located right on the water in Margate directly across the street from local hotspot Maynard's Café. If you couldn't figure it out from the name, they serve donuts as well, but that is a mission for another day. I ordered a hot dog with grilled onions, ketchup and brown mustard.
Yes, I like ketchup on hot dogs. Why? Because it tastes good. So does mustard. Whatever. I'm not going to fight about this with you or any other hot dog bullies.
People sure love Italian food. The two toughest restaurants to get into this summer were bot…
For some reason, I had low expectations — probably because I was trying to find good hot dogs in an area known for not having any — but I was stunned by how much I enjoyed the dog here. A quarter pound all-beef natural casing dog (natural casing is key to any great hot dog, as it provides that satisfying "snap" when you bite it) "butterflied" and grilled, served on a hearty, almost bakery-style bun, the dog had a nice char and the toppings perfectly complemented it. I was surprised at the bun being so sturdy, as I am used to hot dog buns being almost Wonder Bread-like, but it worked nicely. A really superb dog. Junior's Doughnuts & Dogs is located at 9315 Amherst Ave., in Margate City. For more info go to Facebook.com.
The second stop on the tour was Lou Dogs in Sea Isle. Wedged between the beach and an absurdly popular Wawa location, it has a menu boasting all kinds of interesting sounding dogs with a myriad of toppings. I went for "the Lassie" — a hot dog topped with mac and cheese and barbecue sauce. While that sounded great on paper, the dog was unimpressive. Lou Dogs uses skinless dogs (big mistake) that are boiled and have little flavor. Oddly enough, I even struggled to taste the mac and cheese on this one. The bun was another sturdier-than-expected one, which did a good job of holding in the toppings, though the overall taste was forgettable at best. Lou Dogs is located at 23 38th St., Sea Isle City. For more info go to Facebook.com.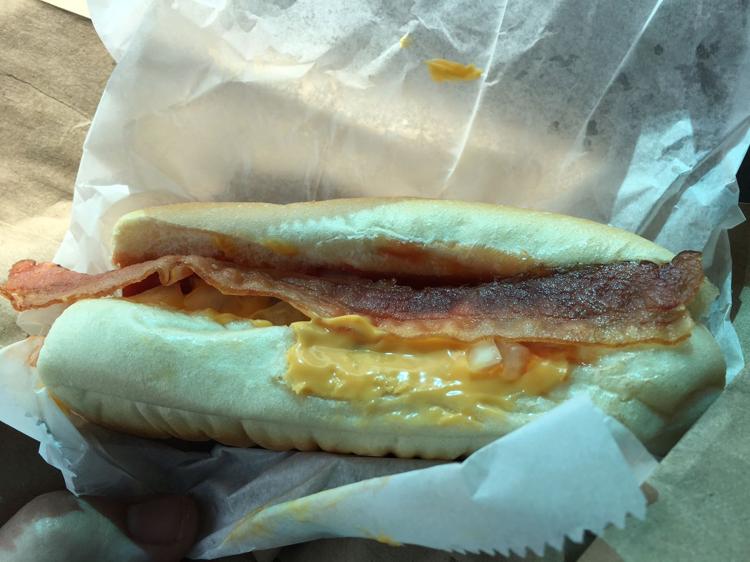 Just about a mile or so south of Lou Dogs is Bubba Dogs, a beachside hot dog stand that seems to be what every 6-year-old was dreaming of when they envisioned their ill-fated sidewalk lemonade stand. It's a basic set up, with a tent over the top and a few guys serving up dogs along with fresh lemonades and limeades, which are worth the trip alone. I ordered up a "shaka dog," which I struggled to pronounce (I think I overheard some kids laughing at me). The dog came with bacon, melted cheddar cheese, chopped raw onion and a secret Bubba Sauce that did a nice job of adding a bit of tang to the whole thing. The roll was yet again a sturdy one, leading me to conclude that this is just the way hot dog buns are in South Jersey. The dog itself was again skinless, which knocked it down a few notches, but the toppings were all flavorful, and the strawberry limeade was possibly the best non-alcoholic drink I have had all summer. Bubba Dogs is located at 59th Street and the beach in Sea Isle City. For more info go to Facebook.com.
Maui's is one of the best-known spots on this list, and when you go there it's easy to understand why. A long list of hot dog varieties are up for grabs, but I opted to make my own dogs, the first with crumbled bacon, onions and barbecue sauce and another with cole slaw and chili. I was delighted to find that the dogs here are natural casing, as the snap that came with the first bite was quite satisfying. Again, the rolls were sturdy, bakery-style buns and they did a nice job holding all the toppings in place. Tough to pick a winner here, as both dogs were awesome. Maui's may serve its food in dog bowls, but the quality goes way beyond anything you'd find in a pet store. Maui's Dog House is located at 8th Street and New Jersey Avenue, North Wildwood. For more info go to MauisDogHouse.com.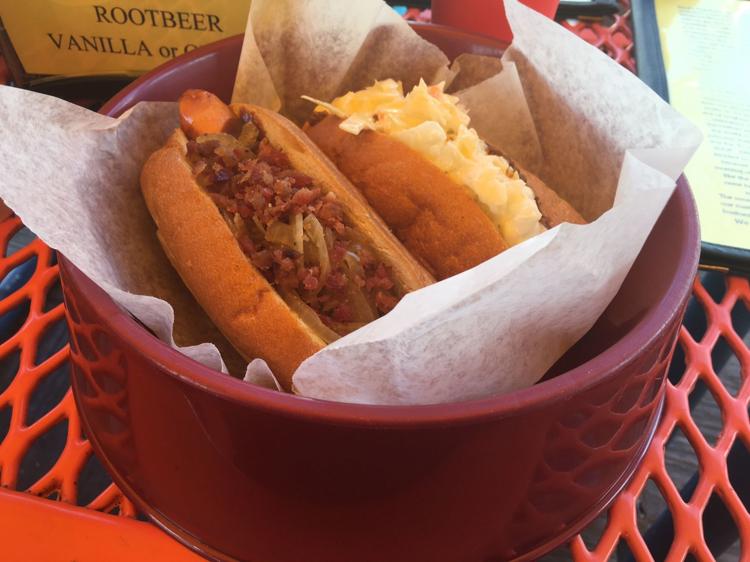 Hot Dog Tommy's is something of a legend in South Jersey. In fact, I was once openly called "an idiot" by one of my friends for not including them in a previous story that mentioned hot dogs, so clearly I had to see what all the fuss was about. It's nestled on a busy street in Cape May, and I quickly spotted the place because there was a line halfway down the block. I waited around 15 minutes to get to the front, spending my time perusing the rather impressively long menu in order to figure out what to get. Tommy's offers two types of dogs, the larger "bad dog," which comes on a bakery-style bun, or the smaller "leaner wiener," which is served on a more traditional steamed bun. They specialize in crazy toppings here, so I decided to follow their lead and ordered a "Summer Shower Dog" (mashed potatoes, shredded cheddar, bacon bits and sour cream) as well as a "buffalo dog" (buffalo sauce, crumbled blue cheese and chopped onions).
Believe it or not, it's almost time for another round of 50 Bites+! Now entering its third y…
The service here is awesome, as you are greeted by the owner who is dressed in a hot dog hat and is quite friendly. After only a short wait I had my dogs and was ready to chow down. And that's when I remembered why I left them out of that article last time. Skinless dogs strike again. And to make matters worse, they are prepared on a roller-grill 7-11 style. Unacceptable. There are two great ways to prepare a hot dog — either grilled/charred on a flattop or an open flame, or deep fried. Anything else is a mistake (I'll give a pass to the dirty water dogs in NYC, which somehow manage to be delicious). The saving grace at Hot Dog Tommy's is that the toppings really are superb. The blue cheese that was on the buffalo dog came in big chunks and was delicious. The bacon bits, cheddar and real mashed potatoes on the Summer Shower Dog were awesome, too. Ultimately though, I am a bit of a hot dog purest and feel that the dog should really be the star of the show. Hot Dog Tommy's is located at 10 Jackson St., Cape May. For more info, go to HotDogTommys.com.
So after days of dogs, my winner was an easy choice. Junior's Doughnuts and Dogs in Margate beats them all. While I really enjoyed most of the dogs I ate on my adventure, Junior's provided the best all-around dog experience. They used the right kind, prepared it perfectly and used the toppings as a compliment to the dog, instead of a disguise. They are my pick for best hot dog in South Jersey.