Tribute acts have become common in Atlantic City, so much so that it would actually be surprising to catch the city on a weekend where no tribute band or imitator were taking to the stage in one of the casinos.
FakeFest, however, predates this trend. In fact, it's safe to say it's the trendsetter. The five-day Golden Nugget festival that brings together genre-spanning tribute acts from around the country entered its 18th year when it returned on Wednesday, July 12. It continues through Sunday, July 16, with performances by such bands as Completely Unchained (Van Halen), Kashmir (Led Zeppelin) and Wanted DOA (Bon Jovi). Though most of these bands are A.C. regulars, what FakeFest does so well is bring them all together at the same venue for a marathon five days of bands that resurrect bygone rockers.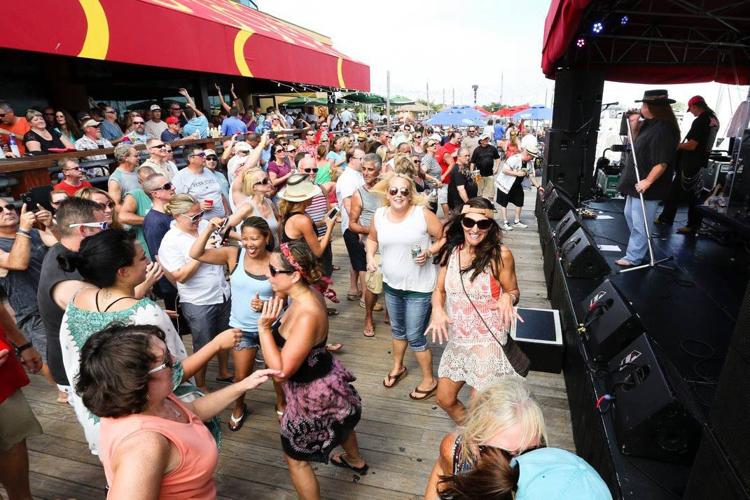 LoVeSeXy, for example, recreates the energy of a Prince show, paying homage to the late R&B star. Before the band performs at FakeFest, 8:20 and 11:10 p.m. Friday, July 14, we spoke to LoVeSeXy frontman Kobie Ali about how his love of Prince turned into a career as Prince.
In many ways, Ali has his sisters to thank for introducing him to the man he would eventually endeavor to imitate.
"Prince and I go way back. I was the youngest of four, I have three older sisters. Two of them were really big Prince fans early on in his career, even going back to before he was super big," Ali says. "It (Prince's music) was just always around. As a kid I would see the records lying around and was kind of fascinated by the music.
Carol Herforth should have been upset when her beloved chef at her popular Cape May restaura…
"I can remember when 'Purple Rain' came out — I was probably 10 years old. It was the greatest thing I had ever seen. The funny thing is, I always thought that, because it was a movie, that Prince wasn't really singing and doing all of these things. Then I realized, 'Oh my god, he's actually doing it.'"
Unlike many tribute performers, who make careers out of playing in different bands honoring different artists, Ali has exclusively performed as Prince since 2009, before which he was a D.C.- based musician solely focused on original music.
It was then that he met future bandmates Chris Botelho (drums and percussion) and Brian Eggleston (keyboards and vocals), who asked Ali to perform in their cover band.
"I'd never been in a cover band at any time before that. It was all about originals for me. I actually ended up recruiting them into my original band. We played together for a couple of years. As we got to know each other we all found ourselves being really big Prince fans," Ali explains. "So for fun we decided to run a set of Prince music, and people really went crazy because we had this ability to hone in and sound exactly like the record.
"We recruited other people and decided to start a tribute act to the music of Prince. We wanted to mimic the sound of Prince, as opposed to the imagery of Prince. We wanted it to be an experience where you could close your eyes and feel like you are at a Prince show. Then you open your eyes and realize that none of us really look like Prince."
Though LoVeSeXy spends most of its energy perfecting the sound of Prince, Ali and company do give some thought to the purple-hued style associated with the icon.
Fresh off a plane from Sweden where his wife's family still lives, and having recently buried his beloved father Stanford Bazilian, Eric Bazil…
"We are all very conscientious to paying homage to different elements of Prince's style and look," Ali says. "I try to be conscientious about the fashion. I don't normally walk around in the boots that I wear onstage, nor the blouses. I think we all kind of hone in on that."
"I rock the mustache. I'm obviously much taller than he was," Ali adds with a laugh, noting Prince's notoriously short stature. "My heels aren't high, they're just there."
While taking on the look and sound of any artist or band is a challenge, Prince seems to be a particularly difficult person to pay homage to. With his meticulous style, stratospheric voice and killer guitar skills, Prince leaves no room for laziness for those who attempt to step into his shoes.
"Jodee Frawlee is phenomenal," Ali says of the woman tasked with recreating Prince's gymnastic guitar work in LoVeSeXy. "I always say I work for Jodie because everyone's always so fascinated by her. She's such an amazing guitar player, and she does look really cool up there. She's got the pants and the style. Of any of us, she looks like she could be part of Prince's band."
With the sound down, LoVeSeXy has the massive repertoire that Prince left behind to work with in its act.
"We try and mix it up. That's the great thing about Prince — that he covered so many eras of music over so many generations that people in their 50s can enjoy the really old-school stuff," Ali says. "Then there are people in their late 20s and 30s that can appreciate a lot of the newer stuff that he did, the post 'Purple Rain' era. It really is a combination of all of those things. We really want to pay homage to the entire catalog."
As for Ali, Prince's coquettish falsetto voice isn't too hard to recreate, a product of years of imitation, even before he made it his career.
"The funny thing is that I've been trying to imitate Prince since I was 10 years old," he says. "For me, his style, his range is very natural for me. It has a lot to do with the influence he had on me. I'm more impressed that the rest of the band can really nail the musicianship part. I wouldn't say the vocals are a piece of cake, but because of my relationship with the music, I feel it very intimately. I feel it comes somewhat naturally for me, just because of the familiarity. I'm so amazed by how tight the rest of the band can get, because that really is the hardest part to find. It's not easy, but it's super fun and the crowd makes it even better."