Ocean City is a lovely family resort. It's packed with beautiful beaches, rides for the kids and quite an impressive selection of mini golf courses.
It's been 28 years since Bruce Springsteen double-parked his Corvette convertible outside a …
But what it does not have is a good bar scene. Or any bar scene for that matter. Luckily, the towns that surround it have done a marvelous job of filling that void. A few weeks back I headed to Somers Point to visit Charlie's Bar, and this week I ventured a bit farther south, to the town of Marmora, where a legendary spot known as Yesterday's has served throngs of happy booze-starved customers for years.
Yesterday's is located on a road that leads directly into the southern end of Ocean City. Location wise, it sits just where you need it if you are fleeing O.C. for a beer. Speaking of beers, Yesterday's has quite a selection of taps and bottles, mixing the classics like Sam Adams and Pabst Blue Ribbon with craft beers such as Victory and Dogfish Head, alongside some local brews such as Cape May and Tuckahoe, the latter of which I sampled first and was quite pleased with.
The inside of Yesterday's has a relaxing, if somewhat cavernous feel to it, with massive ceilings in an A-frame shaped room. Dark woods accented with surfboards and giant sculptures of various fish help create the perfect "down-the-shore" vibe.
Perusing the menu of cocktails, I noticed an entire list of specialty martinis. I'm not much for martinis (flavored or otherwise), so I kept moving and was pleased to come upon something called the OC Beach Tea — a mix of Deep Eddy Sweet Tea Vodka, lemon and mint. I couldn't be happier with this drink. It managed to find that perfect bullseye — refreshing and summery without knocking you over the head with sweetness. The mint sprig added both a nice visual touch and an appealing aroma that definitely added a lot to the drink.
And another nice touch — the OC Beach Tea came with a signature Yesterday's pint glass to take home. Not a bad deal for 11 bucks.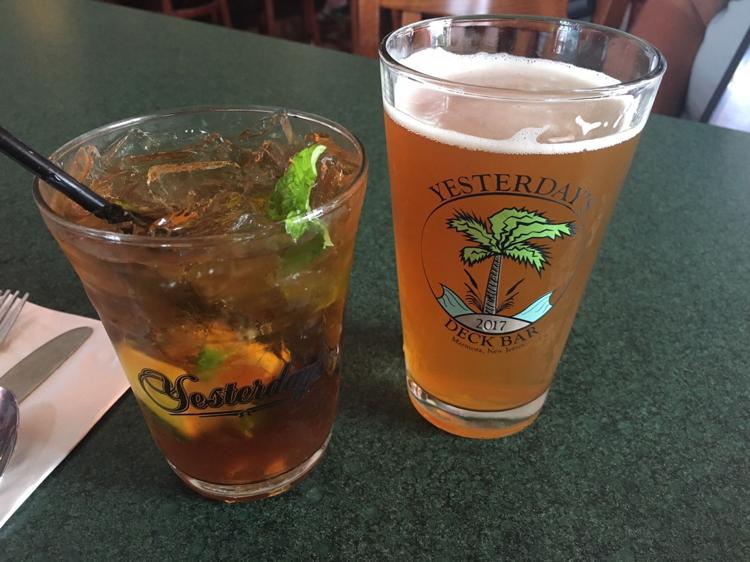 Food-wise the menu is rather large, with everything from pub grub to seafood options on it. My friend and I decided to start with a few apps. The pretzel bites were nice and soft as they should be, but most likely were not homemade (in fairness, most restaurants don't make their own pretzels). They came with a cheese sauce and some honey mustard, both of which complemented them nicely. For our second app we tried the Cajun pirogues. Stuffed with a mix of cheese and potato and served doused in butter and grilled onions with a side of sour cream, these were the hit of the trip: addicting and tasty with a touch of Cajun spices to make them stand out from other versions you may have tried.
Though it's a relative newcomer to the trend-driven dining scene, the Vietnamese noodle dish…
Yesterday's makes for a great stop to hit either as a "last chance for a drink" on your way into Ocean City, or just for a great night out anytime. Its crowd is a mix of all ages, so feeling comfortable is never an issue. This is the type of place that is built for versatility. Yesterday's would be equally suited as a spot to grab drinks with the boys, watch the game or have lunch with the whole family, and a much better place to opt for over some god-awful chain restaurant. We need more places like this.