Photography by: Craig Matthews, Dale Gerhard, Pamela Dollak and Ryan Loughlin
Summer at the Jersey Shore has certain visual and auditory elements that go along with it without fail. Fireworks bursting into colors above the beach, the roar of the crashing waves, the distinct sound of vacationing parents being pushed to their limit ("You're NOT getting ice cream, Addison — you just had a pretzel!")
But perhaps nothing is as iconic to a trip to the Jersey Shore as the flashing lights, splashing slides and towering roller coasters found on any of the boardwalks that dot the seascape of the Garden State. Few, however, rival the options of Wildwood's own Morey's Piers. A behemoth of amusements, water parks, food and games of chance, Morey's offers three piers loaded with good times for those who venture down to Jersey's southernmost shores.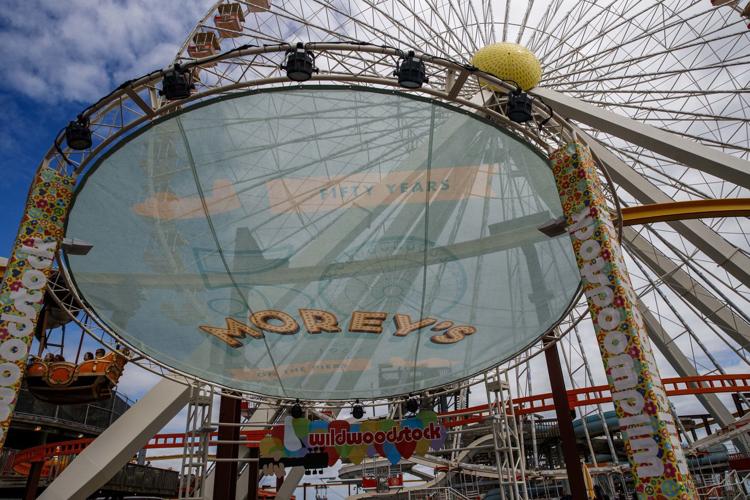 This year marks Morey's Piers 50th anniversary, so we at At The Shore, chose to put a spotlight on Morey's in our annual Boardwalk issue. We — Editor Pamela Dollak and Associate Editor Ryan Loughlin with a little help from Graphic Artist Kathy Disbrow and Photographers Craig Matthews and Dale Gerhard — went down ourselves to see if we could knock out 50 things in one day.
We covered all three piers and screamed and splashed and rode things a group 40-somethings probably shouldn't — and we had an absolute blast doing it.
Did we do it all in one day? Full disclosure, we did not. In fact, due to some unforeseen circumstances beyond our control, we could not finish two "musts" on our list — a helicopter ride and the new roller coaster —on the days we went.
On those two trips, however, we discovered that there is way more to do than just 50 things at Morey's Piers! Yet we somehow mastered the difficult task of narrowing our list down to just 50 things that you do not want to miss out on at Morey's Piers during their 50th anniversary summer.
Happy anniversary, Morey's Piers!
WATER PARKS:
1. Lay back and enjoy some downtime as you float along Ocean Oasis's Lazy River. While the name seems somewhat insulting to the work ethic of rivers, we nonetheless agreed to hop in a tube and head down the lazy river while enjoying the rays of the sun. Perfect for those who fear the big rides and slides. Found at Raging Waters too. — RL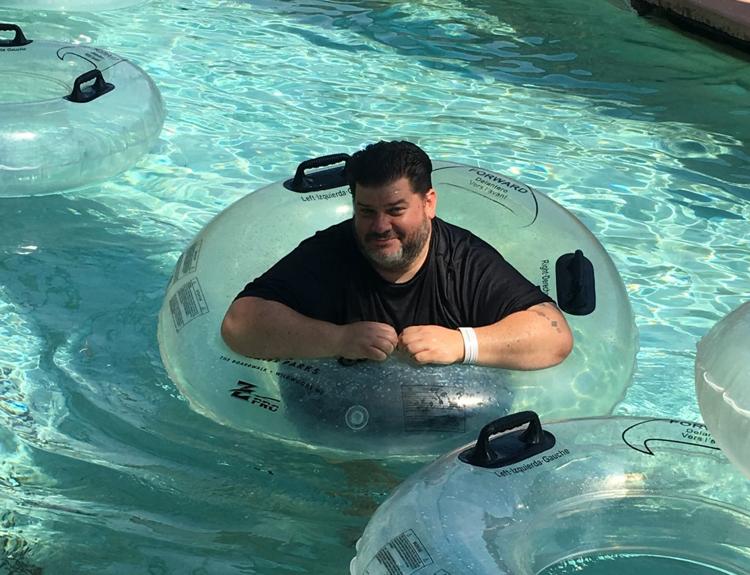 2. Take the plunge over Shotgun Falls (both water parks). Kathy tried this at Raging Waters — three times. She couldn't get enough of it! Because it was "over before she splashed," she had to go back and try it again. And then again — just to make sure she loved it as much as the first time. (She did.) — PD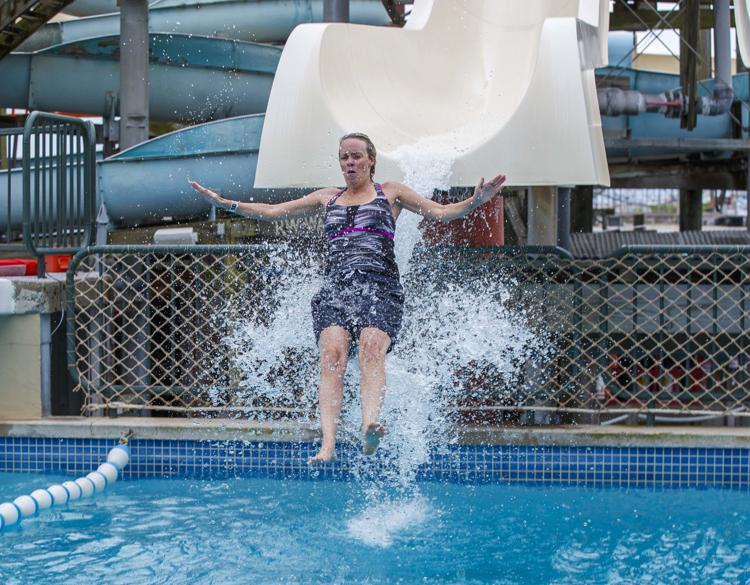 3. Swing on the Rope Swing. Kathy dared to do the rope swing, a la Tarzan, over a pool at Raging Waters. She claims that it's harder for adults than kids. Why? You'll have to ask her rope burns. She loved it nonetheless. — PD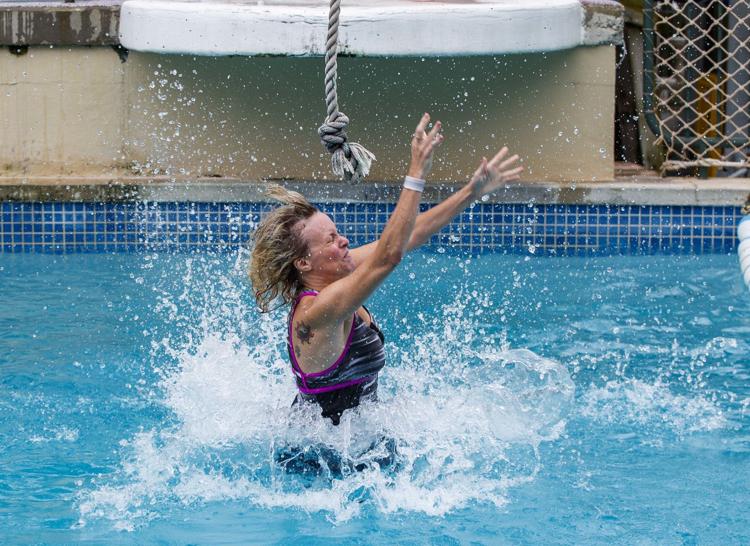 4. Cross the Cargo Net. Once Kathy got beyond the waterfall streaming over her head, she breezed through this. She has tremendous upper body strength. — PD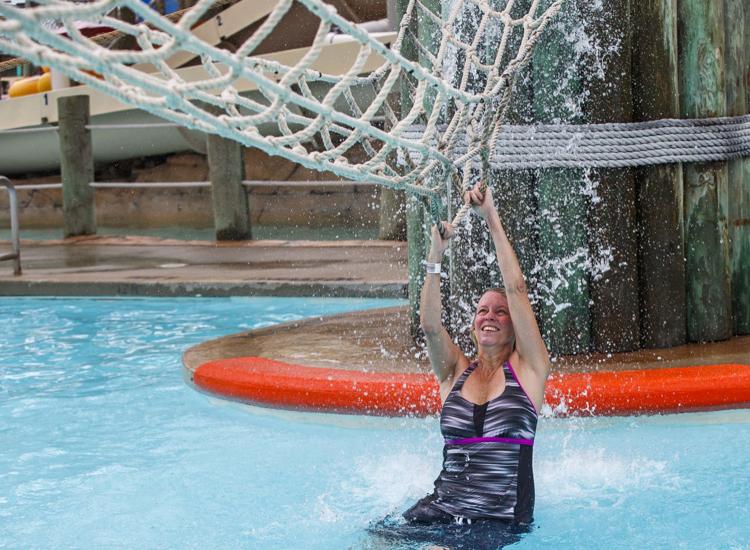 5. Race your friends and family down WipeOut! Remember those old slides where you sat in a potato sack and went down feet first? Well this is the waterized version of that, only you face forward on a mat as you go down. The experience is exhilarating, if not a bit terrifying, as you reach some pretty high speeds at times, but it's also great fun. Fun fact: The Wipe Out sack slide was the first ride on Morey's Piers back in 1969. — RL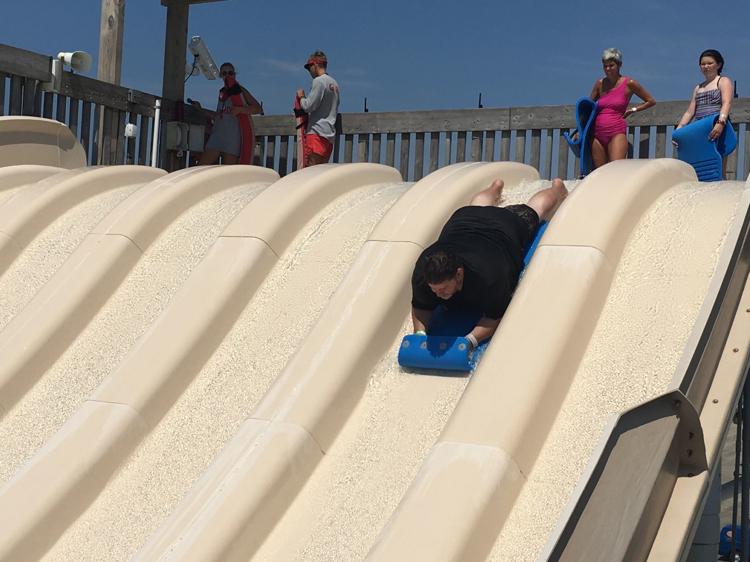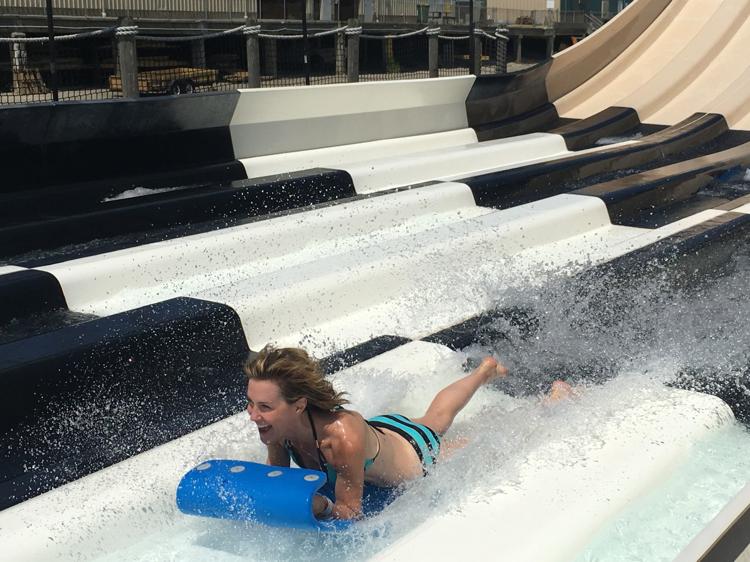 6. Rent a private cabana and create your own piece of paradise at Ocean Oasis or Raging Waters. Though the concept feels more suited to a fancy South Beach hotel than a Wildwood water park, Morey's has cabanas for rent at both Ocean Oasis and Raging Waters. Each cabana is named for a different island locale (St. Barts, St. Croix …) and they come with waitress service and provide a perfect spot to set up camp for the day for a full family or a couple.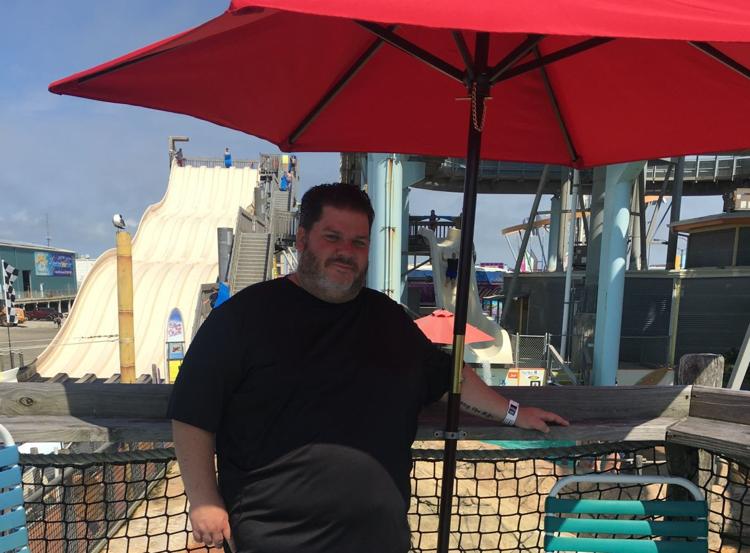 — PD
7. Relax on the Private Beach. Head to one the private beaches at the very rear of Raging Waters or Ocean Oasis. After all of the strenuous activity at the water park, Kathy went to get a quick respite on one of the cozy hammocks at Raging Waters. Over at Ocean Oasis, Ryan enjoyed some shade under an umbrella and cool breezes on its walled off private beach replete with colorful and comfy sand chairs and lounges. — PD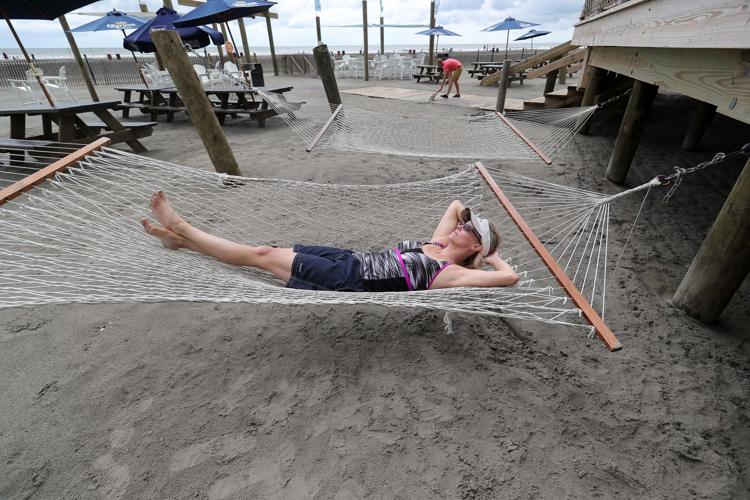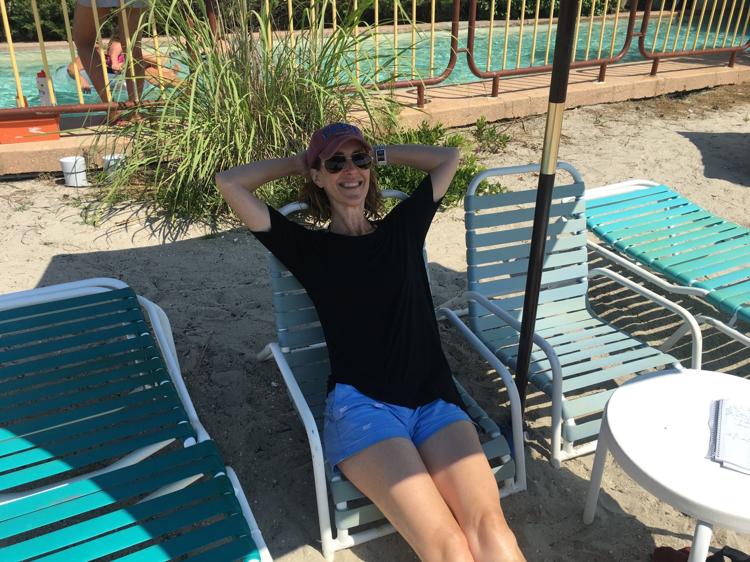 8. Play an oversized board game. On Raging Waters private beach Kathy and I played a game of giant-sized Connect Four before grabbing hula hoops and reliving their childhoods. At Ocean Oasis, Ryan pondered his next move on a humongous chess board before moving on to a simpler game of checkers. — PD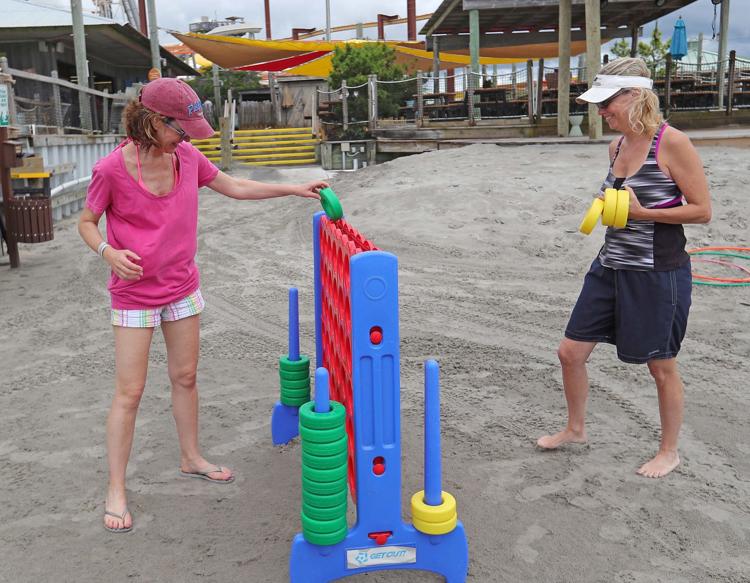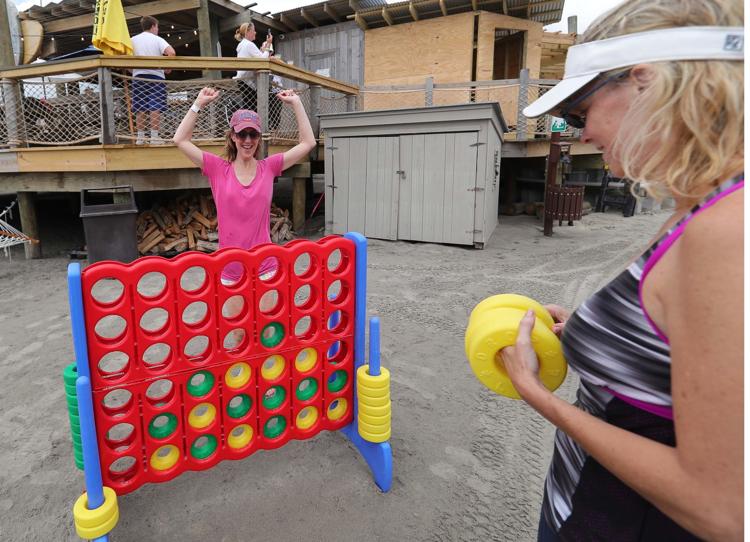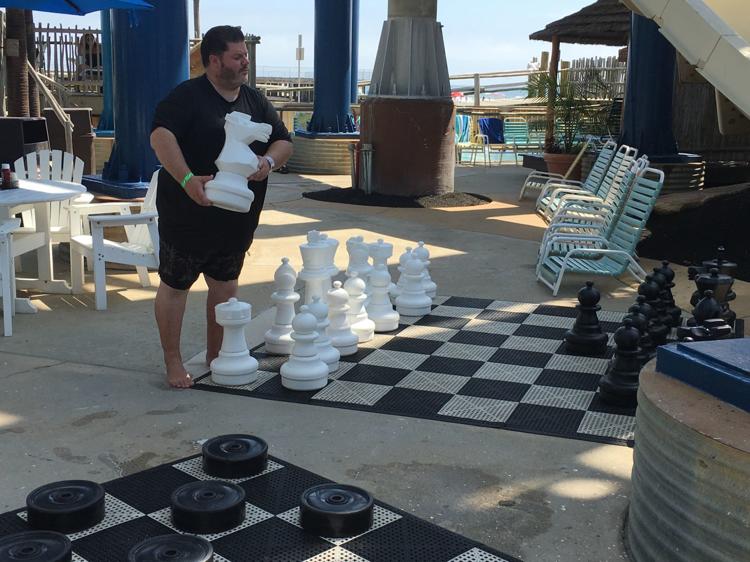 9. Take a stroll through Ocean Oasis' kiddie area "Bonzai Beach." The name "kiddie area" seems to imply that this splash park area is best suited for children. While that may be so, do not underestimate the all-ages fun that can be had by standing directly under an artificial palm tree as it dumps gallons of cold water upon you on a hot summer day. (There are two kiddie areas over at Raging Waters, one which includes a Giant Bucket in Camp Kidtastrophe.) — RL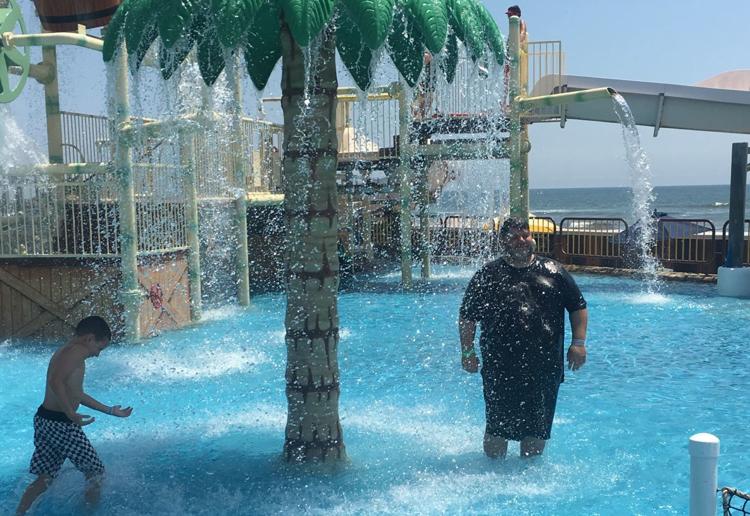 10. Grab a friend — or work colleague — and race each other on Raging Waters' Speed Slides. Ryan and I walked up the many steps to reach the top of the Speed Slides — of which there are two. They both empty out in the same pool, so it's fun to race a buddy to the bottom. You twist and turn at an amazing speed. Ryan's slide had overhead water faucets that pummeled water into his face as he neared the bottom, mine had a tunnel that momentarily darkened out any sunlight and laughter from the park.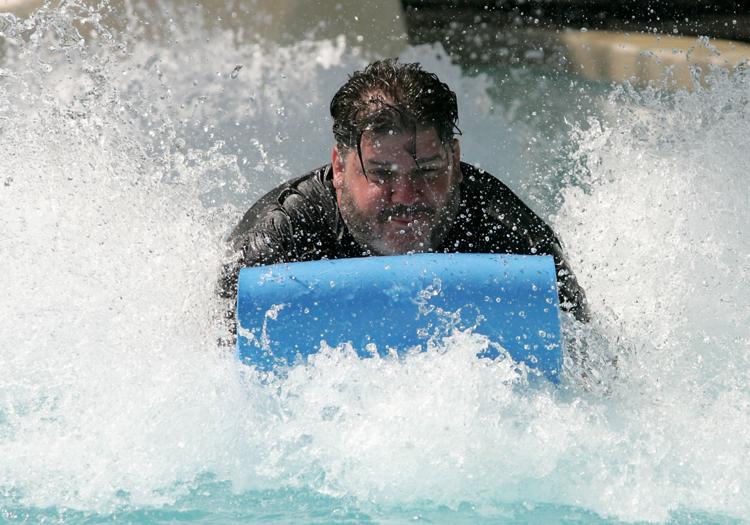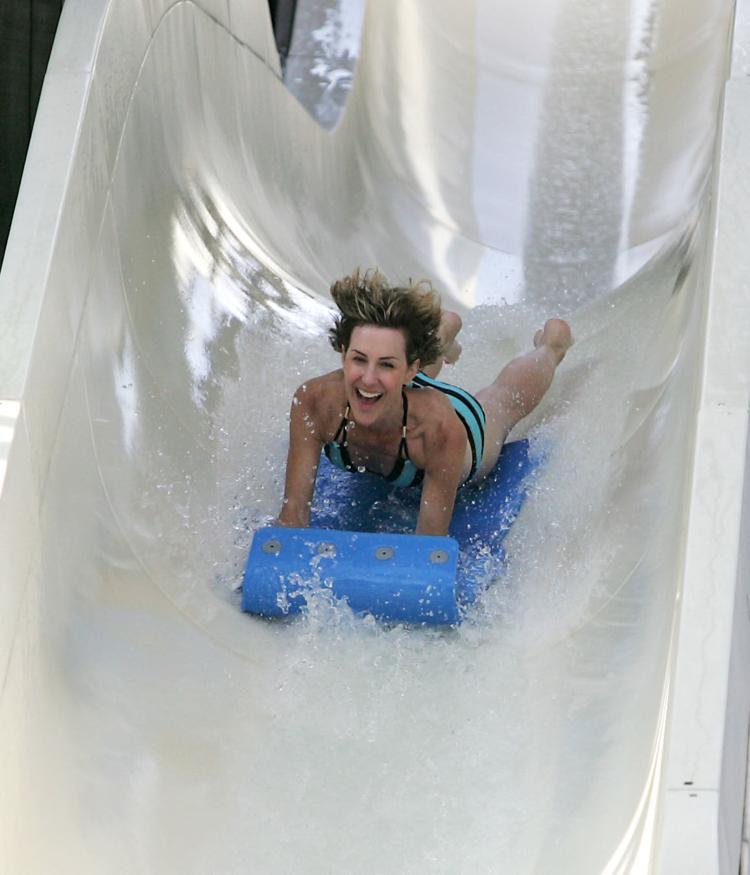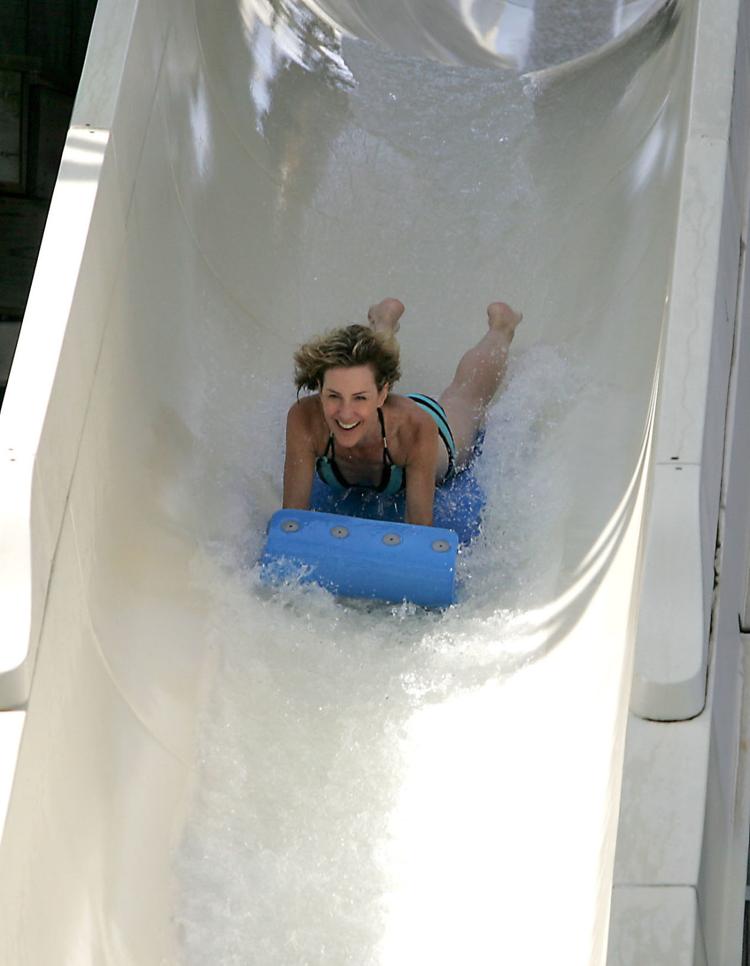 — PD
GAMES:
11. Try your luck at a water gun game. We love games. All of them: Balloon darts, wheels of fortune, a good old-fashioned ring toss. But our all-time favorite is the water gun race. For those who are more on the competitive side, a water gun game is bananas fun. Especially if you win. And even more especially, if your clown beats a 9-year-old kid's clown to the top of the pole. Tough luck, kiddo. Go cry to mommy. That six-foot-long stuffed snake is mine! OK, there was no clown on the Pixel water gun game. But it was still big fun for Kathy and Pamela. — RL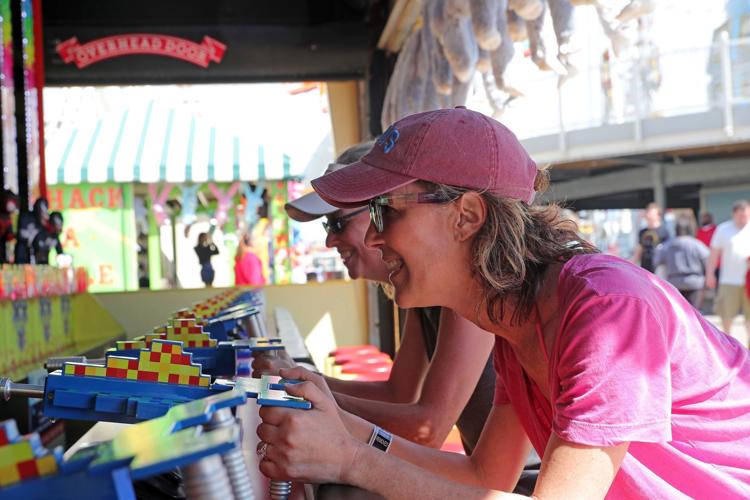 12. Quarter Pitch. I have played this game so many times as a kid. So I know by now that I am not going to get a quarter to land on one of those plates. And yet, the challenge is … irresistible. So I tried. And I lost two bucks. And a little pride. — PD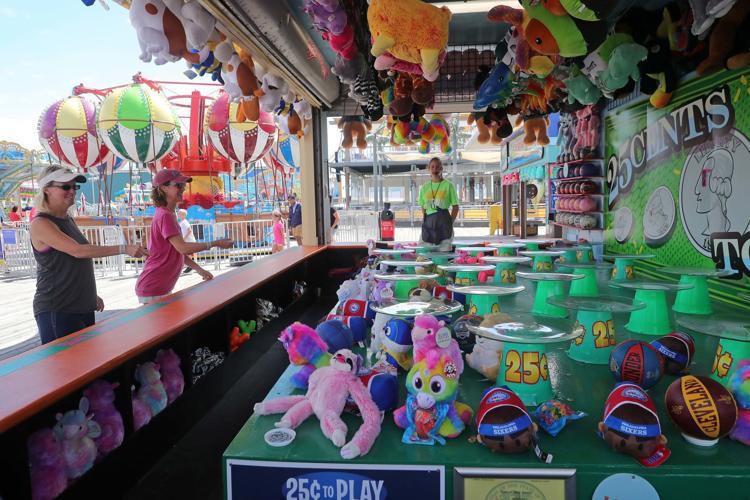 13. Hi-Striker. Straight out of a carnival or circus, the Hi-Striker is a game to test your strength. Hit the target to see if you can ring the bell at the top. I did. (Not.) — PD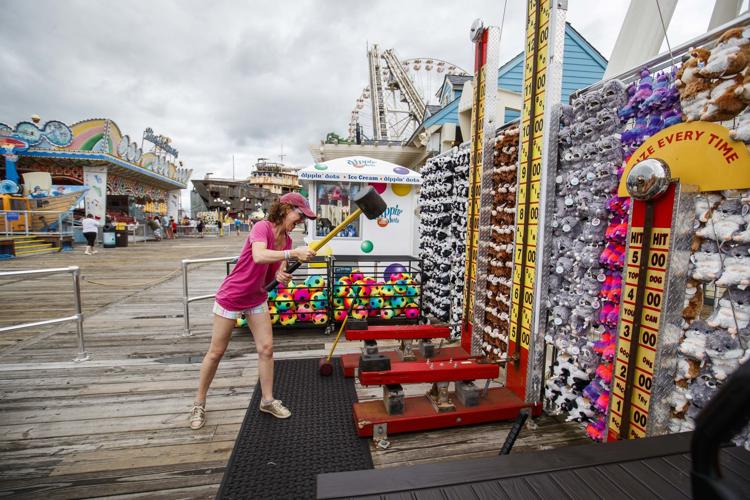 14. Strong Man. Kathy, with her unusually awesome upper body strength, tried this game where you hang from a bar, similar to a pull up bar, for a minute and a half. If you can last, you win a prize. It's harder than it seems, according to Kathy, who came thisclose to winning. — PD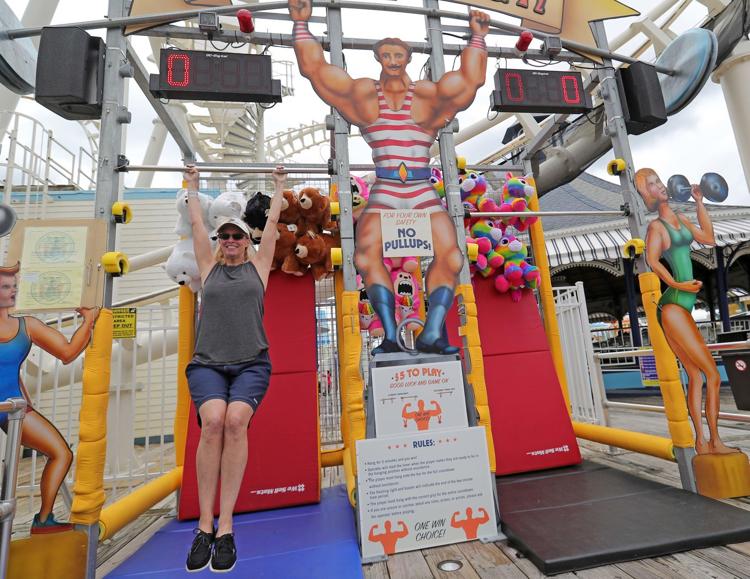 15. Ammo Depot. Located on the southernmost Adventure Pier, the "ammo" consists of a bucket of rubber balls that you insert in a large machine gun. Aim toward any of the targets, which includes a moving boat. — PD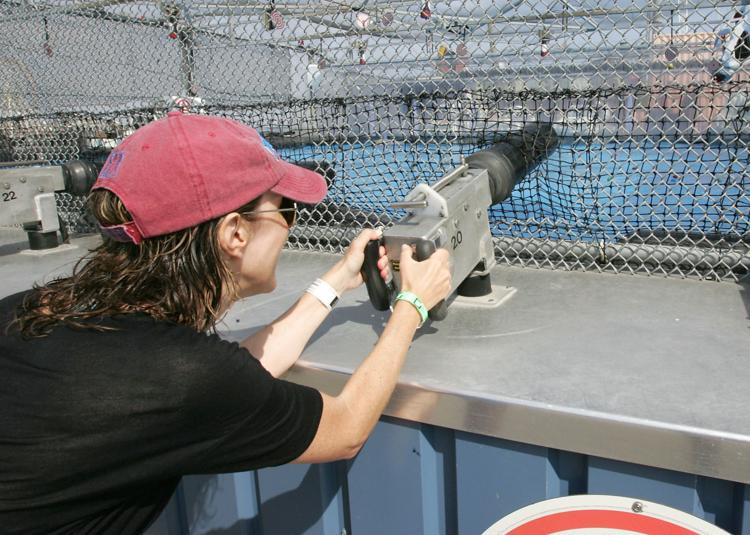 16. Hockey Challenge. Hit as many hockey pucks into the net or at a target for 20 seconds and win a prize. My hockey skills are lacking, so I moved on to soccer, something I played as a child. — PD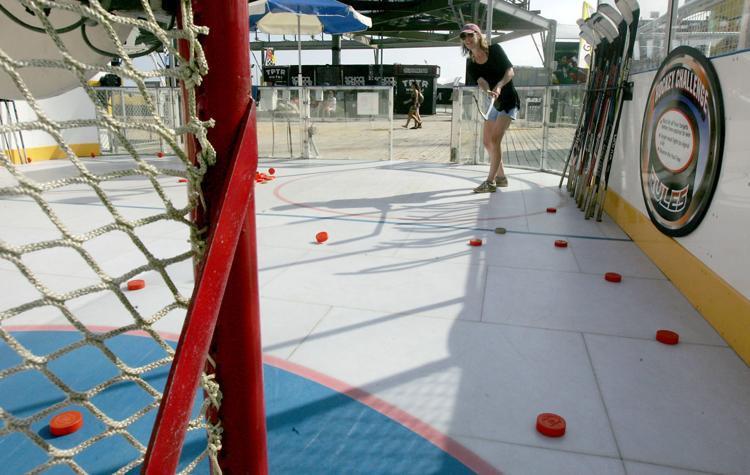 17. Soccer Challenge. Similar to the Hockey Challenge, the rules are simple — you get 30 seconds to kick as many balls as you can into any one of the holes ahead. Score and win. — PD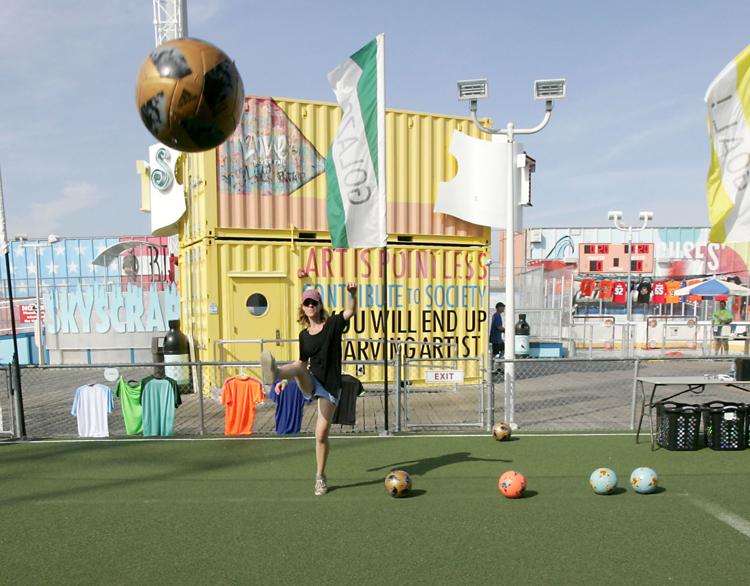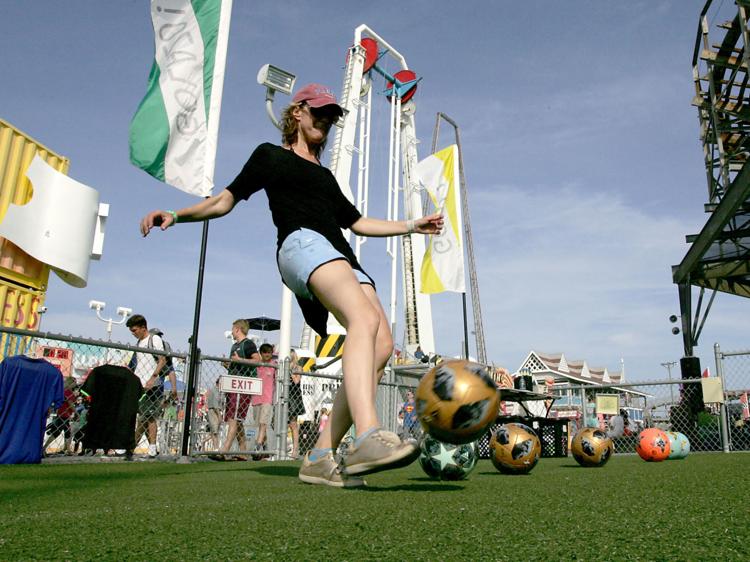 SHOPPING:
18. Shop at Kong & Co. on Surfside Pier. Located near the Kong ride, bought up all kinds of awesome Morey's merch from koozies and keychains to ball caps and sweatshirts at Kong & Co. Then we enjoyed a chocolate-covered banana called the "Kong," of course. Bonus! They have vintage Donkey Kong there, which Photographer Craig Matthews was all over. Though he admitted he was a little rusty, he showed off his barrel-jumping skills with ease. — PD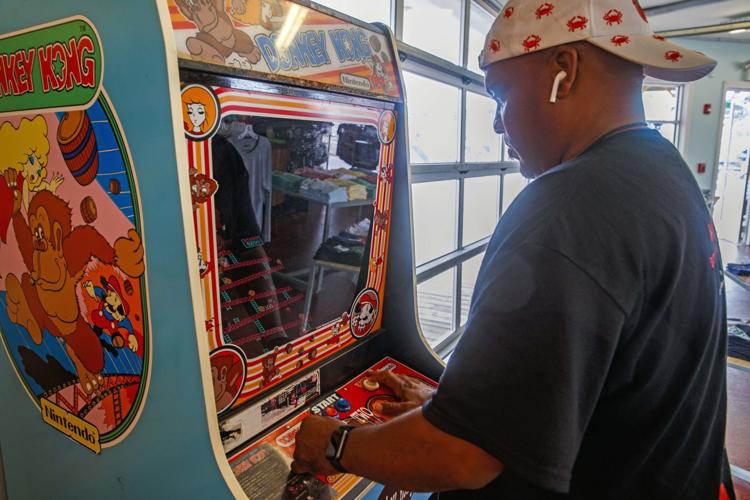 19. Peruse artBOX on Adventure Pier. This artists' colony is composed of 11 recycled shipping containers. It houses local art, souvenirs and gifts. Just for fun, you're encouraged to snap photos there and post to social media. — PD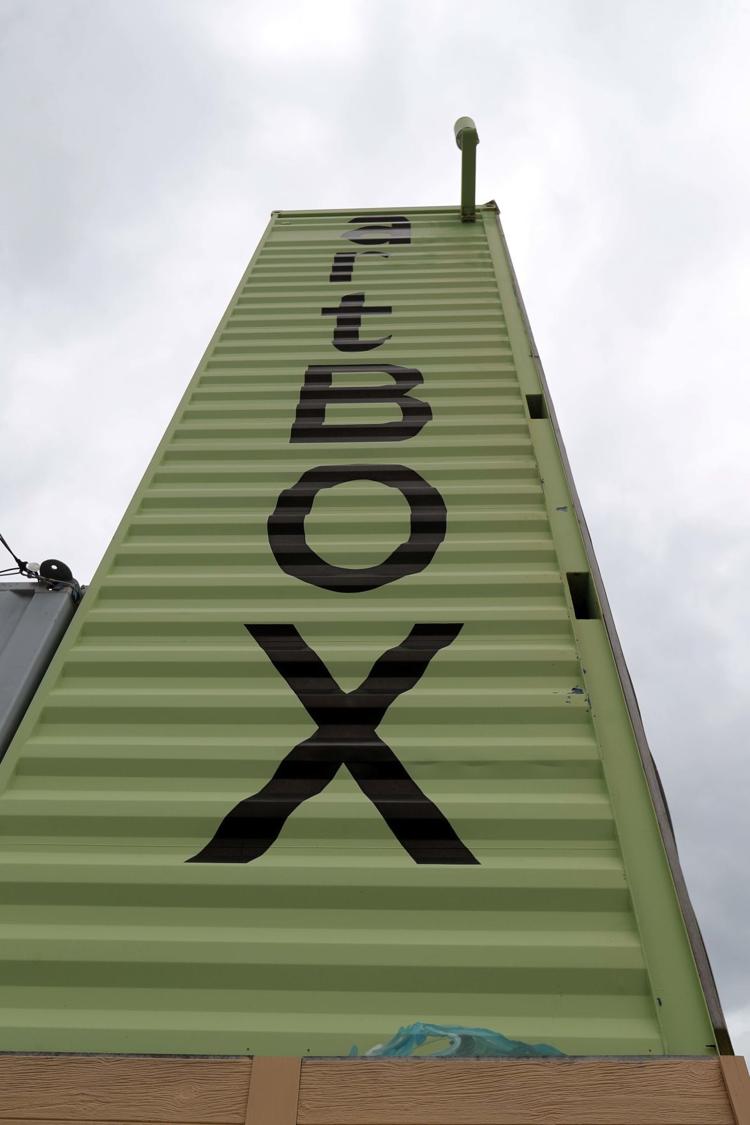 FOOD AND BEVERAGE:
20. Try Morey's exclusive Dippin' Dots Anniversary Flavor: Sea Salt Caramel Piertzel. Call me a wimp but Dipping Dots freak me out. Teeny-tiny balls dissolving the moment they hit my tongue? It's weird and difficult to taste any flavor. But the new Sea Salt Caramel Piertzel has enough sea salt and caramel flavoring to give the dots a subtle taste. The pretzel bites gave it a nice crunch. — PD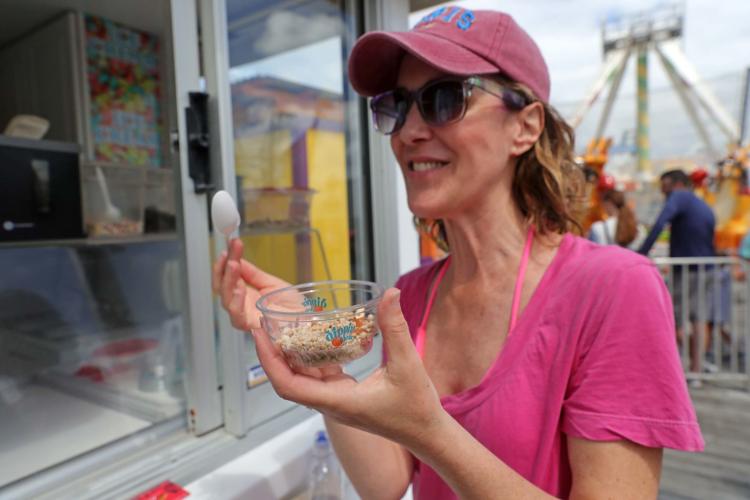 21. Sip the 50th Anniversary Beer "Wild Wooder." I am not a beer girl, but hey, when in Wildwood one needs to try the Wild Wooder, a special collaboration between Morey's and Cape May Brewing Co. You know what? It was good. Light, but with hints of straw and hay and very refreshing on a hot day. — PD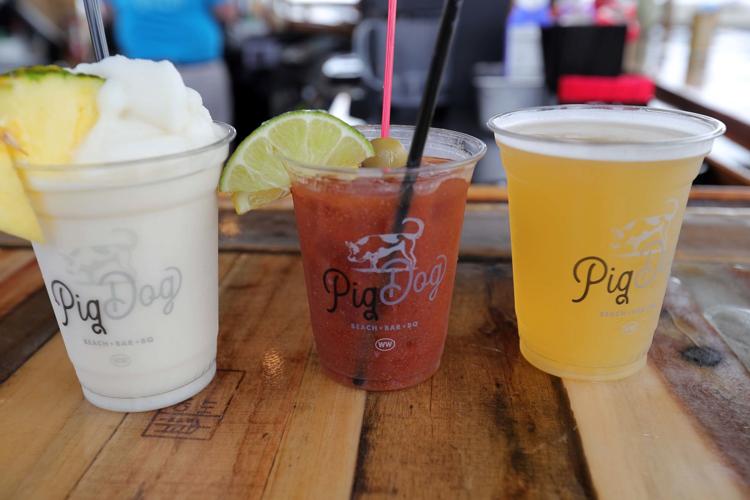 22. Dig into some Curley Fries with a legendary dipping sauce. Curley Fries are as much a Wildwood legend as the tram car and it doesn't take more than a quick bite to get hooked. In case you want to kick them up a notch, we recommend dipping in a bit of Tony's Secret Sauce, named after Tony from Tony's Produce. This blend of mayo, ketchup and spices helped us tear through our bucket of fries in record time. — RL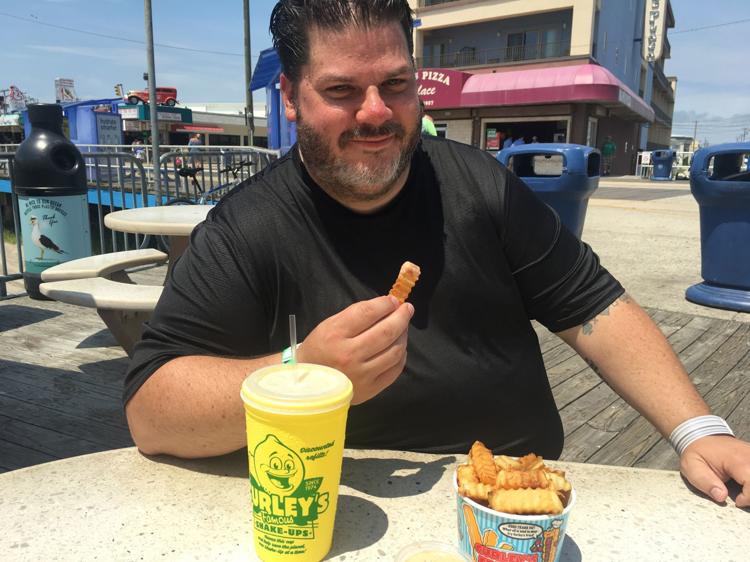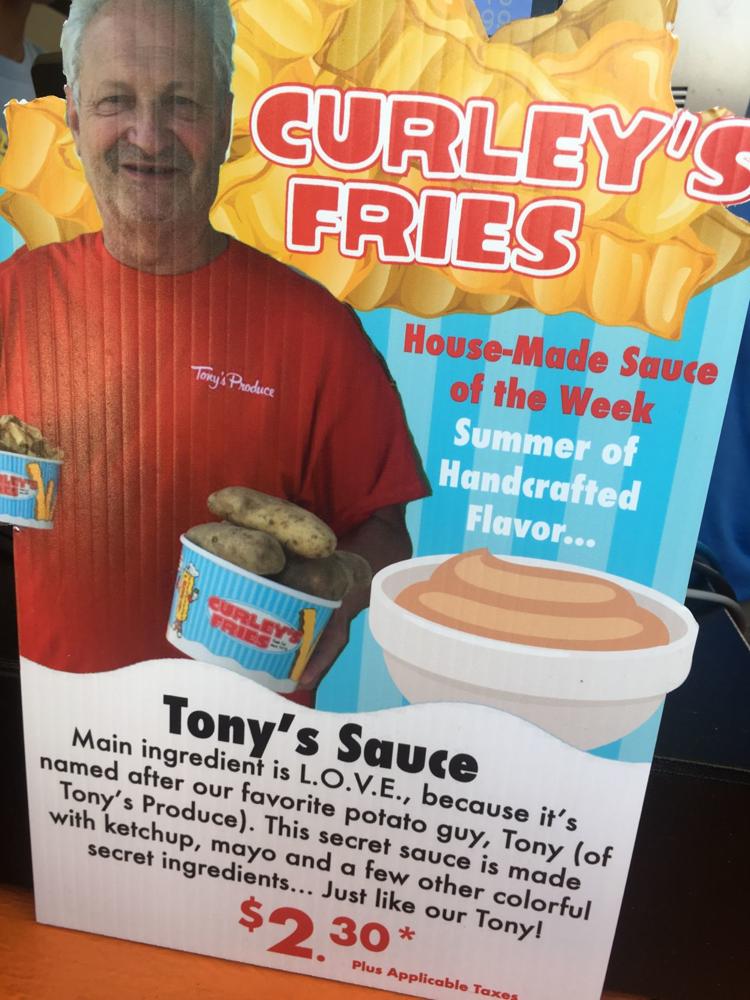 23. Dare to finish the mega Bloody Mary at Pig Dog Beach Bar. There are Bloody Marys and there are Bloody Marys. The "Mother of All Bloody Marys" — or the MOAB — found at Pig Dog Beach Bar in the rear of Raging Waters falls in the latter category. It's a cocktail and a meal in one 32-ounce pitcher. This spicy Bloody Mary doesn't just have your usual stalk of celery and an olive on a sword-shaped toothpick. This baby has — are you ready? — a slab of barbecued brisket, pickled shrimp, a chicken tender, French fries, wings, pigs in a blanket, cheese, cucumbers, tomatoes and, oh yes, olives and a celery stalk. Put that in your pipe and smoke it! — PD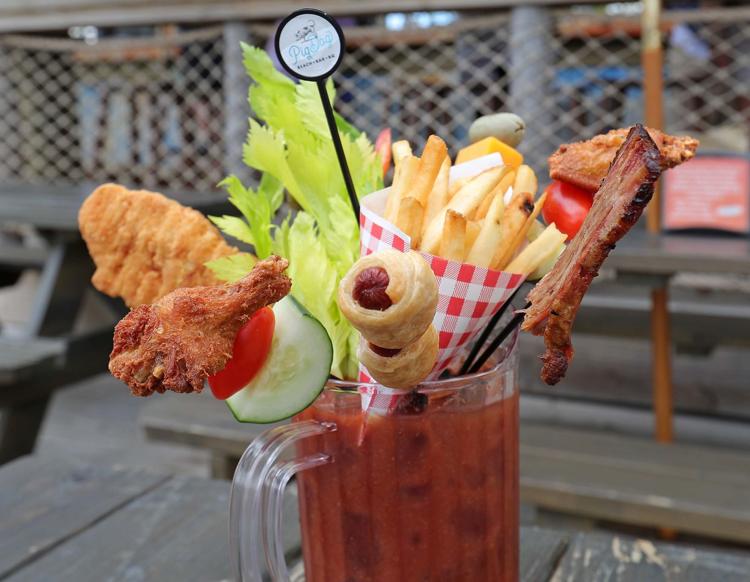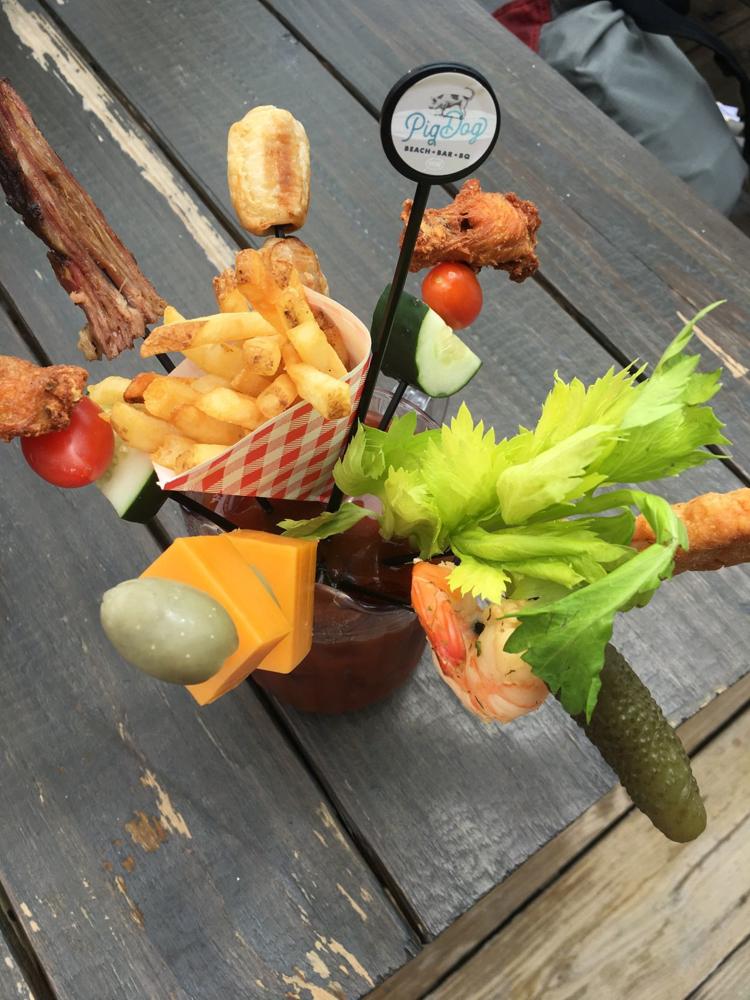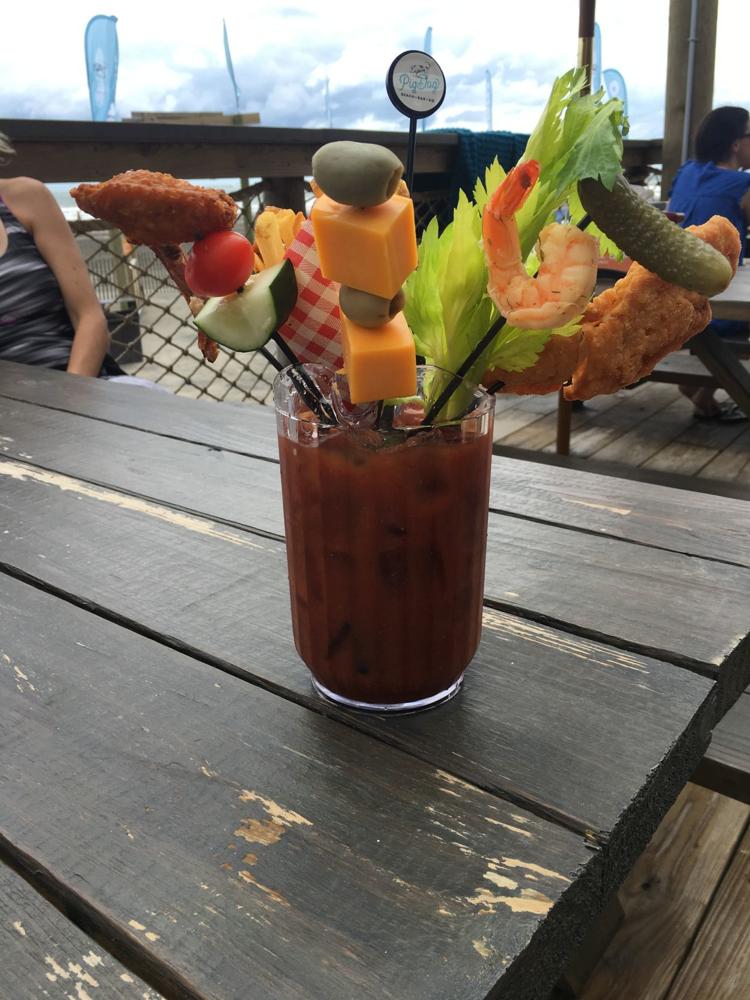 24. Try out some German-influenced fare at Wilhelm's Bier Garten. What could be more German than a Bavarian pretzel? Not much! Wilhelm's is gigantic. But be warned — the accompanying mustard packs a punch. — RL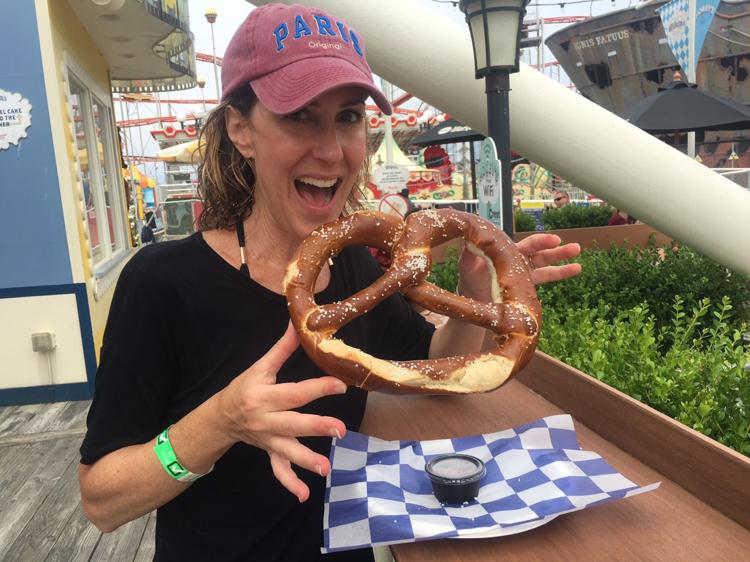 25. Swim up to Water Lilies Swim-Up Bar in Ocean Oasis. (No kids allowed.) Truth is, nobody really needs a swim-up bar, but everybody wants one! This brings a bit of adult-themed fun to all the kid-friendly madness. And really, why waste time drying off when you need a cold one now? — RL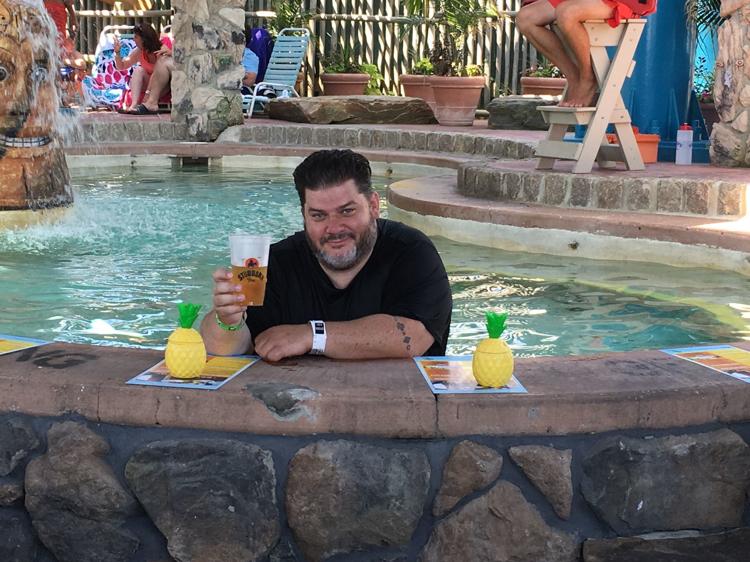 26. Visit Stubborn Bros. Beach Bar atop Ocean Oasis Water Park. Stubborn Brothers, affectionately named after the two Morey's co-owner brothers Will and Jack, has a new theme this summer, with new custom table designs aimed at encouraging small competitions among guests while waiting for a meal. Stubborn Brothers also sports arguably the best view of any Morey's Piers location. Perched high above the sand at the pier's end, one can gaze out at the sparkling water, while sipping on one of the bar's signature drinks such as their amazing blueberry pina colada, with Cape May Distillery Blueberry Rum and fresh blueberries. The bar is even open to the public via beach access. — RL
27. The Mighty Green Burger. Made with the plant-based Beyond Meat, you'd never know this burger found at Jumbo's was anything but beef. Our vegetarian photographer Craig Matthews dove in to this, loving the texture and its terrific flavor, unlike, he says, some bland store-bought veggie burgers. — PD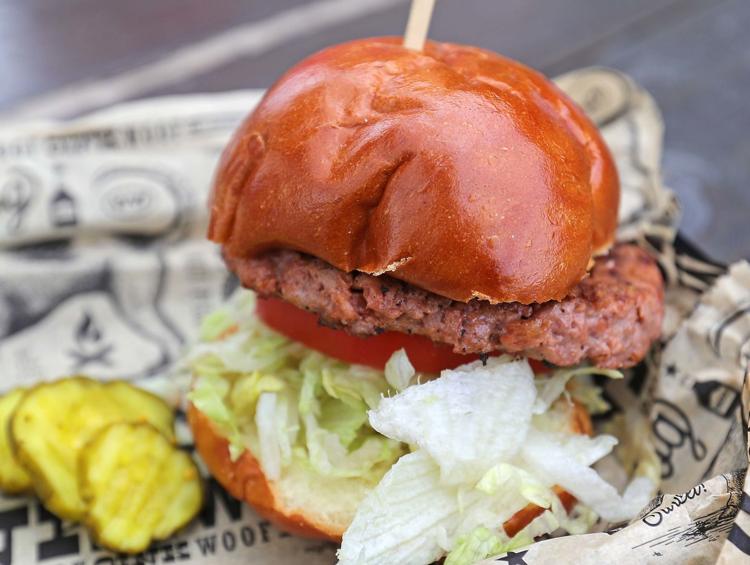 28. Forget your diet and dive in to boardwalk deep fried favorites. Sure they have deep-fried Oreos, but new to the deep-fried arsenal at Morey's this year is the deep fried moon pies and the deep fried Reese's Peanut Butter Cup. Each is as gooey, sweet, fried and over-the-top gluttonous as you would hope for. — RL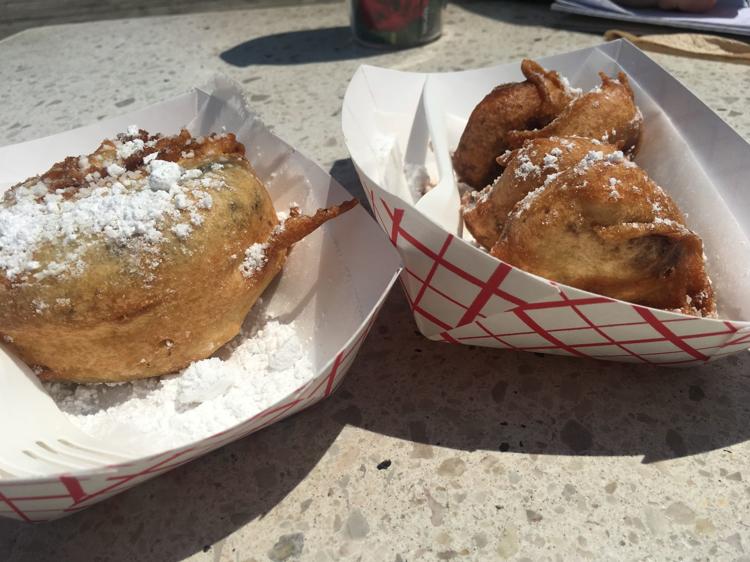 29. Wash down your favorite boardwalk eats with a lemonade Shake Up. Is there anything greater than a fresh-squeezed lemonade made to order on an hot day on the boards? We think not. Available in both lemon and orange flavors, each are delightful and built to perfectly quench your thirst. — RL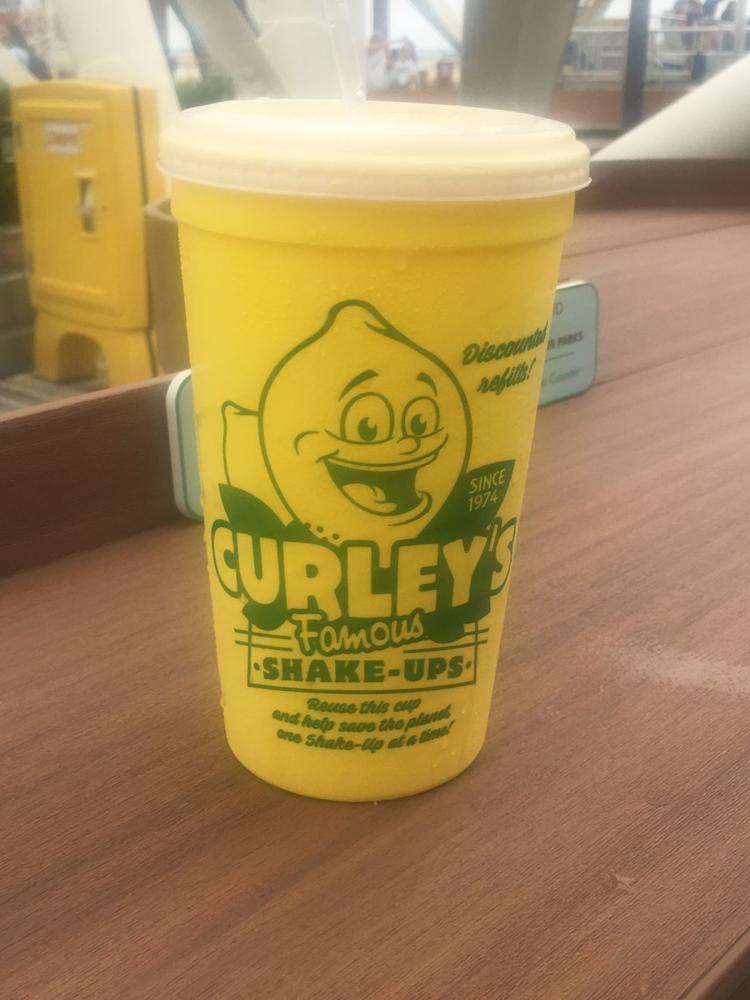 30. Sip a Pina Colada at Barnacalicious Betsy's on Ocean Oasis. You've probably had a pina colada before, but unless you have sipped one directly out of a freshly gored pineapple blended with fresh pineapple, it really can't compare. — RL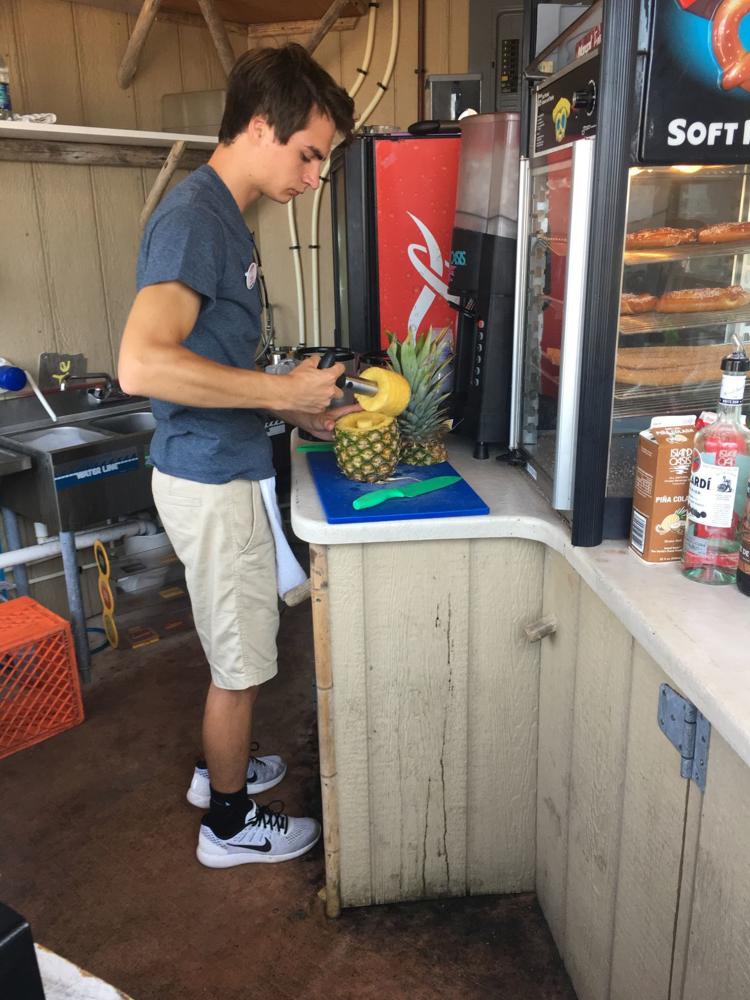 31. Have Breakfast in the Sky. This a not-to-be-missed summer treat at Morey's. Enjoy the most important meal of the day on the Giant Wheel (select days from July 21-Aug. 20). Try unique items like a shrimp, crab and lobster omelet or a Jersey tomato BLT with white linen table cloths and pitchers of coffee and juice. Take in the view for 15-20 minutes each at the 3-, 12- and 9-o'clock positions. Take note: this is a super special dining experience. ($110 per car with two guests, $50 per additional person.)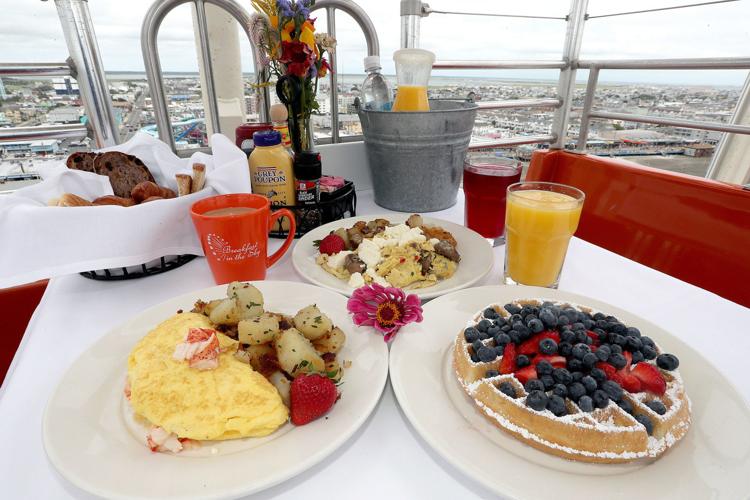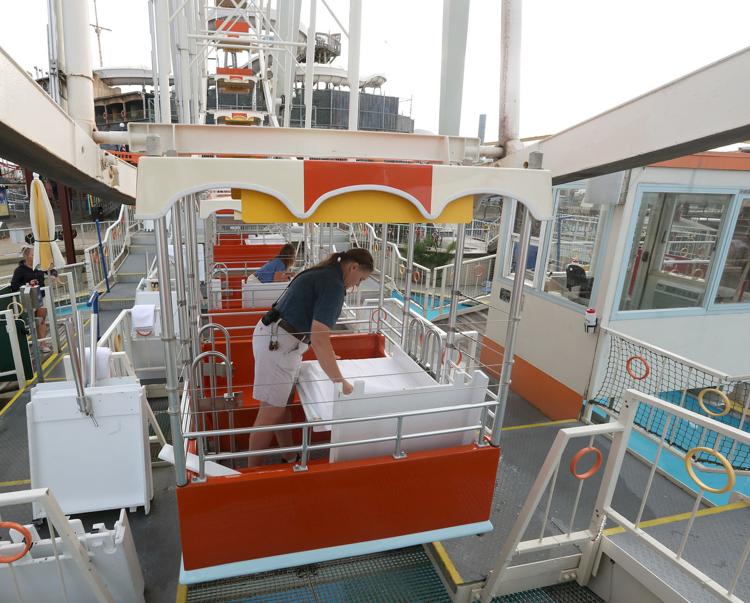 — PD
RIDES:
32. Do an Xtreme Ride on Adventure Pier. Adventure Pier boasts several fear-inducing, yet, exhilarating rides. The Skycoaster may just be the most exhilarating of them all. After I donned a heavy apron-like ensemble, I walked up the platform and was hooked up to a cable that raised me 100 feet above ground. Though I have rappelled down the Sheraton Atlantic City for charity, somehow being up 17 floors seemed less scary than dangling in the air held up by a few wires. I literally had my life in my hands when the countdown began and I was to pull the ripcord that would enable me to plummet through the air. After that first giant swing, with the wind gushing through my hair, I got up the nerve to extend my arms, and I really felt as if I was flying through the air with the greatest of ease. It was one of the most terrifying and exhilarating rides I had ever been on. And I would do it again in a heartbeat.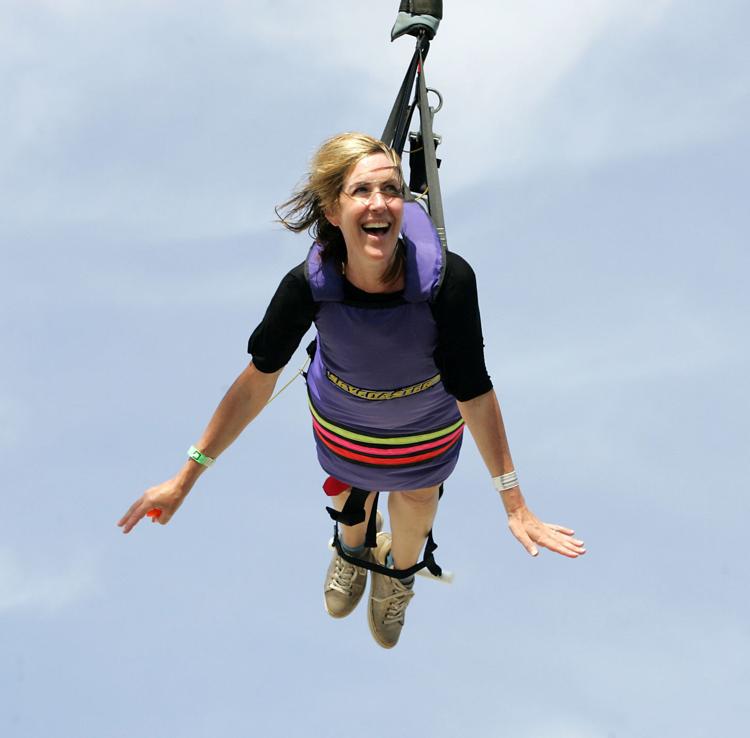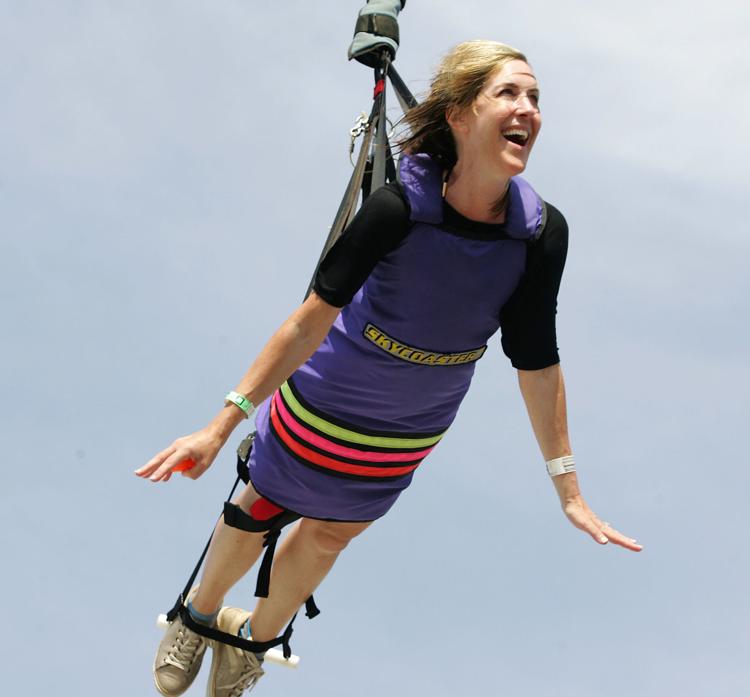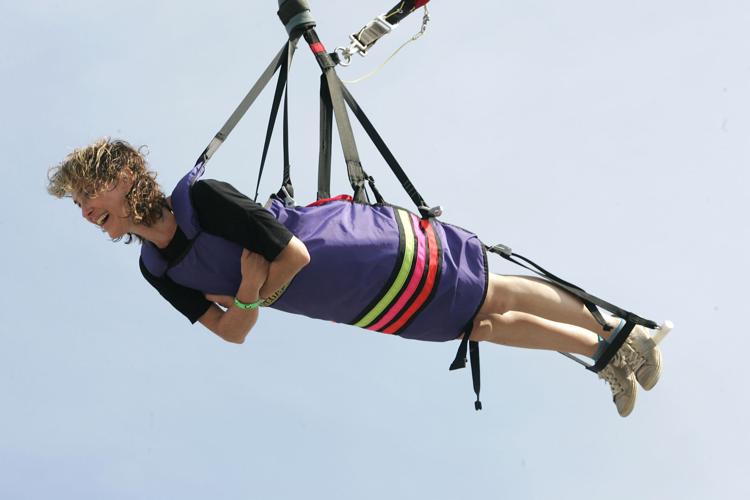 33. Race head-to-head on the Grand Prix on Adventure Pier. Racing go-karts is the closest most of us are ever going to get to being actual race car drivers. Photographer Dale Gerhard is particularly fond of them. The competitive side in me came out as I channeled my inner Lewis Hamilton to race Dale. Unlike the smooth streets of Monte Carlo, though, this course is all boards which have you bumpity-bumpity-bump-bump bumping your way to the finish line. Formula 1 was never this much fun. — PD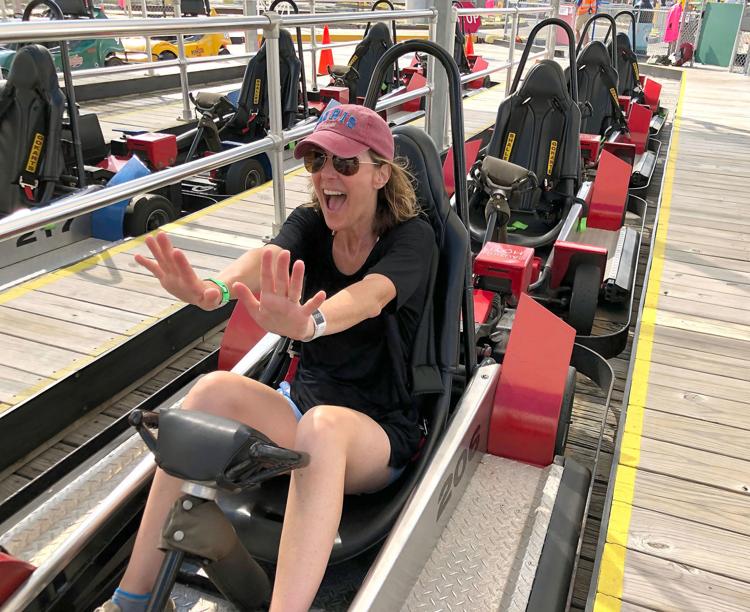 34. Try not to scream in the haunted Ghost Ship. Never one to pass up a haunted house (heck, Ryan and I stayed at Cape May's Southern Mansion at Halloween last year specifically to get spooked), we had to work our way through the Ghost Ship to see if we could make it out alive. Spoiler alert: we did. But that's the only spoiler you'll get from us on this one. — PD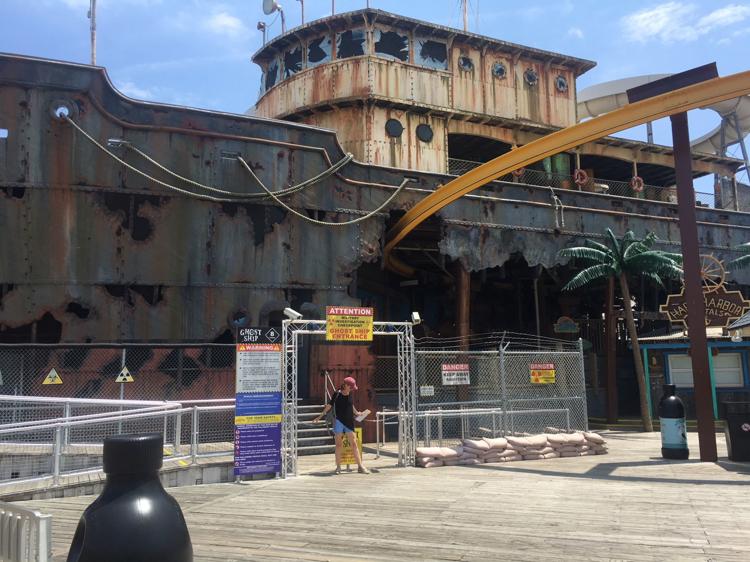 35. Sightsee in the Flying Galleons. For those times when you aren't done riding the rides but still need a break from the action, the Flying Galleons is just what the amusement pier attendant ordered. Hop aboard a pleasantly paced pirate ship for a trip high above the pier. Gaze at the scenery as you work up the nerve to ride your next thrill. — RL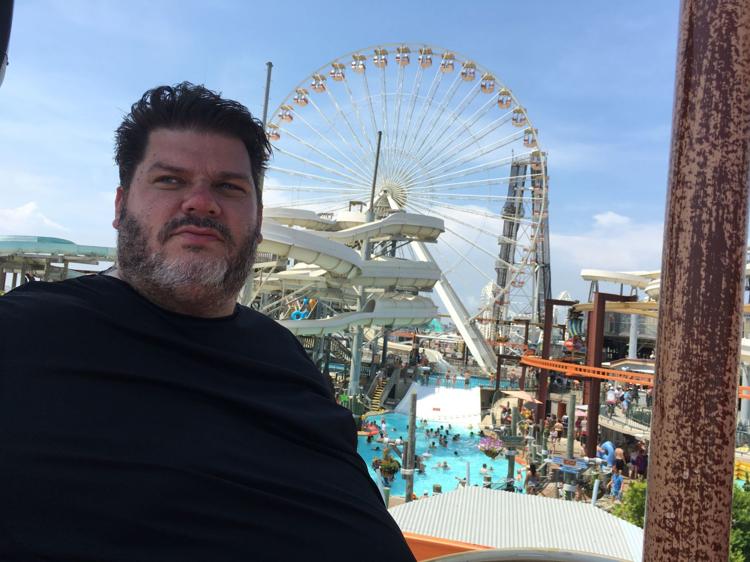 36. Soar in a Seagull Cycle. Right next to the Flying Galleons is the Seagull Cycle. This, too, takes on you on a monorail ride, but unlike the FG, where you just sit, relax and take in the views, you need to pedal your way to the end. — PD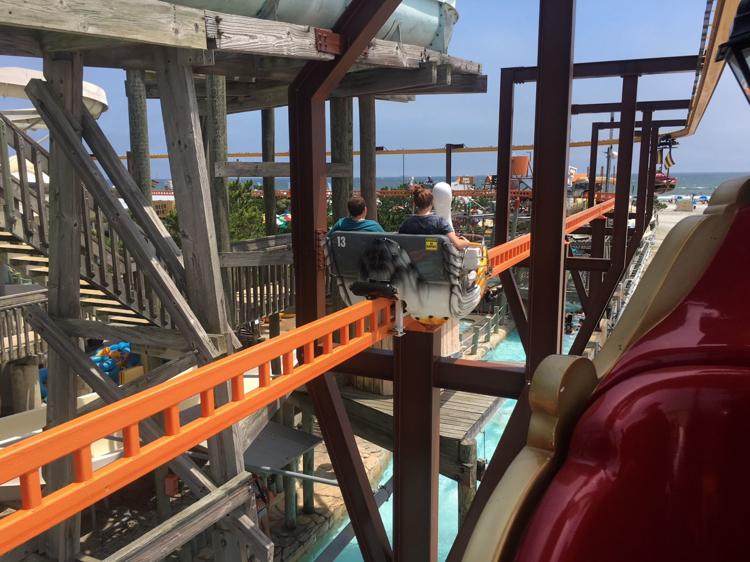 37. Ride the classic wooden coaster The Great White. Although built in the mid-90s, The Great White shares the great tradition of wooden coasters from decades gone by, which always had the feel that they would break into splinters at any moment. This adds to the fun as does the fact that this particular coaster sits on the edge of the ocean, which brings a whole other level of fear into the mix. Sure Morey's has roller coasters that go upside and twirl all around. But really, nothing beats this classic wooden roller coaster. Nothing. — RL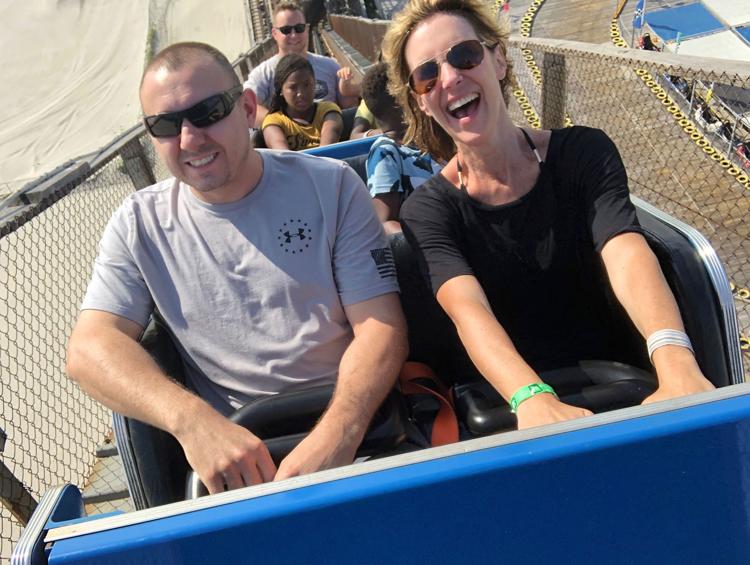 38. Climb aboard a 3D cartoon journey at Pirates of the Wildwoods. A dark ride on a boat that requires 3D glasses? This was a first for us. Day-glow, locally themed references and characters abound inside – keep an eye out for the ever-popular tram-car driver Gigi, a Wildwood icon — helping to make this more fun than your average glow-in-the-dark ride, and the tame nature of the attraction means it's not scary even for the little ones. — RL