I don't know about you, but every time I go to the zoo, I'm a little jealous of the marmosets, tamarins, monkeys and lemurs. Aside from their adorableness, they all seem to share a joie de vivre that's palpable. I secretly envy they way they go through life swinging from branch to branch or rope to rope; how they can dangle precariously from one arm as if they're hanging on for dear life, only to capably switch limbs and hoist themselves upright, securely landing atop a jutting ledge.
While I have no desire to be caged up, the act of swinging freely seems … well, it seems like a blast.
That's why when Tree to Tree Adventure Park opened at the Cape May County Zoo last year, I thought my wildest dreams had come true.
But why did Tree to Tree, an Oregon-based company with locations outside of Portland, as well as in New York State, decide to build a course here at the zoo?
Tree to Tree Adventure Park Manager Dan Sullivan, who originally worked at the Oregon adventure park, took time to speak about the genesis of this attraction, in advance of my colleague Rebecca King and me trying it out for ourselves.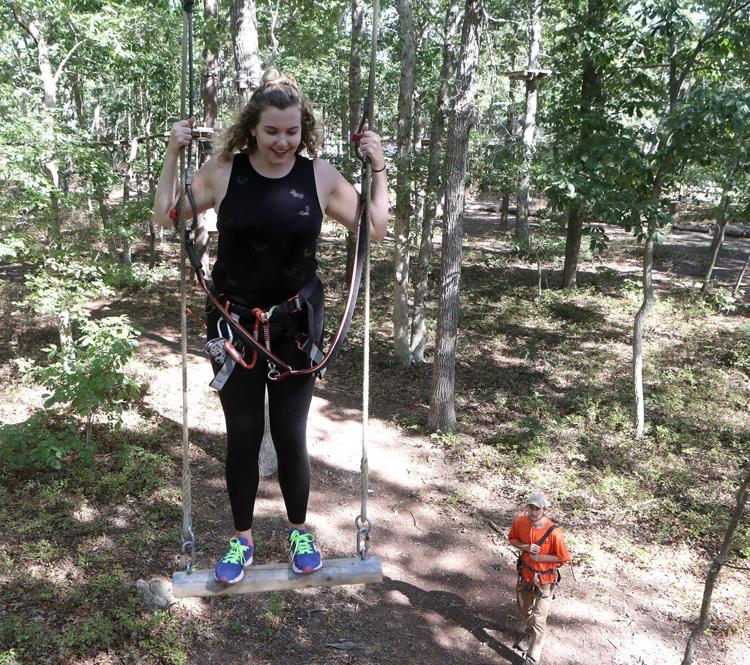 Pamela Dollak: Where did Tree to Tree begin?
Dan Sullivan: It started in Oregon — there's one in Gaston (outside of Portland), and there's one in New York called Adirondack Extreme. Now there's Cape May. There will be a park in Idaho next year.
PD: Why the Cape May County Zoo?
DS: My sister (Molly Beres) and my in-laws own the business. We're all from New Jersey — our grandmother owns a place in Wildwood. We know the area well. We came to the zoo and got in touch with the former director who was instrumental in getting us there.
PD: How has the response been since you opened?
DS: Fantastic! We're very pleased with the response. It was such hard work physically getting the course done, and I'm so happy people are interested.
PD: Who is the customer? Who is brave enough to do this?
DS: Mostly families, which is why we have a kids' and adults' course. We can accommodate 7 years old and up. It's a very family-friendly thing to do. It gets them outside, off iPhones. It gets them climbing. That's what we really enjoy. Getting people outdoors again.
PD: Describe the adventure.
DS: Officially it's called an "aerial obstacle course." It's a giant obstacle course up in the trees. Everyone knows there's a zip line course, but it's much more. It's tightropes, bridges, trapezes — and then there are zip lines, of course. But first and foremost it's an aerial obstacle course.
PD: Aside from the park to open in Idaho next year, will there be any more Tree to Tree Adventure Parks built?
DS: We haven't found a place to build again yet, but that doesn't mean we've stopped looking — we always have our eyes open.
---
Our Tree to Tree adventure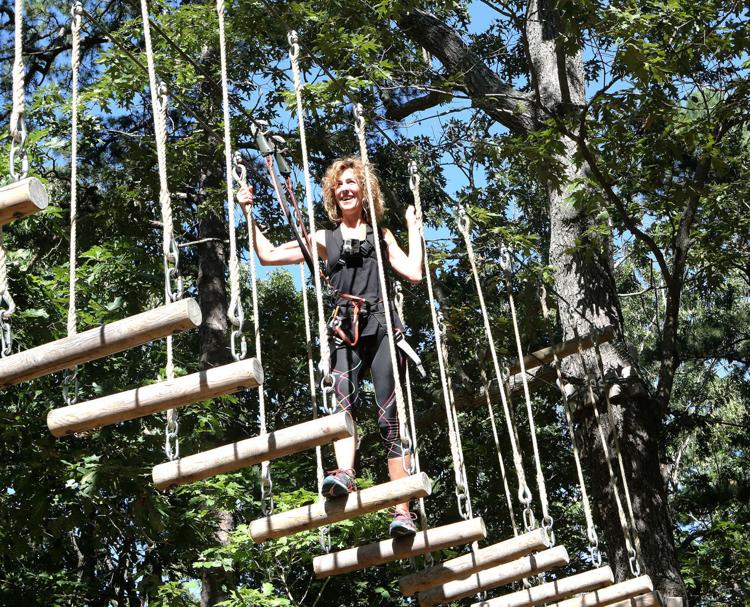 I guess you could say that I'm a bit of an adventure-seeker.
Since June I have: rappelled 15 stories down the Sheraton Atlantic City, barnstormed in the Red Baron, gone skytyping with the GEICO Skytypers and had a giraffe literally eating out of my hand at the Cape May County Zoo.
It was at the zoo when I came across what I knew had to be my next exploit — the Tree-to-Tree Adventure Park. It is everything I could possibly wish for in a day at the park. It is essentially what the kid in me would like to do more often, if the opportunity arose: swing, climb and zip from tree to tree.
I was so excited as I was getting geared up. Our guide and instructor was very thorough, as safety is a main concern. Although, it's pretty darn near impossible to fall from a tree. You can lose your footing, sure. But you're harnessed up so securely that you're not going anywhere near the ground.
Chinese-born Faith Zheng and her partner Anthony Ling, also from China, are the heart and soul of Sushi Ocean View, just off Route 9.
From 45 feet up, there were ladders to climb, nets to walk through, uneven wooden planks to traipse over, tightropes to tippy toe on and, of course, zip lines to zip through the woods. There are five very different courses, including one comprised of all zip lines.
The challenges are … challenging. And the entire course can take anywhere from two to four hours, depending on your ability, as well as your agility. Rebecca and I were doing great, moving right along, all the while giggling like schoolgirls the whole time (OK, that was probably just me).
The point is, this wooded aerial adventure course has you feeling like you're one part Tarzan, one part Indiana Jones and one part circus performer.
And if that doesn't get you jazzed, then I beg of you, please have someone check your pulse, because this attraction is fun, unique, exciting, daring, invigorating and confidence building — because you really do feel as if you've accomplished something great after this.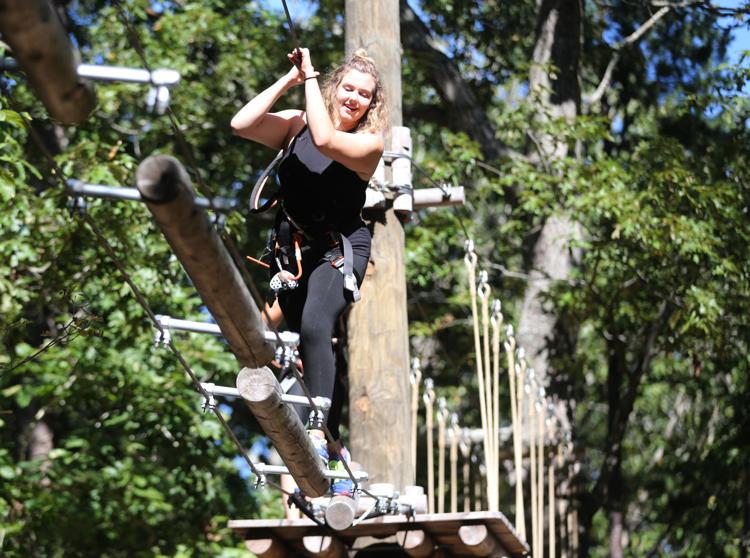 I'm not afraid of heights, but as Pamela and I began our Tree to Tree adventure, and I looked down from the tiny wooden perch we had climbed onto, I reconsidered that fact. Fortunately, I didn't have much time to amplify that doubtful little voice in my head, because once I began, all of my mental — and physical — energy was dominated by getting through the course.
Don't get me wrong, for those sound of body and with no fear of heights, the course is definitely do-able, but it is a big challenge. Sometimes the sections of the course were straightforward, for example, balancing on a single wire while holding another wire above your head to balance. Other obstacles had me calling down to the instructor asking, "How am I even supposed to get past this?" With swinging, unsteady boards to stand on and bicep-clenching ropes to grab, the course makes you feel like an Indiana Jones-in-training — which is exactly where the fun comes in. The Tree to Tree experience combines the endorphin high of a good workout with the thrill that comes any time humans are dangerously high off the ground and the make-believe fun of suddenly being the star of your very own action movie.
All of this is made better by the fact that you are perfectly safe up in those trees. In fact, I was probably less in danger of hurting myself up there than I would be on the ground. The instructors are calming and helpful. The interspersed zip lines are rewarding and exciting. And the course is unlike anything you'll experience in your day-to-day life.
Bring your game face. You'll need it.