Imagine receiving the ultimate, over-the-moon compliment and the most crushing disappointment, all in the same breath.
That's what happened to musician Tony Kishman after he performed his Paul McCartney tribute show, "Live & Let Die, A Symphonic Tribute to the Music of Paul McCartney," in London with Beatles' producer Sir George Martin in the audience.
It was a long and winding road that led Kishman and his band to play that particular gig.
Kishman, who bares a striking physical and vocal resemblance to "the cute Beatle," has been a student of the McCartney sound for decades.
It's a well-known bit of advice to never mix family and business. For many, this proverb rin…
When he was 8-years-old, he brought a vinyl copy of "All My Loving" to school for show-and-tell and performed the song using a right-handed broomstick as a substitute for McCartney's left-handed bass.
"From that moment on, I decided I either wanted to be (McCartney) or at least be good enough to imitate him," Kishman says.
Kishman was already playing in some cover bands in the 1970s when an agent suggested he audition for the role of McCartney in the original Beatles tribute show known as "Beatlemania."
Kishman won the part and spent a total of six years with the production, which included about five years on Broadway and then more time touring the world.
Kishman's also been part of the cast of "Legends in Concert" in Las Vegas and, early in his career, portrayed McCartney with other Beatles tribute shows, including "Classical Mystery Tour."
But about 15 years ago, Kishman decided to take his McCartney impersonation to the next level.
He created a show that paid tribute to McCartney, who Kishman considers the most famous songwriter of all time, and called it "Live & Let Die" after one of his early Wings hits, which was also the theme song for the 1973 James Bond film of the same name.
There was a method to Kishman's madness when he took the show to London. He was hoping Martin, who died two years ago at age 90, would catch the show and that he'd get a chance to meet him.
"My intentions were to work with him some day," Kishman says of the Beatles' legendary producer. "Obviously, the Beatles had him on every record. He created their sounds and arrangements and so forth. When I met him, he came up to me and he said, 'I just want to tell you that your performance was amazing and at times I drifted' (back to his Beatles days in the 1960s)."
Martin also told Kishman he brought his kids to the show so they could see something that approximated what it was like in the studio when Martin was producing the Beatles.
Kishman was well-prepared to meet Martin. Kishman, who's also a songwriter, gave Martin a cassette tape of his music.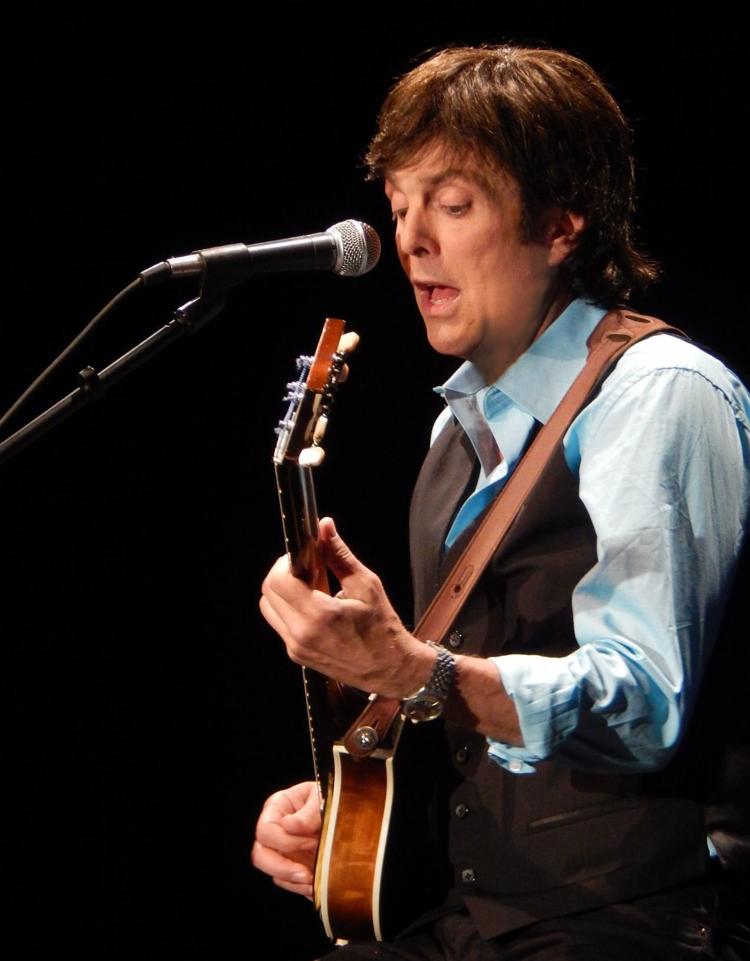 "I gave him a tape of my original material, and I was hoping he would record my songs," he recalls. "And he actually said, 'I'm afraid I can't record you, Tony. You sound too much like Paul McCartney, and I already work with Paul.'"
Kishman was crushed. After all, during his London performance of "Beatlemania" two decades earlier, McCartney actually attended the show. Although the two men never met, McCartney did give Kishman something he could use for the rest of his life.
Asked by a writer whether he enjoyed "Beatlemania," McCartney gave Kishman the ultimate Beatles seal of approval.
"Well, the guy who plays me is a good musician, and I wish him well," the former Beatle told the writer. Kishman has been using that quote in his media material ever since.
Kishman will be center stage at 8 p.m. Friday, Jan. 12, when he brings the symphony version of "Live & Let Die" to the Levoy Theatre in Millville for a single performance.
#Veganuary is trending in the New Year in a big way, with endorsements from celebrities such…
The smaller version of the show features a total of five musicians, including Kishman on bass with two guitarists, a drummer and a keyboard player, some of whom have impressive credentials, like playing with the Hooters or the band The Weeklings.
But Kishman says the symphony version of the show has a bigger sound because it adds a total of seven more musicians to the mix.
"The audience at the Levoy Theatre will hear strings and horns, just like they do on the records," Kishman says.
The material in the show will be roughly one-third Beatles songs, one-third McCartney's hits with his second group, Wings, plus his solo hits.
"Some songs weren't No. 1s, but they were Top 10s. For instance, we do 'Let Me Roll It' or we might do 'No More Lonely Nights' or we might do 'My Valentine,'" Kishman explains.
They'll also do songs that McCartney rarely, if ever, performs live, like "Uncle Albert/Admiral Halsey."
"But we also do the (better known) songs like 'Silly Love Song,' 'The Long and Winding Road' and 'Jet'," he says. "We can't get away with not doing them, along with 'Live and Let Die,' 'My Love' and 'Maybe I'm Amazed.' All of these songs performed live are so much fun to do."