You may or may not be aware of this, but Thursday, Feb. 22, is National Margarita Day. What a great excuse for me to extend this into an entire week's worth of drinking my favorite tequila-based cocktail! On Margarita Day itself you can find me at Olon at Tropicana Atlantic City, as I have been selected from what I can only imagine is a group of thousands, to be an official judge of their margarita competition. But alas, I cannot report on that yet as it has not happened.
So instead, I headed out of the glitzy comfort of Atlantic City to the town of Hammonton, where a popular Mexican hotspot known as Fiesta Mexicana was waiting.
Fiesta Mexicana opened its doors in the late '90s, but somehow I didn't make my way here until this week. The place is set up as a bar/restaurant, but the restaurant feel definitely outshines the bar. It's a well-decorated space and the vibe is pleasant and Mexican-esque, but they really need to get rid of the harsh fluorescent lighting that ruins the atmosphere in certain rooms. Dark and cozy always works best in this type of spot.
We sat down, I grilled the waitress on whether or not the margaritas were made with fresh lime juice (she insisted they were) and after being let down at the absence of a famous Hammonton Blueberry flavor, I finally decided on a classic margarita on the rocks made with Cabo Wabo reposado. Now I can't say for sure, as I didn't get to actually see it made, but to me, the fresh lime juice tasted a bit syrupy — almost as if it was being cut with some sort of mix or something. Not terrible, but different from what I was looking for. One of my companions ordered a peach margarita, which ended up being the star of the show, drink wise. Light, refreshing and well balanced, it hit all the marks.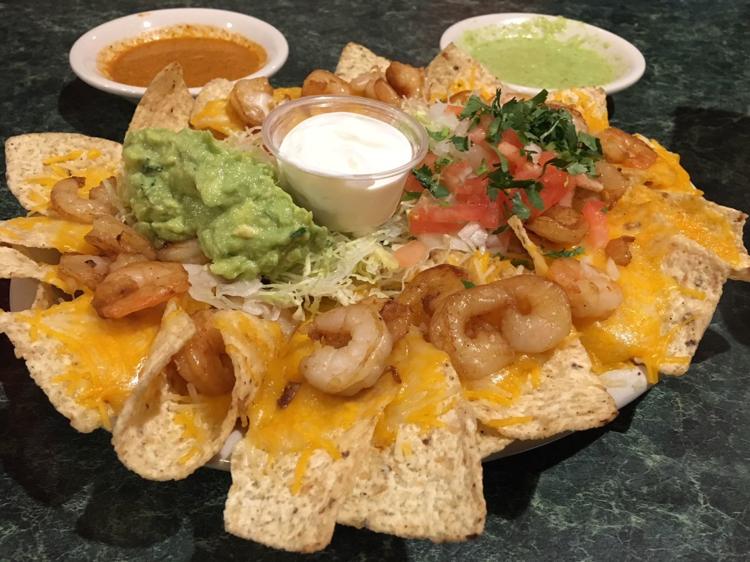 As we sipped our drinks, we flipped through the menu, which took longer than usual, as it has a page count comparable to Stephen King's "It." An endless list of Mexican specialties were listed, and like most Mexican restaurants, the majority of them consisted of roughly the same ingredients (meat, cheese, tortilla, sauce, veggies) presented in slightly different fashions, along with some seafood and protein-based dishes that would not be seen on many less-authentic menus.
We ordered the chorizo con queso and the Nachos Acapulco, both of which came out quickly. The chorizo was a huge standout. A simple dish consisting of melted Mexican cheeses and chorizo (a Mexican sausage), it was served with warm tortillas and made for a great snack. The nachos were well-made too and featured grilled marinated shrimp that set them apart nicely from your standard version. The one drawback was that the chips used were straight out of a bag. For the life of me, I can't understand why more places can't/won't fry up fresh tortilla chips. The difference between a fresh tortilla and one out of a bag is night and day. Had they gone the extra mile with this app, it would have really paid off.
Overall, we left pleased with Fiesta Mexicana. The portions were big, the prices were quite low for the amount of food you got and the menu covered a lot of ground. Those seeking out authentic Mexican would surely find something to their liking here.