Living in South Jersey is a gift unto itself with all of its natural beauty, fabulous restaurants, incredible art and music and great shopping. So why not also give South Jersey as a present this holiday with items that display your hometown pride?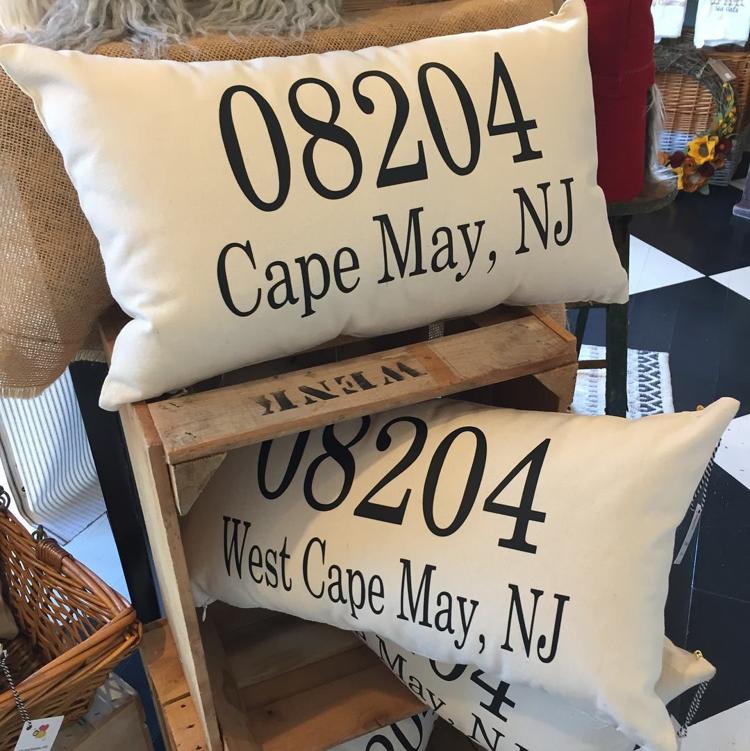 At Cape May's adorable, tiny Quirk & Co., everything is handmade, like the pillows by Why Sew Serious that display the names of shore towns from Ocean City on down. For the many who adore this Victorian seaside resort, naturally you'll want to choose either the "Cape May 08204" or "West Cape May 08204" pillow ($38) for them to rest their heads on and dream of summer.

Artist Fabrice Allen of FABulous Mosaics pieces together colorful bits of glass to create stunning images of pop icons ranging from The Beatles to Marilyn Monroe to Bob Marley. But for this column, we like his simple, yet striking, blue and yellow wall mosaic of "Cape May" ($45).
Cape May's hipster store for dudes, Galvanic, has a cool men's jute tote bag that will show the world how proud he is to hail from "Cape May, New Jersey." But even more than that, this bag by Apolis is part of the company's "Local + Global Bangladesh Project," which began in 2009 with an order of 50 market bags. Today, with over 100,000 bags ordered in 204 select stores in 12 countries, the project supports female artisans in a small northern Bangladeshi community. The tote ($80) has a waterproof lining and adjustable vegetable-tanned leather straps that are reinforced with antique nickel rivets, so he'll look good at the farmer's market, and feel good year round.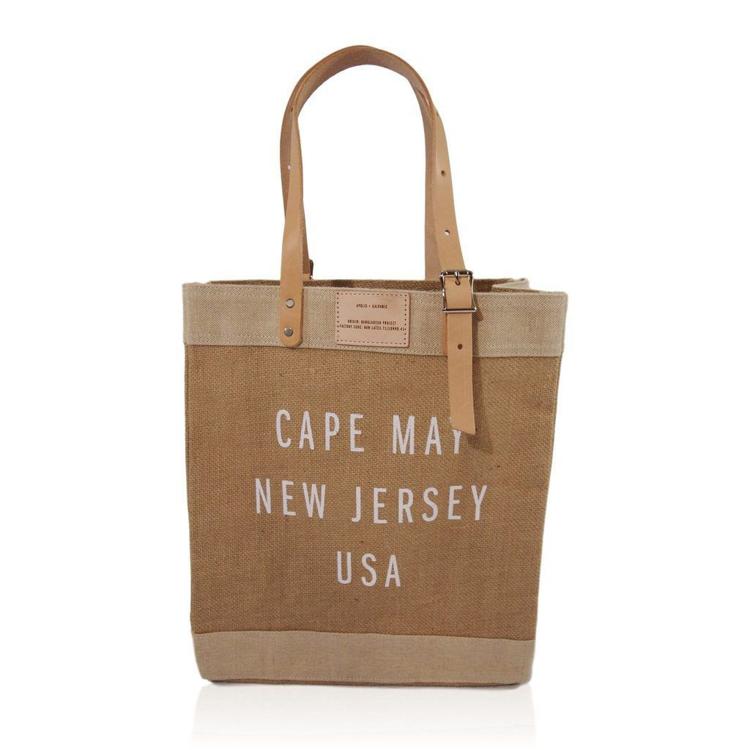 Galvanic, 514 Washington Street Mall, Cape May; Galvanic.co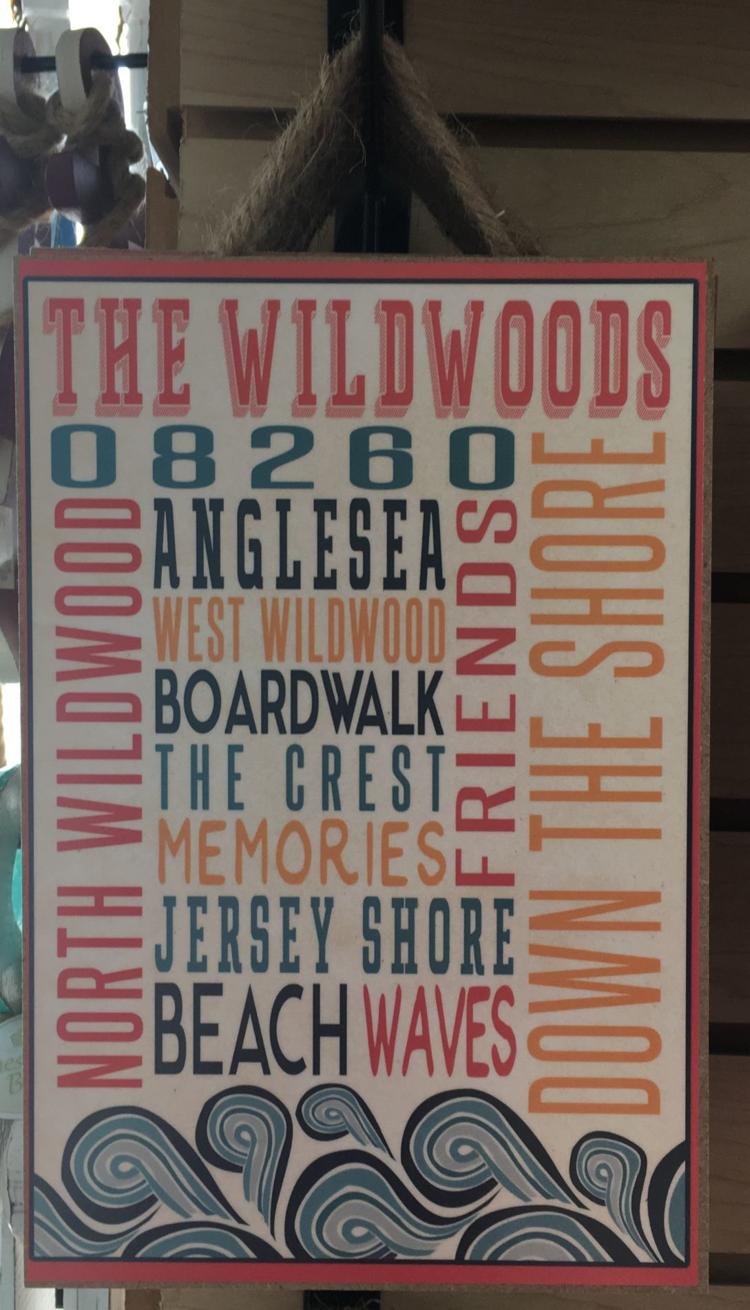 Rapunzel's on the Wildwood boardwalk has a fun wall plaque ($12.99) that makes a great gift for your beachtime bestie. With all of the 'hoods in the 'Woods represented like Angelsea, West Wildwood and the Crest, and words like "friends" and "memories," it's a sweet way to show your love for summer and your friends.
Rapunzel's, 22nd Avenue and the Boardwalk, North Wildwood; RapunzelsOnline.com (Open weekends only through Christmas, weather permitting.)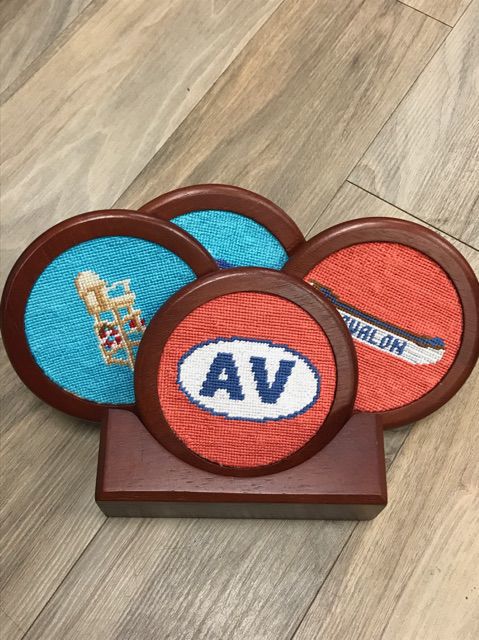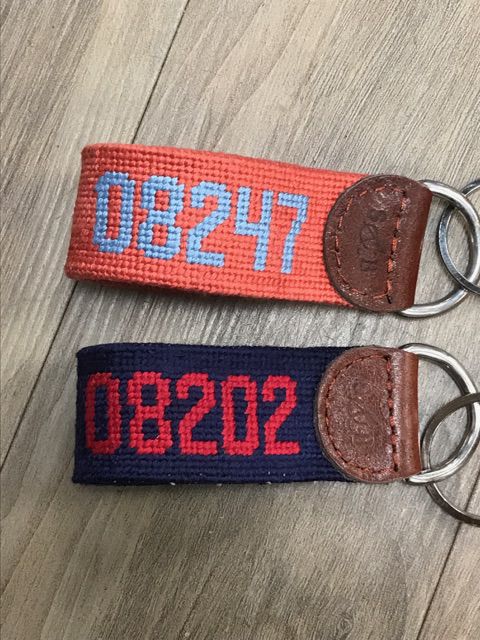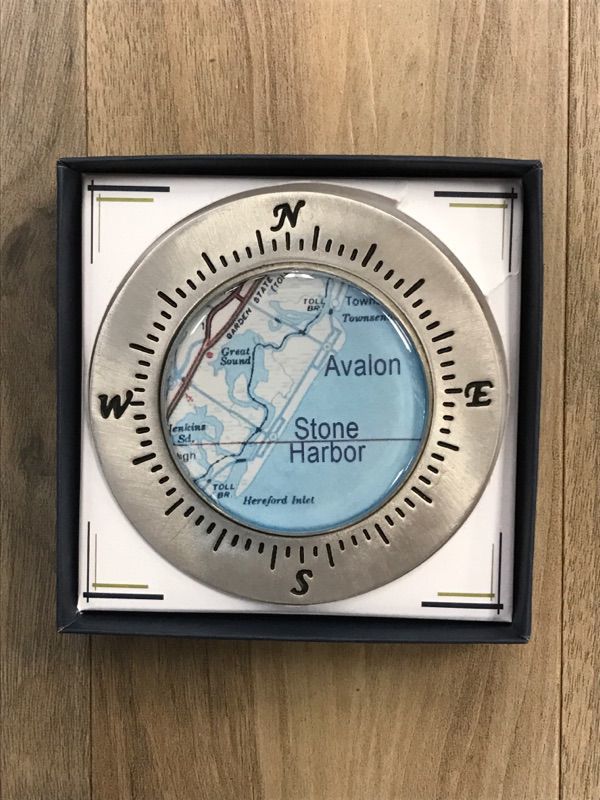 Stone Harbor's Global Pursuit is chock-full of locally inspired gift items by needlepoint whiz Smathers & Branson that can help fill any stocking, such as Avalon-themed coasters ($80 for a set of four) or needlepoint key chains ($28.50), boasting the zip codes 08247 and 08202, representing Stone Harbor and Avalon respectively. If you're torn between these two fabulous shore towns, grab the "7 Mile Island" bottle opener ($60) or paperweight ($95) by Chart, which highlight both preppy resorts.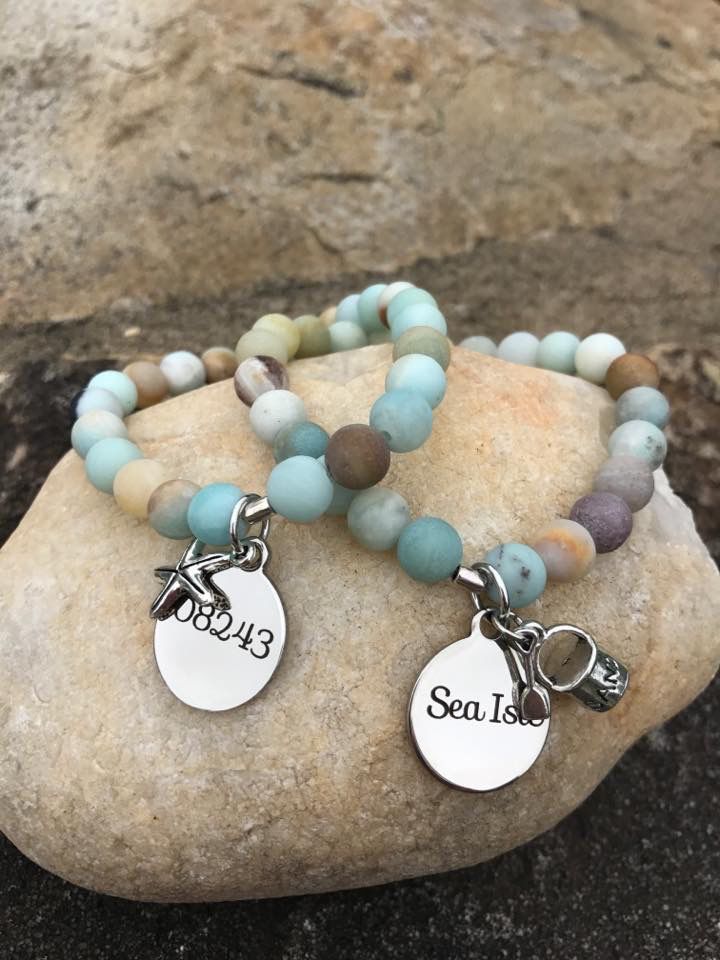 Coastal Palms Boutique has lovely handmade Sea Isle City-themed gem stone stretch bracelets ($30) by Reflections by MK. These pretty items are ideal for any gal who adores jewelry as much as she does Sea Isle. The bracelet, exclusive to Coastal Palms, has a stainless steel disc that's laser engraved with the words "Sea Isle" on one side and its zip code (08243) on the other. There's also an adorable beachy charm for added prettiness.Coastal Palms Boutique, 4110 Landis Ave., Sea Isle City; CoastalPalmsBouqitue.com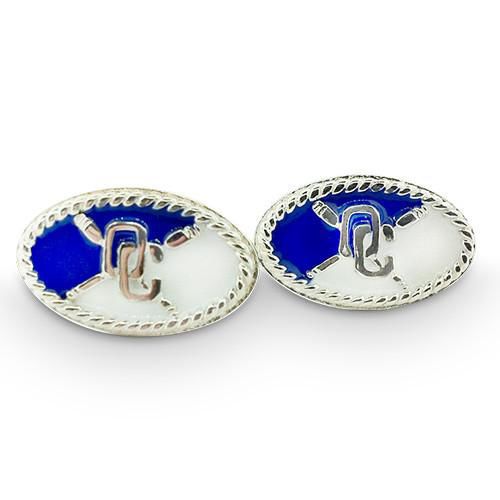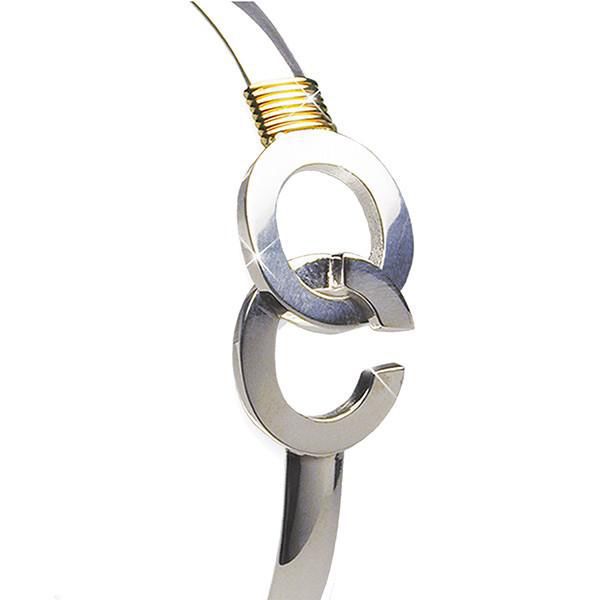 Even though Ocean City's Boardwalk is going through some major construction this winter, Henry's Landmark Jeweler is open and going strong with striking gifts for men and women. Perhaps their most beloved item is the classic sterling silver "OC hook bracelet" with seven gold wraps around it that represent the seven-mile island (price varies depending on thickness, $159-$229). Henry's also carries uber-popular brands like Pandora and Alex and Ani, which created Ocean City-themed items just for them. The sharp-dressed man in your life will relish the handsome sterling silver and enamel O.C. cuff links ($45.99) with "rope" embellishments.
Henry's Landmark Jeweler, 1236 Boardwalk, Ocean City; HenrysOC.com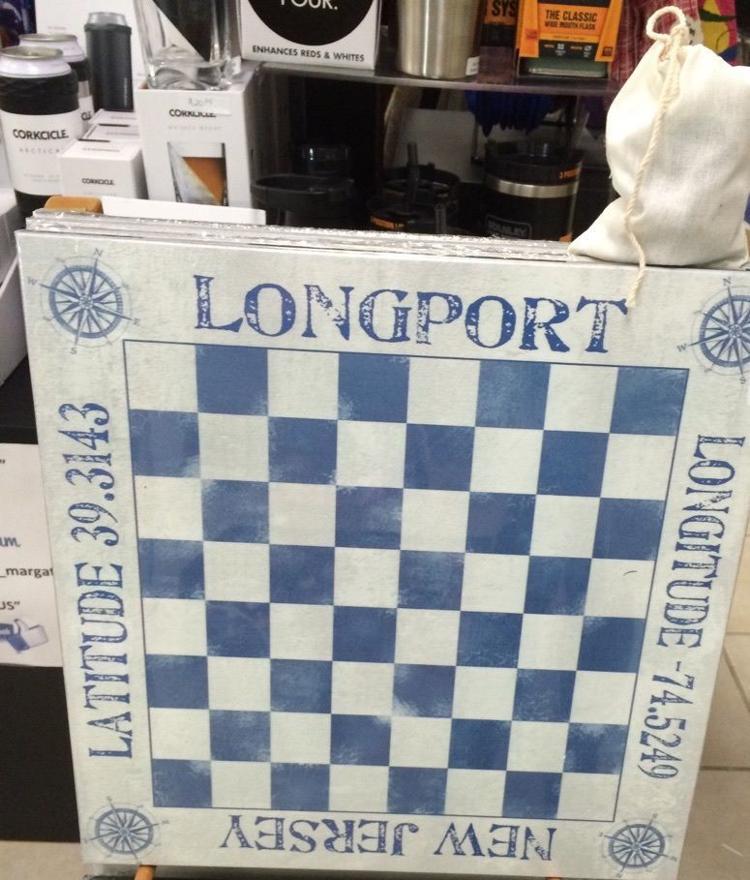 So much more than just stationery, Paper Chase has home décor and unique gift items with that local spin that we adore, such as bracelets and necklaces ($43, $55) with sand-filled charms straight from our local beaches by Dune Jewelry, aka "the original beach sand jewelry company." And fans of board games will delight in a game of checkers with a Longport motif ($50).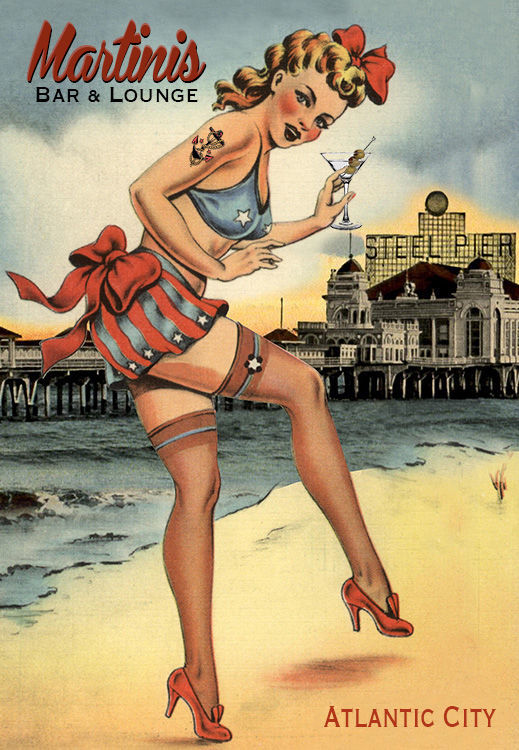 Loaded with only cool art, stemware, home décor and more, Zephyr Gallery has vintage-inspired bathing beauty artwork by local artist Virgi Mottola, who "loves creating feel-good conversational art." One of her more popular pieces at Zephyr is "Martinis," a limited-edition 24" x 36" canvas ($325) of a retro pin-up girl with Atlantic City's iconic Steel Pier displayed in the background. All of Mottola's bathing beauties at Zephyr vary in size (5" x 7" to 24" x 36"), by town (Atlantic City, Margate, Longport, Cape May and more) and by price ($59-$325).
Don't know which resort your gift recipient prefers? Make it easy on yourself and give them the entire "Jersey Shore." Exclusive to the Flying Carp, this whimsically designed 16" x 12" melamine serving platter ($28) illustrates practically every shore town in Jersey from Asbury Park to Cape May and all points in between.