I travel weekly to a different "shack" to seek out the best seafood I could find in simple, rustic locations throughout the southern portion of the Jersey Shore. I go everywhere from tiny marshside markets to down-home, crab crackin' pubs where the waitresses were as salty as Old Bay.
Crabby's Suds and Seafood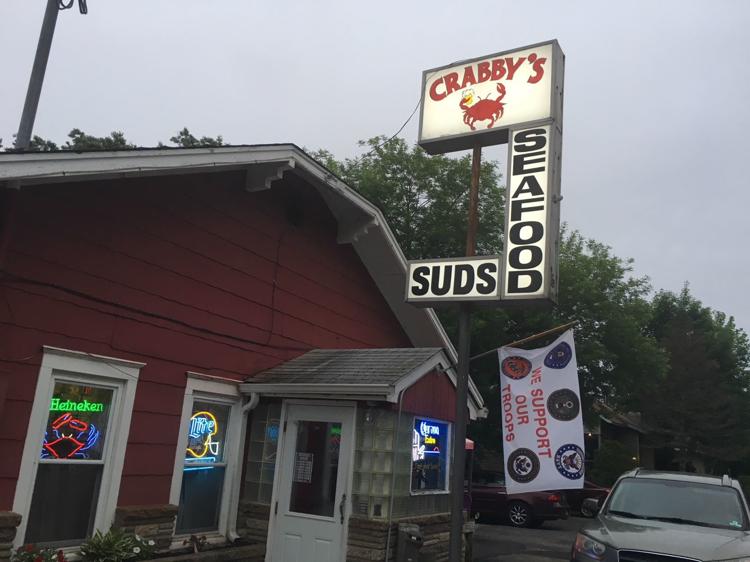 Where to find it:
1415 Route 50, Mays Landing
What to know:
Inside this rustic place sits a round bar accented with glass block — surely a relic of many decades ago — and a series of well-seasoned tables (some picnic style, some not) that appear to have seen it all. The bar adds a nice touch, allowing you to pair your suds and seafood (as the name flagrantly suggests). The walls and ceiling are a hodgepodge of randomly thumb-tacked dollar bills, some signed and decorated by the folks that donated them. 
What to try: 
Crab Sampler (Alaskan King crab, snow crab, dungeness and blue claw crabs; market price):
A simply incredible platter of crabs of all varieties, steamed to perfection and served with drawn butter for dipping and an assortment of tools for cracking and slicing. It's messy, it's a lot of work and it's 100 percent worth it.
Crabby's fried sampler (flounder, shrimp, scallops crab cakes and fries):
The standout of the bunch was the crab cake, which was well spiced with hints of fresh peppers and lots of lump crab meat. The flounder scored big points for being a really tasty version of a sometimes ho-hum fish thanks to a light breading and some excellent tartar sauce. Shrimp and scallops were great too. No loser in the bunch.
He-crab soup: Creamy, flavorful, decadent and packed with crab meat, Crabby's signature he (not she) crab soup can give even the best New England clam chowder a run for its money.
Oyster Creek Inn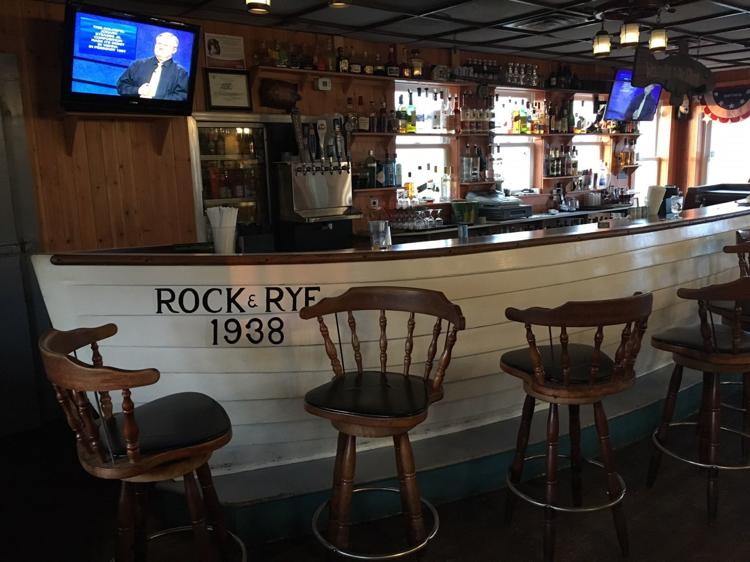 Where to find it:
41 Oyster Creek Road, Leeds Point
What to know: 
Standing at the end of a long, two-lane road that cuts through one of the spookiest edges of the Pine Barrens, Oyster Creek Inn is pretty much exactly what you picture when somebody mentions the words "seafood shack." Accessible by both land and sea the building has a palpable, aged wisdom to it. It sits almost defiantly at water's edge, as if daring the next well-hyped hurricane to try and knock it down.
What to try:
Clams Casino: A simple yet effective appetizer, the clams casino made use of a superb blend of red and green peppers with red onion and mozzarella cheese. Despite the boldly flavored ingredients they were up against, the clams themselves still held their own and didn't get lost in the mix.
Jersey Devil shrimp: Basically a version of buffalo shrimp with cole slaw subbing in for blue cheese. No matter what they call it, it is delicious, as the shrimp are massive and perfectly breaded, the sauce is spicy without killing you and the cole slaw provides the perfect crunch and cool down.
East Coast oyster stew: A thin, yet buttery orange broth containing some nicely sized oysters, this soup stands out among the usual offerings you might expect to find at a spot like this. A touch of cream along with celery, onions and Old Bay seasoning rounded things out nicely.
Fried flounder sandwich: Simple, yet well executed, Oyster Creek's flounder sandwich was flaky and delicious, served on a soft bun with tartar sauce and some tasty French fries.
New Jersey crab bisque: Thick and creamy in an almost New England clam chowder-type way, the crab bisque had plenty of chunks of crab meat in it and was hearty and satisfying. I might not come rushing back for it specifically, but wouldn't turn down another spoonful if someone offered it to me.
Carmen's Seafood Restaurant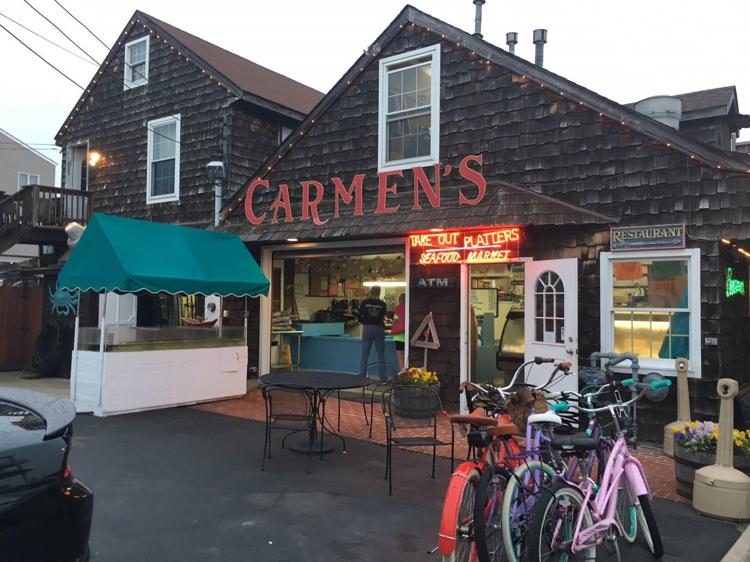 Where to find it:
343 43rd Place, Sea Isle City
What to know:
While new spots are nice, there is something special about a seafood shack that has some history behind it. Carmen's Seafood Restaurant in Sea Isle City sits waterside in a section of town known as "Fish Alley." A cedar shake exterior sets the tone, while inside nautical themed netting and oversized fish are suspended above wooden picnic tables that overlook the canal.
What to try:
The house specialty a la Carmen (littleneck clams, shrimp, mussels, Alaskan king crab, lobster tail and scallops served over pasta in a white sauce):
This dish is the official pride and joy of Carmen's and it is impressive to say the least. Served in a giant bowl, the sheer amount of shellfish and crustaceans is stunning and the sauce (which Conti was apparently offered $10,000 for its recipe many years ago) is excellent.
Broiled scallops: An absolutely incredible portion of large, fresh caught scallops, perfectly cooked and served with a bit of butter and lemon. I counted 16 scallops in total. You will not leave hungry.
Fried clams: Big and meaty (as opposed to the shriveled and chewy variety you often find at seafood restaurants), the fried clams were quite good. They did lose points, though, for serving them with store-bought packets of Kelchner tartar sauce instead of going with the homemade stuff.
Mike's Seafood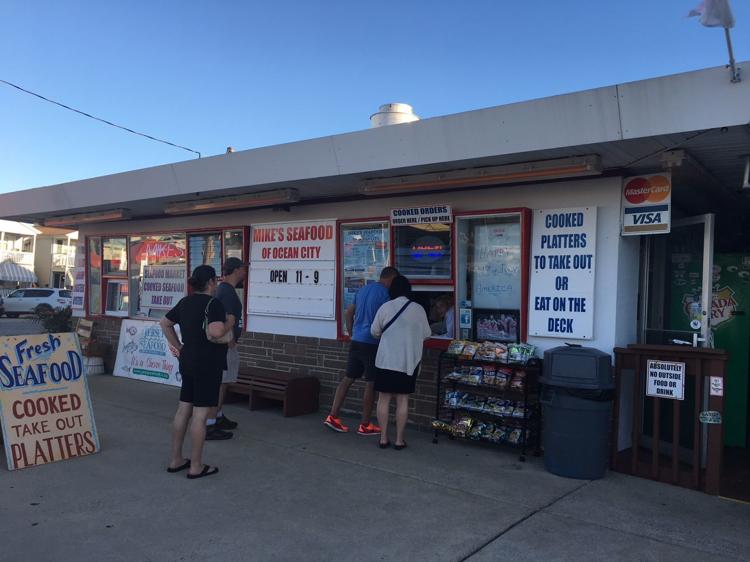 Where to find it:
208 E. 55th St., Ocean City // 4222 Park Rd., Sea Isle City
What to know:
With a menu that boasts "over a 100 year family tradition at the Jersey Shore," Mike's is a simple stand offering walk-up service through a tiny window, not unlike a custard stand (coincidentally they also own a walk-up custard stand next door). The process is simple at Mike's — order your food at the window, grab a seat at one of their picnic tables and wait for your feast to arrive. The menu covers all the seafood classics you might expect, along with a few you might not.
What to try:
Fresh fried Cape May clam strips: Large and quite tasty, these were the latest in a string of great clam strips I have been surprised by since I began this column. I honestly expected to run into more frozen versions of this dish than I have. Kudos to Mike's and every other spot that opts for a better product instead.
Fried flounder sandwich: A simple fried fish sandwich can be a thing of beauty, and the fried flounder sandwich at Mike's did not disappoint. Served on a squishy hamburger-style bun, topped with lettuce, tomato and a side of tartar sauce, this sandwich was simple yet perfect.
French fries and cole slaw: Honorable mention has to go to the fries and cole slaw, both of which were very good and made perfect accompaniments to the seafood. The fries were crispy without being overdone and were heavenly when dipped in a bit of tartar sauce. The cole slaw had just the right blend of vinegar and mayo to get a big thumbs-up from me.
Essex Seafood Co.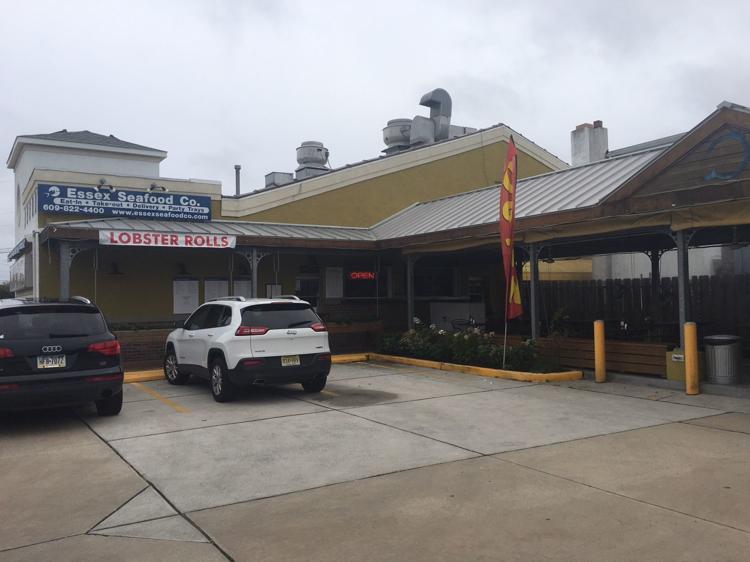 Where to find it:
8 S. Essex Ave., Margate
What to know:
One of the great joys of any vacation at the shore is to roll off the beach — still not fully dry and riding a mental high from the last set of waves you caught — and head out for a simple yet delicious dinner for which showing up in a semi-wet bathing suit is not only tolerated, it's practically expected. Such is the case at Essex Seafood Co., a seafood shack two blocks from the beaches of Margate. Essex Seafood consists of a walk-up window and a set of picnic tables. The seated section is outdoors, but it's covered should weather choose not to cooperate.
What to try:
New England clam chowder: One thing that has surprised me this summer on my quest to find great seafood is how many spots serve so-so clam chowder. This one stands out from the pack with its well balanced salt levels and abundance of clams. The only points I will take off is for not serving it with a soup spoon. A teaspoon and a hearty soup are a poor combo.
Hot & honey shrimp: Nice-sized shrimp coated in a thick breading and doused in what amounts to a slightly sweet, pleasantly tangy version of a buffalo sauce. These were quite tasty and a very good deal at $9.99 for six big shrimp. The breading held up against the sauce and never got mushy which was a plus. They could use a dipping sauce though — blue cheese or something along those lines would bring this app to the next level.
Lobster roll: I have mixed feelings on this lobster roll, but ultimately I put it on the keep-it list because it is one of the only spots serving Connecticut-style lobster rolls. For those who may not know, Connecticut-style lobster rolls consist of fresh lobster meat on a bun topped with clarified butter and usually a lemon wedge. That's it. No mayo, no celery, just glorious lobster and butter. Mmmmm. My issues with the version here were that the hot dog bun that it came on should have been a buttered and griddled split top and that the meat-to-bun ratio was a bit off. And at $18.99, it ain't cheap. But the lobster meat was delicious and the butter complemented it perfectly. Being that these are not easy to find, I give it a thumbs up.
Mott's Creek Inn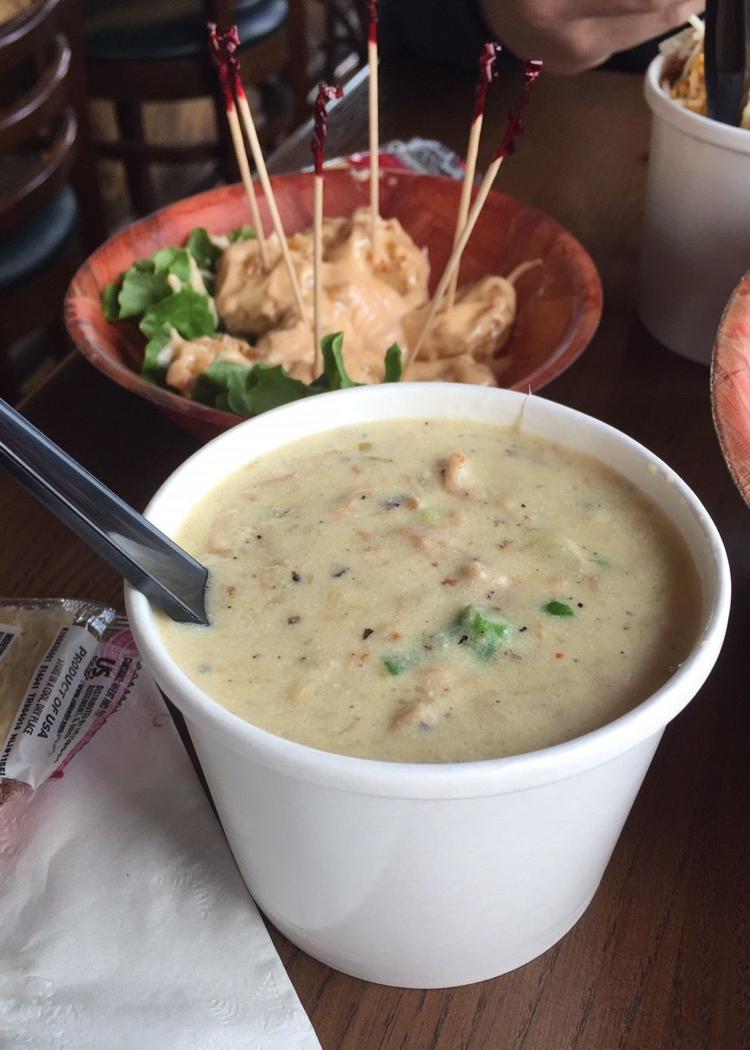 Where to find it:
200 E. Motts Creek Road, Galloway Township
What to know:
Seafood shacks can be found in all kinds of spots. From the busiest streets of a bustling vacation town like Ocean City to the quietest of off-the-beaten-path locations. Mott's Creek Inn definitely falls into the latter category. You kinda have to know about this place to even find it. It lives at the end of a long, foreboding road deep in the marshlands of Leeds Point. The building sits waterfront — you can even come here by boat — and offers indoor and outdoor seating on their expansive deck, live music and some really terrific seafood dishes.
What to try:
Drunken Clams: When the restaurant sits right on the water that the clams come out of, you know you are dealing with fresh fish. This version came swimming in a nice, garlicky broth of white wine and butter. A simple yet delicious way to begin a meal.
Fish and Chips: Yeah, I know it's called "Fish and Chips" but pretty much every time you see this dish on any menu you can expect to be served a battered piece of either cod or haddock alongside a pile of French fries and some tartar sauce for dipping. The fish and chips here come served with Captain's Chips, which are potato chips, not fries. If you want the real thing, it will cost you two bucks extra. I know they have the right to do it, but they probably shouldn't. That aside, the cod was crunchy and delicious and at $11 the price was more than fair.
Dynamite Shrimp: A slight a kick of spice balanced out by a creamy aioli that coated the shrimp perfectly. One of the best versions of this dish I have had all summer.
New England Clam Chowder: I love when a clam chowder actually has a lot of clams in it, and such was the case with this. It could be thicker, but that's a personal preference. A tasty, well-made soup.
Hooked Up Seafood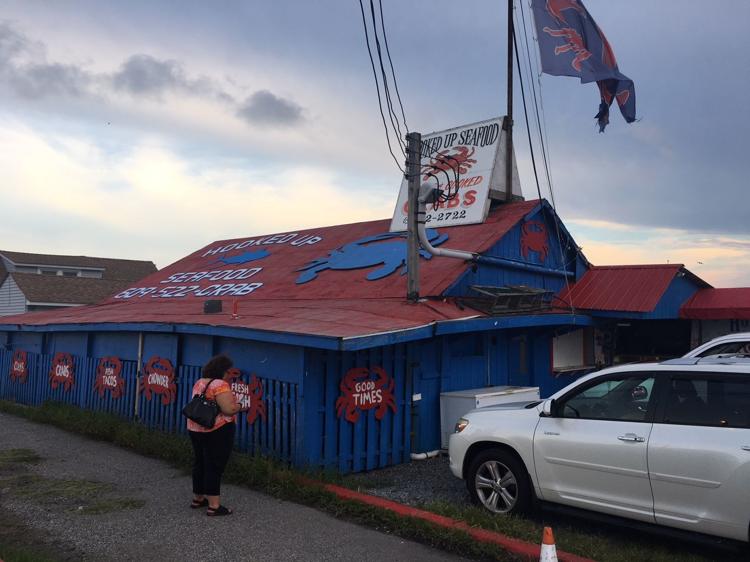 Where to find it:
1044 W. Rio Grande Ave, Wildwood
What to know:
Every time I think I have found the most shacky of seafood shacks, I stumble upon another that seems to top the last one. On a recent trip to Wildwood, some friends and I stopped in at Hooked Up Seafood, a picturesque spot right on the water off Route 47. We pulled off the road quickly and somehow — through a combination of cat-like reflexes and dumb luck — managed to not run over a large and seemingly fearless Vietnamese family that insisted on cracking their crabs in the midst of one of the most dangerous and overcrowded parking lots I have seen outside of an Eagles tailgate. With that tragedy averted, my companions and I employed a divide-and-conquer strategy in which I went up and ordered from the window while the rest of our party laid claim to one of the highly coveted picnic tables that overlook the marsh. What arrived a few minutes later was arguably the best collection of seafood dishes I have had so far.
What to try:
Seared swordfish sandwich: In a group of superb seafood dishes, this managed to be the standout. A massive swordfish steak served on a simple bun (to which I added tartar sauce) with lettuce and a fresh Jersey tomato, this sandwich defined what makes seafood great — simple preparation and fresh ingredients that combine to create amazing flavors. This sandwich would be reason enough for me to make a return trip.
Fried seafood combo: A good mix, the batter worked best on the shrimp which were golden and utterly delicious. The fried fish (the menu doesn't say what type of fish it is, but tasted like cod to me) was also good, but the batter got a bit soggy, causing it to fall off. The crab cake was good, and loaded with fresh crab right from the Delaware Bay. French fries were superb and perfect for dunking in tartar sauce.
Fish tacos: These fish tacos were closer to the size of a burrito, and you get two per order, so it's a lot of food. A soft tortilla filled with batter-fried fish and a knock-your-socks-off pineapple-mango slaw.
Onion rings: Homemade, dunked in batter. A perfect side dish.
H&H Seafood
Where to find it:
956A Ocean Drive, Cape May
What to know:
H&H sits waterfront on a small stretch of land connecting Wildwood Crest to Cape May. The staff is friendly, not to mention quite helpful — we weren't sure the proper technique for opening our steamed oysters, so the kid who brought them out to us first showed us how to do it, then proceeded to open them for us as a courtesy. Stop in and have a taste before the crisp claws of autumn turns this place back into a pumpkin.
What to try:
She crab bisque: Absolutely outstanding. One of the best, if not the best, I have had all summer. A twist on the classic she crab soup — this time cream-based with a subtle kick of spice. Get it, then head over to the fish market, where they sell it by the quart, and take some home.
Steamed oysters: Locally caught and simply prepared, these wonderfully briney steamed oysters made for a perfect app. A bit tricky to open until you get the hang of it. A touch of cocktail sauce added the perfect zip.
Steamed snow crab clusters: I know they are not even remotely local, but I love snow crab and these were just about perfect. Not rubbery, not overly stringy and downright heavenly when dunked in a bit of drawn butter. They came served with corn on the cob, adding a nice touch of Jersey freshness to a not-so-Jersey crab species.
Lobster mac and cheese: Heavily spiced and very different from most versions of this dish that you will find. I tasted old bay in it, which is unusual for a lobster-based dish. A nice portion for the price.
Mud City Crab House
Where to find it:
1185 E. Bay Ave., Manahawkin
What to know:
Mud City is a funky little spot set right across from the marsh in Manahawkin that combines both indoor and al fresco dining options in a simple, downhome setting. Outside the patio boasts a handful of tables along with a repurposed Airstream trailer that functions as a bar, serving a specific list of beers, wines and cocktails, all of which are beautifully refreshing on a warm summer evening. Should your night become not-so-warm, there are fire pits to warm you up. The outside menu has a list of under-the-sea favorites on it, and each one was better than the next.
What to try:
La Paloma: A great alternative to a margarita, this tequila-based cocktail uses grapefruit soda to add a mild sweetness and a bit of fizz for a lovely summer sipper.
Basket of Clam Strips: Freshly shucked, locally caught clams coated in a light, yet flavorful breading, Mud City's take on this simple dish was one of the best I have had yet on my journey. Perhaps THE best.
Fried Shrimp: At $11 for 20 medium sized shrimps, this is one of the better deals you will find anywhere, and they were actually very good. A simple dunk in their first rate tartar sauce and perhaps a squeeze of lemon to add a bit of bite and this dish is a hit.
Chowder: When it's made right, New England Clam Chowder can be one of the most delicious soups of all time. And this one was made perfectly. Hefty bits of clam and potato made this creamy chowder a winner.
Flounder Sandwich: Hand-breaded local flounder fried to a golden brown and served on a soft bun with lettuce, tomato and tartar sauce, this simple, yet tasty sandwich was perfect in every way.
Fried oysters: Once again, the price is right here at Mud City, as the full plate of large, fresh, fried oysters was only a meager $12. And it was probably worth double that.
Ship Bottom Shellfish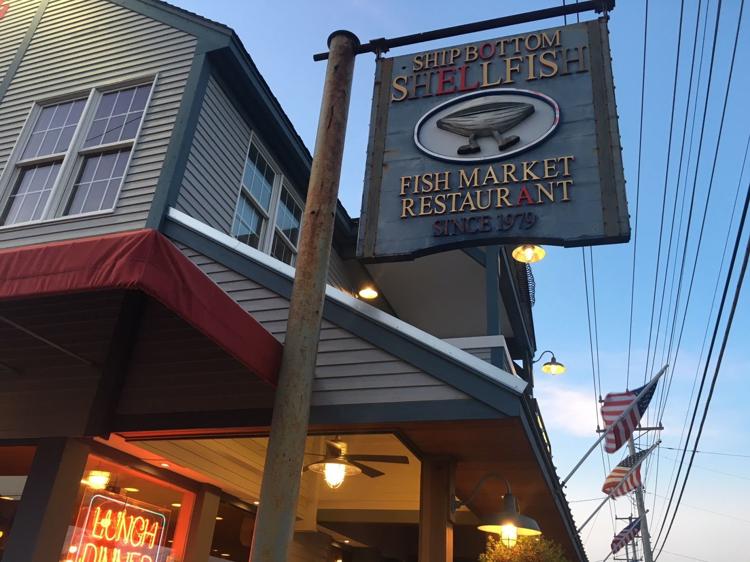 Where to find it:
1721 Long Beach Blvd, Ship Bottom
What to know:
People often say that if you want to eat good, try someplace that has a big line. It is usually there for a reason. Such is the case at LBI's own Ship Bottom Shellfish. Ship Bottom Shellfish is a small spot, the inside consists of a fish market and a small but invitingly cozy dining room sporting walls sided in wood and the usual seafood restaurant décor consisting of pictures of waves and fish of all varieties. Outside is a series of benches and stools where one can get food to go and eat right there. Since those stools were full and it was a bit breezy anyway, we opted to sit inside. The hostess informed us it would be at least an hour wait. She was not exaggerating. After a 75-minute wait, which included enduring the endless chatter of an odd combination of seafood enthusiasts/political experts, we were shown to our table. As I went to order my drink I noticed they had birch beer on the menu. It was going to be a good night.
What to try:
New England Clam Chowder: A medium thick cream based chowder, this soup included a decent amount of chopped clams and was heavily spiced, with rosemary being the prominent flavor. A unique take on a classic.
Seafood bisque: This creamy, pale orange-colored bisque was a real standout as it featured huge chunks of shrimp. One of the members of my party actually went to the fish market afterward to bring home a quart of the stuff. Don't skip it.
Baked Seafood Combo: Combining shrimp, scallops, a jumbo lump crab cake and a choice of the fish of the day (we went with swordfish), this platter was prepared with lemon and butter and got rave reviews from all who tried it. The swordfish was a real treat, as you rarely find such a fish included in a combo.
Fried Seafood combo: Also delicious, but a slight step down from the baked combo, this one featured shrimp, scallops, flounder and their original crab cake, which is made from backfin meat instead of the jumbo lump version you get on the baked combo.