Revel Casino closed one year ago
Atlantic City casino closings, one year later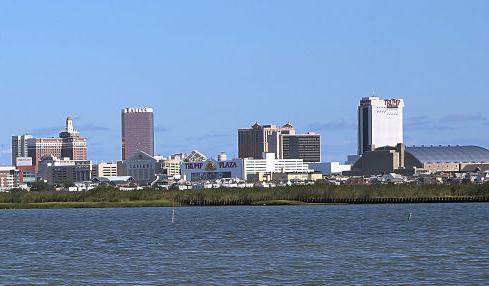 ATLANTIC CITY — It's been nearly a year since a spate of casino closings tore through town, and the remaining operators are recovering, seeing the benefits of a less-crowded market.
Net revenue is up 5.5 percent among the eight casinos through June. Gross operating profit has increased more than 27 percent.
The closings began Aug. 31, 2014, at Showboat Casino Hotel, followed Sept. 2 at Revel and Sept. 16 at Trump Plaza Hotel and Casino. When the dust settled, more than 5,000 workers had lost jobs. That was on top of about 1,600 jobs lost when Atlantic Club Casino Hotel closed months earlier, in January.
Meanwhile, Wall Street analysts looked on, deconstructing the chaos.
Supply was aligning with demand. A healthy correction was afoot in a market coming to grips with casino competition in Pennsylvania and Maryland, which for decades had been crucial feeder markets for Atlantic City.
Revel Hotel Closes
The Revel hotel closes Monday, Sept. 1, 2014.
Now, the market is right-sized, casino executives, regulators and Wall Street wonks say.
This is an eight-casino town, they say.
But should it stay that way?
There's long been a sentiment in Atlantic City that more is more: More casinos mean more jobs, more tax dollars, more to offer tourists.
Has the calculus changed, though? In a town that for decades celebrated casino openings, should we now rue them and worry they'll spoil the nascent recovery?
These are questions Matthew Levinson, chairman of the state Casino Control Commission, the body that approves new casino licenses, may have to consider.
At least two people — Glenn Straub, owner of the property formerly known as Revel, and Curtis Bashaw, owner of The Chelsea hotel — have publicly said they'd like to add to the Atlantic City casino market.
Showboat casino closes in Atlantic City: 2014
Sunday August 31 2014 Showboat casino in Atlantic City NJ closes for business. (The Press of Atlantic City / Ben Fogletto)
"Should we have more casinos in Atlantic City? There is no concrete proposal before us right now to open another casino, so whether I think there should or shouldn't be is a moot point," Levinson said in a statement. "But the commission and I will be prepared to give serious consideration to any license application when investors have determined that the market is ready for another casino."
Will the market ever be ready, though?
Maybe, but it surely isn't ready now, said Joe Lupo, senior vice president of operations for Borgata Hotel Casino and Spa.
"I don't believe that 10 or 12 (casinos) can survive anymore. Not in a healthy state, that's for sure," Lupo said.
"I think there would be some operators that would be very concerned if Revel reopened," he said. You don't need more casinos, he said, "you need health and stability."
"There's some that are just still hoping for the old Atlantic City to come back."
Chris Ireland experienced old Atlantic City firsthand for decades, as a bartender at Showboat until the end. He doesn't accept the conventional wisdom that sheer glut in supply was behind the closings.
Trump Plaza Casino Signs Come Down
Signs and slot machines are removed from the closed Trump Plaza Casino, in Atlantic City, Monday, Oct. 6, 2014.  Press of Atlantic City photographs by Vernon Ogrodnek
"I believe that if the casinos were run by independent operators, who reinvested in their properties, that had strong balance sheets, I believe the city could maintain 10 casinos," he said.
Debt did dog all three casinos that closed.
Showboat was swept up in the financial problems of parent Caesars Entertainment Operating Co., which is bankrupt. The plug was pulled on Trump Plaza after about $292 million in debt became too much for its operator, Trump Entertainment Resorts, to handle. And Revel's immense debt prevented it from ever reporting a profit.
Ireland, like so many former and current casino workers, pays almost feverish attention to the Atlantic City casino market.
He hears the analysts. He hears the executives. He hears the regulators. But he's incredulous.
"I just don't buy the idea that we can't be competitive with 10 casinos in this town," he said.