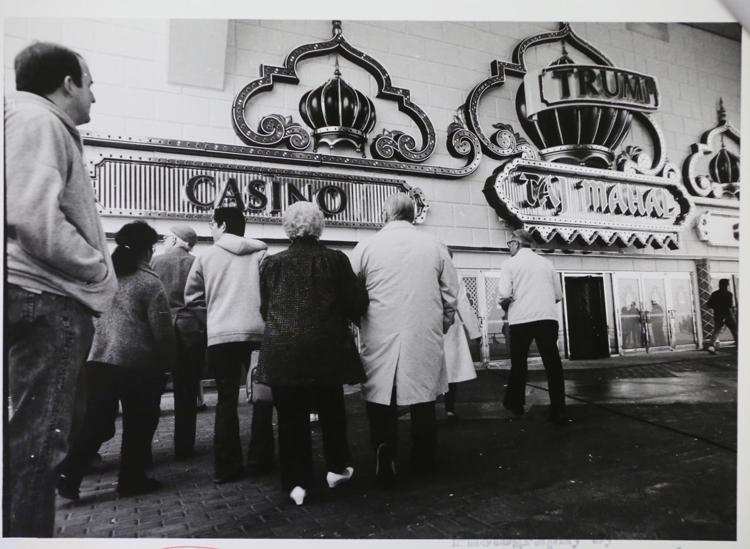 Taj Mahal opening Trump's last big A.C. success
ATLANTIC CITY — When Donald Trump's $1 billion Taj Mahal Casino Resort opened 26 years ago today, huge crowds descended to see the world's largest casino and its elaborate decor that mixed Indian, Arabian and Asian motifs.
It employed more than 7,000 people, recruiting them from as far away as Ireland, Puerto Rico and Indiana.
"The Taj was our first megaresort, on the scale of Las Vegas," Atlantic County Freeholder Director Frank Formica said of the 1,250-room hotel. Formica is an Atlantic City native who now runs his family's bakery but spent almost a decade as hiring director for Resorts Casino Hotel.
So many people showed up the first day that it took 22 police officers to direct traffic. Sgt. Barry Hamlett of the city's mobile unit said they were stationed near Atlantic and Virginia avenues, around the casino's 5,000-space parking lot.
There were also 2,000 press credentials issued to journalists from around the world for opening day.
The crush created problems that shut down the slot machines for several days, causing a loss of millions of dollars in revenue. It took weeks for them all to work again. Despite that, the casino won a record $34.4 million in April. And it helped the industry report a 5 percent increase in casino win that month, to $256 million.
Linwood's John McLaughlin is a bartender who was there on opening day, and who still works at the Taj at age 73.
"It was pandemonium," he said of the opening week. He remembers seeing Trump give Michael Jackson a tour while casino patrons screamed and hollered as they followed them.
Cocktail server Dottie Mastripolito, of Linwood, also worked the first day. She now works with Alzheimer's patients at Brandywine Assisted Living in Linwood.
"It was glitz and glamour. There was no job like it," said the former harem girl.
"We were the first house not to have uniforms but costumes," she said of her purple-and-pink, glittery harem pants or skirt and bustier with an "I Dream of Jeannie" type of hat and scarf under the chin.
"This was the greatest job I've ever done," Trump said at the time. He already owned two other casino hotels in the city, Trump Plaza Hotel Casino and the Trump Castle Casino Resort, which later became Trump Marina and is now Golden Nugget Atlantic City.
"We took over a development which was stalled, which was conceived in 1978, which was started in 1983. We took something that frankly people didn't think could be built. Most people didn't think it could be built by anybody, and we got it built," Trump said.
In March 1990, analyst Marvin B. Roffman with Janney Montgomery Scott in Philadelphia predicted financial ruin for Trump and bondholders because of huge debts on the Taj Mahal. Trump demanded an apology.
Under pressure from his employer, Roffman signed an apology letter, then sent a second letter rescinding the apology. He was promptly fired but later won a $750,000 arbitration settlement from his employer and an undisclosed sum from Trump, according to The New York Times.
That summer, Trump's business empire nearly collapsed under the weight of its debts and headed eventually for bankruptcy protection. Contractors lost millions of dollars in unpaid bills, and some went out of business as a result.
By May, the Taj Mahal laid off 300 workers, and by August it was already on its third president.
But the casino survived, and for many years it remained the crown jewel of the resort, Formica said.
"In the middle of winter, billboards were filled with headliners at the Taj. It was an amazing thing and went on for a good long time," Formica said. "Donald's no dummy. There are all the stories about who he didn't pay. His businesses went bankrupt two to three times. So did GM. He was our hometown guy."
The opening of the Taj Mahal came at a time when the casino market was considered weak, with revenues growing by only 2.9 percent in 1989.
But then casino win exploded, going from $2.8 billion in 1989 to almost $3 billion in 1990, to a high of $5.2 billion in 2006, when it started its decline back to $2.7 billion in 2015.
There were entertaining side stories.
Right after the opening, a federal judge rejected a Washington, D.C., restaurateur's attempt to block him from using the name Taj Mahal. Raj K. Mallick, president and owner of the six-employee Taj Mahal eatery in Washington, claimed sharing the name would hurt his business.
Fredric E. Gushin, managing director of Spectrum Gaming Group, oversaw the opening of 12 of the city's 13 casinos for the state Division of Gaming Enforcement.
"Taj was my last one," he said. He handled helping the casino figure out how to get its slots working properly, while making sure the law was followed.
It was the first casino to use enhanced technology for slot accounting, and that posed a big challenge, he said.
Its fall from grace to one of the city's poorer-performing properties is largely tied to going through several prepackaged bankruptcies, Gushin said.
"Each one has taken their toll," he said. And now that it is a stand-alone casino, it doesn't benefit from economies of scale it had while part of a group. "The whole situation has changed, and it hasn't been kind to the Taj."
Trump took over the Taj Mahal in 1987 when he bought control of Resorts International Inc. after the death of Resorts founder/chairman James M. Crosby. That firm had started construction on the Taj in 1983, but work slowed as funds grew short. When Trump took over Resorts, work halted while he revamped the project.
Look Back at the Opening of Trump Taj 1990
Look Back at the Opening of Trump Taj 1990
While work was stopped, Trump unsuccessfully tried to buy all of Resorts' outstanding stock. The effort was thwarted when entertainer Merv Griffin launched a takeover bid for the company in March 1988.
Griffin and Trump subsequently reached a deal in which Griffin got Resorts — with its casino hotel here, its Bahamian casino and associated real estate — and Trump bought back the unfinished Taj Mahal. Once that deal was completed in November 1988, work resumed on the Taj Mahal.
Copy desk chief / comics blogger