Peggy P. got into the lead after the first week of the South Jersey Snow Sweepstakes and never looked back.
She guessed 3 inches of snow would fall in Upper Deerfield. For reference, that's more than 7 inches below what the Cumberland County town averages.
Despite the brave estimate, Peggy proved victorious, winning the South Jersey Snow Sweepstakes, where entrants guessed the location they believed would see the most snow between Jan. 1 and Mar. 31 and provide a total for that community. Here were the final totals out of the four South Jersey locations participants could choose.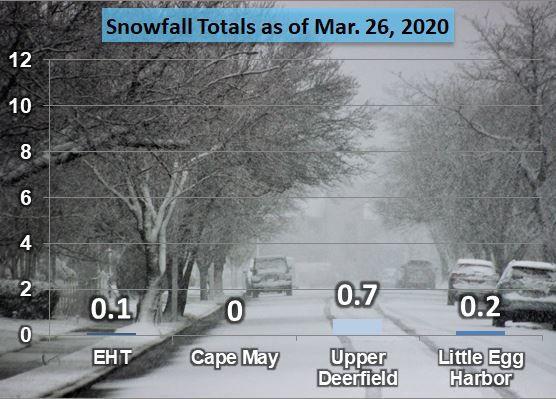 Peggy P., hat off to you. She wins a video forecast from your house, or wherever she would like in South Jersey. Given the unforeseen stay at home order in New Jersey, though, leeway will be given to what Peggy would like to do. 
According to WeatherWorks' Certified Snowfall Totals program, Upper Deerfield accumulated 0.3 inches of snow Jan. 7, the only one of the three locations to do so. WeatherWorks is a third party snow and ice verification service that provides post-storm analysis of totals, at ZIP code resolution. 
That gave Peggy the early lead. While all locations except for Cape May accumulated the next day, Upper Deerfield picked up the most, at 0.6 inches. The only other date where snow accumulated in the region was Jan. 18 again, only in Upper Deerfield. That's how Peggy P. emerged victorious. 
Peggy had help from the field of entrants. Only 11% of participants picked Upper Deerfield as the location with the most amount of snow, the lowest of the 4.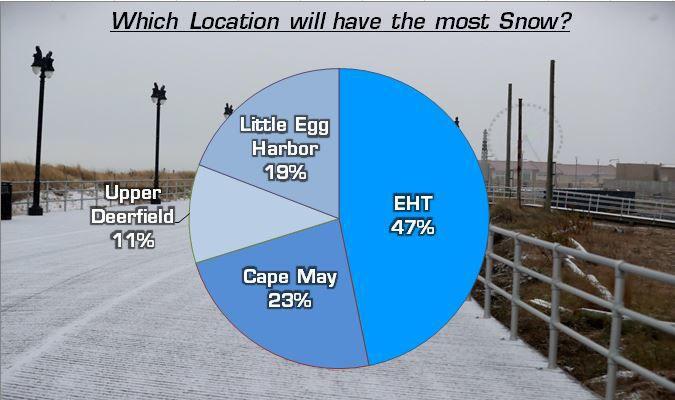 However, most people did believe that less than a foot of snow would fall throughout the contest period.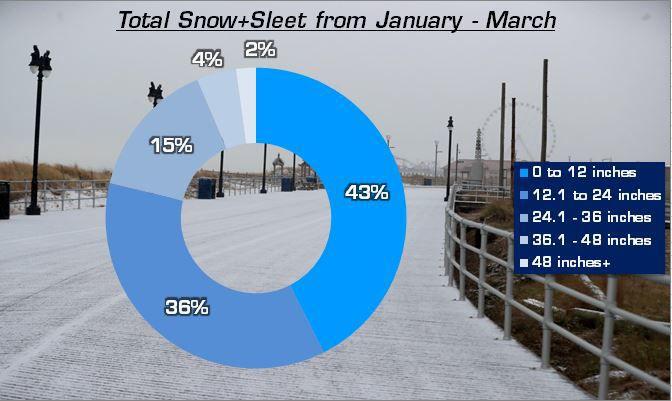 The winter of 2019-20 wound up in the top 3 for least snowiest winters in recorded history for Atlantic City International Airport as well as Cape May. According to New Jersey State Climatologist Dave Robinson, South Jersey had the least amount of snow in March on record, which goes back to 1895. 
Thank you to all of the participants in this year's contest. If you would like to reach out to a group of people who care deeply about the reach, please reach out to Michele Potts, Digital Sales Manager, at mpotts@pressofac.com, to secure an spot on our platform for the 2020-21 sweepstakes.
At Atlantic City International Airport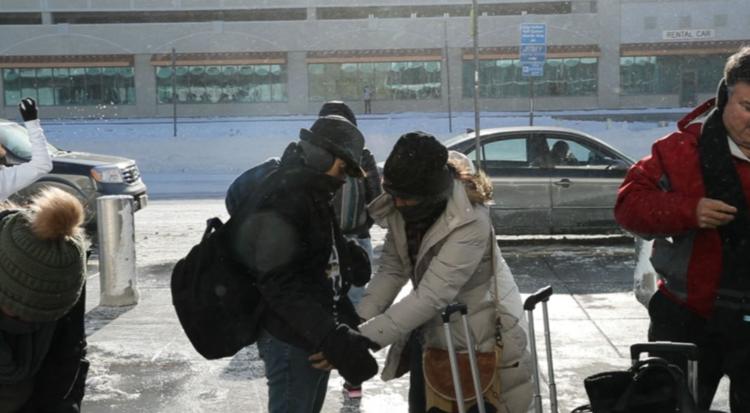 The first full winter's worth of snowfall data goes back to 1948-1949 at A.C. Airport, located in Egg Harbor Township.
On average, 16.5 inches of snow fall, though this can be heavily influenced by just one snow storm bringing a "season's" worth of snow.
5) 2001-02
The only winter of the millennium to make the list, 2.6 inches of snow fell. 
Most of it, 2.4 inches, came on Jan. 19.
4) 1949-50
Typically, two inches is the threshold where you see the plow out on the road. Even if you added this winter up, it wouldn't be enough to plow, let alone shovel. 1.6 inches was the total.
Jan. 19 is a popular date for the first snowfall in lean years. The first accumulated snowfall this season was also Jan. 19.
3) 1994-95
Second places gets you under an inch for seasonal totals. The 0.8 inches was accomplished by two separate 0.4 inch events in February. 
Even if snow did not accumulate anymore, as of Mar. 3, the winter of 2019-2020 would be in the 2 spot for least snowiest.
2) 2019-2020
0.5 inches of snow was the mark at the airport. All of that snow fell early in the season, on December 11. There were a few other instances of snow that didn't stick. 
1) 1972-73
That winter was only saved by a paltry, 0.4 inch event at the airport. South Jersey residents had to hold their breath, though, it wasn't until Feb. 16.
0.4 inches of snow is about the average for Charleston, South Carolina (0.5 inches). 
Something in the Air: March Weather Roundup with N.J. State Climatologist Dave Robinson
Near Cape May
While the period of record is longer, going back to the winter of 1893-94, records must be taken with a small grain of (road) salt. 
Not every year had a person measuring snow. Furthermore, missing days were frequent before the winter of 1974-75. 
To account for this, 0 inch seasonal values with more than 1 day missing was excluded. 
14.9 inches of snow falls throughout the winter in New Jersey's Southernmost Point. 
5) 1991-92
Like fifth place, the little bit of snow was spread out enough to at least not make it feel like South Florida. 4 events totaled 1.6 inches of snow. 
4) 1970-71
It was one and done for one. 1 inch flat fell over the winter, happening the day after Christmas. It was a long winter for snow lovers indeed. 
Note, one day of observations was missing from this winter.
Through Mar. 3, the 0.9 inches seen so far in the area would be in the two spot as well.
3) 2019-20
Sitting just shy of an inch, 0.9 inch of snow fell. While the snow was paltry, it should be noted that flurries were reported the morning of April 1. Talk about an April Fools gift for the snow lovers. 
2) 1994-95
Since the shore typically sees less snow than the mainland, it comes as no surprised that the 2 spot has less snow than the top (bottom) spot for the mainland.
0.2 inches of snow fell back in 1994-95, with South Jersey snow lovers waiting until mid-February for the white gold. 
This is on part with an average winter in Dixie's Sunny Shores. Mobile, Alabama, has an average of that amount per year. 
1) 1972-73
Being located on a Cape, the surrounding three bodies of water do a valiant job of flipping to snow. It's no wonder why locals call Cape May County "The Cape May Bubble".
Well, talk about a bubble effect. A big, fat 0 inches of snow accumulated that winter. This put Cape May in the company of Miami, Phoenix and San Diego that winter. 
One day is missing in the record and that was in February. Given that Atlantic City International Airport reported 0.4 inches of snow during the month, it's entirely possible that no snow fell that February down at Exit 0.