Penguin Predators
The Mays Landing Penguin division (7-9 yr olds) Predators team won their 3rd championship in 4 years by beating a very good Devils team 4 to 3 in game 3 on February 4th 2020.
Your 2020 Champions- Goalie and Kaiden Doherty, Jamison Smith, Jayvian Nunez, Brayden Seabrook, Ben Mason, Koda Reeder, Apollo Schaab, Noah Camp, Danny Cleveland, Ajay Harvey, Dane Scholder, Isiah Nunez and Pj Lihach. Head Coach- Johnathon Camp, Assistants Kenny Cleveland and Jamie Doherty. "How do you move a mountain? One rock at a time! One game at a time! One goal at a time!"
Beaver Jets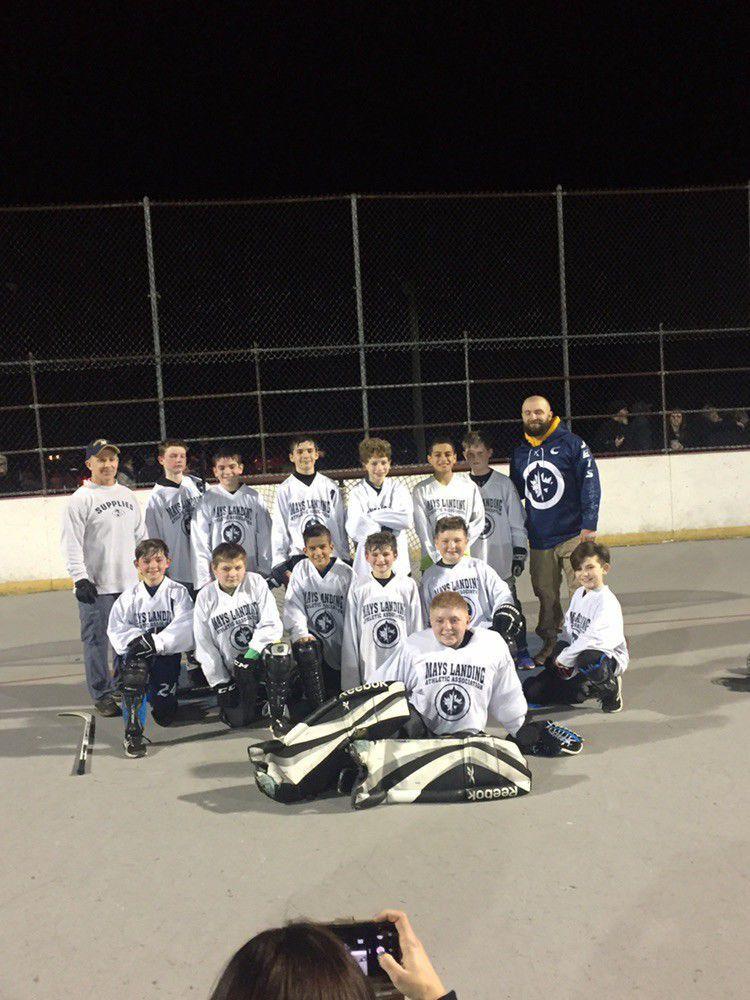 The Mays Landing Beaver Division (10-12yr olds) Jets team wins the 2020 Championship in game 3 by beating a very tough Sabers Team 9-2. Thanks to the Bellace Family for the Pasta Power! This team came in as underdogs heading into the playoffs and continued to believe in themselves with the mindset "talent doesn't exist, only who puts in more effort and hard work to accomplish their goal." Your 2020 Champions - Goalie Rider Newman, Captain Joey Marcello, Sean Nuttall, Connor Flynn, Matt Auer, Sean Cleveland, Bruce Bellace, Mikkell Flores, Aidyn Camp, Tommy McLaughlin, Zack Gromadzyn, Jayden Purcell, and Nick Marcello. Head Coach Johnathon Camp and Assistant Coach Kenny Cleveland.
Cadet Lightning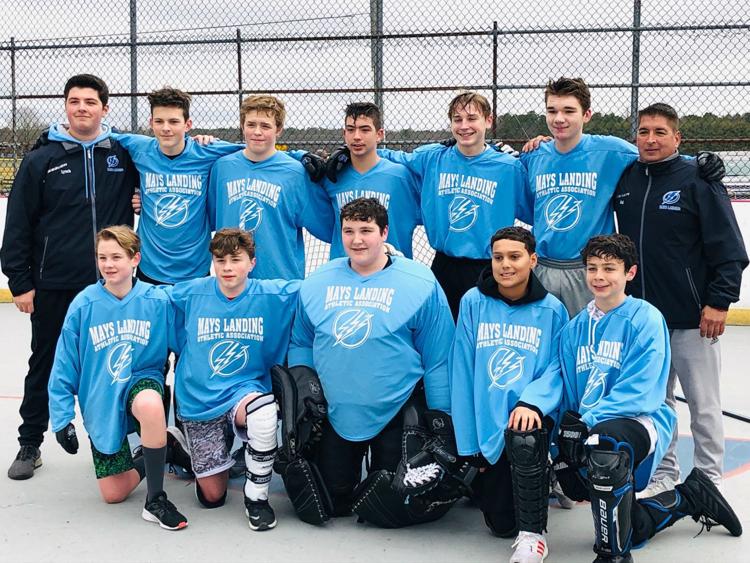 The Mays Landing Cadet division (13-15 yr olds) Lightning team wins the 2020 Championship going undefeated (17-0) and becomes back to back champions. The team goes 3-0 in the playoffs and amassed a 34-1 record over the past two seasons. Players front row from L-R. Dax Strommer, Owen Becker, Dylan Collins, Edwin Rivera, Daniel Murphy, back row L-R Coach Sean Lynch, Clayton Husta, Alex Locke, Joel Thompson, Julian Frank, Owen Haugan, Coach Joe Thompson, not pictured Ryan Ireland.