Saturday and Sunday will bring a pair of 90-degree days to much of the mainland, making it a great day to seek relief at the pool or beach. In terms of rain, Saturday will be a feast-or-famine scenario, while a few pop-up storms are expected Sunday afternoon and night.
We'll kick off Saturday with a mix of sun and clouds. There were a few light showers that passed during the early to mid-morning. However, for the late morning, sunshine will spike up temperatures.
Temperatures will go into the 80s pretty quickly during the morning as that wind picks up, sustained 15 to 20-mph with gusts to around 30.
High temperatures will sit right around 90 for much of the mainland, save right along the bays, where it will be in the mid- to upper 80s. The shore will be in the low to mid-80s. Besides a little sand blowing around, it will be a nice beach day, with warm water and a low risk of rip currents.
Then, we have to talk about the potential for severe weather. The Storm Prediction Center, a government agency in Norman, Oklahoma, has placed the region in either a level 1, marginal, or level 2, slight, risk. Both indicate that severe storms are possible, not a definite.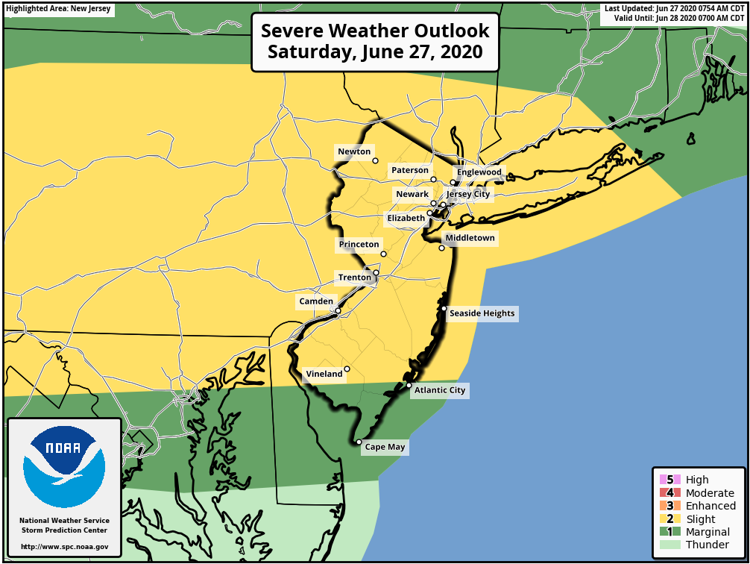 However, besides Ocean County I'm not convinced severe weather strikes the region, or even thunderstorms. Any thunderstorms that form, anyway, will be after around 4 p.m., later at the shore. In short, don't cancel your beach plans, don't cancel your cookouts and most outdoor afternoon activities will be fine, minus the heat.
One one hand, those south of Ocean County will see the most amount of destabilizing sunshine and hottest temperatures, as shown by the 90 degree readings. 
On the other hand, atmospheric dynamics are not there for much of South Jersey. Ocean County is where you start to have those parameters go up. 
Saturday night should lose the severe potential after 10 p.m. A rouge shower or storm will be around overnight. It'll be a balmy, sticky one, too. Temperatures will stay in the 80s for much of the evening, sliding into the 70s overnight. Morning lows will be in the low 70s, about 10 degrees above average. That line is drawn roughly along the Atlantic City Expressway. 
Sunday will feature a mix of sun and clouds. It'll be more comfortable than Saturday. Highs will again be around 90 inland, and the shore will be at or just above 85. However, it will feel like the mid-90s with the heat index. Stay cool however you can.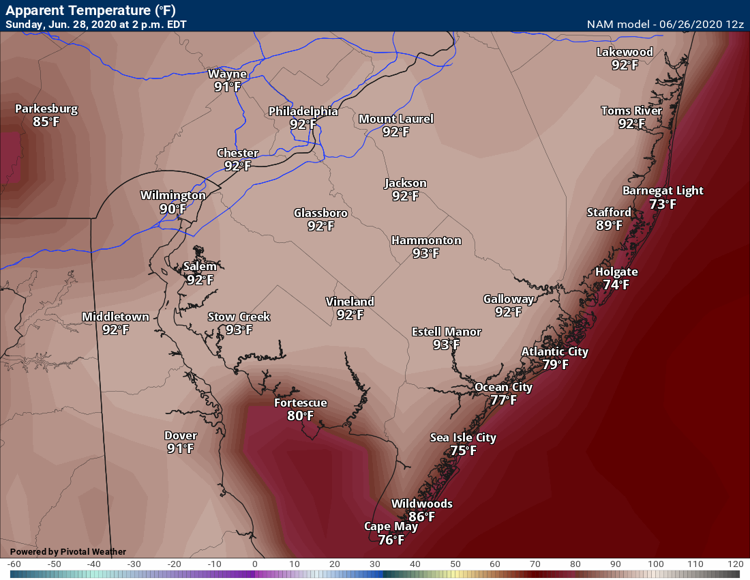 I only expect rogue, isolated storms to move about. Any storm can bring a quick half inch if you will be under it, though.
Isolated storms will remain in the picture Sunday night, as a cold front pushes through overnight. We do need the rain, so it will be welcome, with no severe weather expected. Morning lows will be at or just above 70 degrees, sticky yet again.
Often during the spring and summer, you'll hear a Meteorologist say "isolated", "scattered" …
Monday will be a more seasonable day. While the front will be offshore, keeping us dry, the low-pressure system will meander about New England. That will keep us a bit cooler. Highs look to be 80 to 85.
Finally, if you're online, your photo can be the main background image for my July weather videos. I'm looking for the best horizontal (landscape) photo that just screams summer. Photos should be taken during the daytime, with no sunrises or sunsets. The winner will be announced on July 1. Thanks for the shots!
Colorado State University increases hurricane numbers in June update
A slightly more active hurricane season is now expected for the 2020 Atlantic Hurricane Season, coming off the heels of two named tropical systems in May. 
On June 4, Colorado State University provided their annual update to the initial hurricane forecast, which was first done in April.
We have slightly increased our forecast for the 2020 Atlantic basin hurricane season and believe that the season will have well above-average activity," the CSU report read, which is led by Philip J. Klotzbach, Michael M. Bell, and Jhordanna Jones. 
CSU has chosen six analogs for its June seasonal #hurricane forecast: 1995, 2003, 2008, 2011, 2013 and 2016. Five of those six seasons were active, while 2013 was much less active than anticipated. pic.twitter.com/fu7BCRsMtT

— Philip Klotzbach (@philklotzbach) June 4, 2020
Including the storms that have already been named at the time of the update, Arthur, Bertha and Cristobal, CSU forecasts 19 tropical storms or hurricanes to occur. Out of the 19, 9 are forecasted to be hurricanes, with 4 major, category three or higher (sustained winds over 111 mph), hurricanes. 
The initial forecast called for 16 tropical storms or hurricanes, with 8 hurricanes and 5 major hurricanes. This is about the 1981-2010 average of 12.1, 6.4 and 2.7, respectively. 
There still remains an above average risk of a major hurricane making landfall on the East Coast of the United States, including the Florida Peninsula. The 46% chance is virtually unchanged from the 45% in the initial, April, forecast. On average, there has been a 31% probability in the last century.
CSU attributes warmer than average waters in the subtropical Atlantic Ocean, slightly warmer than average waters in the tropical Atlantic as reasons for the active forecast. Furthermore, a possible transition from a netural El Nino Southern Oscillation to a La Nina late this summer would promote an an active season. In a La Nina, there's a lack of wind shear, or change of winds with height, which can rip storms apart.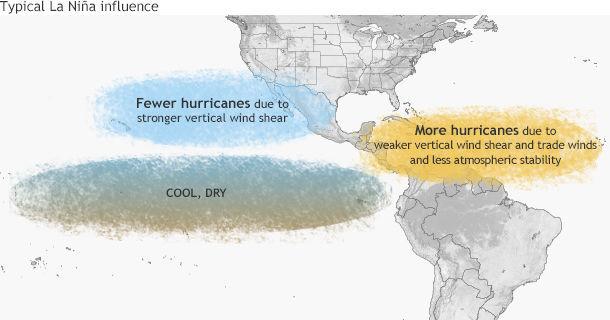 Tropical cyclone names rotate every six years. Exceptionally notable hurricane names, such as Sandy, become retired by the World Meteorological Organization. However, no names were retired in 2014, meaning 2020 will have the same list as then.
Arthur - Used
It's the sixth year in a row that a named tropical system has developed in the Atlantic Hurricane Basin before the June 1 official start.
Bertha - Used
Tropical Storm Bertha is the second tropical storm or greater storm to have formed in the Atlantic Hurricane basin before the official start June 1. This is only the sixth time since records have been kept in the 1700s that two tropical storm or greater storms have formed before the start. 
Even though the official start to the Atlantic Ocean hurricane season is June 1, May has not…
Cristobal - Used
Dolly - Used
Dolly was the third earliest fourth named (D storm) storm in Atlantic Hurricane history, which goes back to 1851.
#Dolly has formed in the North Atlantic - the 3rd earliest 4th Atlantic named storm formation on record (since 1851). Danielle is earliest on 6/20/2016. Debby is 2nd earliest on 6/23/2012 at 12 UTC. Dolly in 2020 formed on June 23 at 1615 UTC. #hurricane pic.twitter.com/1Ha6ZnxHqc

— Philip Klotzbach (@philklotzbach) June 23, 2020
Edouard
Fay
Gonzalo
Hanna
Isaias
Josephine
Kyle
Laura
Marco
Nana
Omar
Paulette
Rene
Sally
Teddy
Vicky
Wilfred