The state commissioner of education recently upheld a decision by an administrative law judge dismissing a lawsuit from eight New Jersey school boards challenging the equity of school funding changes implemented in 2018.
In an opinion released on the state Department of Education website in December and dated Oct. 31, Commissioner Lamont Repollet said he agreed with the August decision by the administrative law judge dismissing the suit on the grounds that the petitioners lacked standing.
The lawsuit was filed in early 2019 by the Brick Township Board of Education, seven other school boards — including Weymouth Township in Atlantic County — five municipalities and one taxpayer, Stephanie Wohlrab, president of the Brick Township Board of Education.
Several more South Jersey districts will see preschool programs grow this year with new fund…
The lawsuit was in reaction to a reduction of state aid school officials have said is devastating. In joining the suit in early 2019, former Weymouth Township Superintendent John Alfieri said school funding changes signed into law in 2018 carry a seven-year potential loss of $1.6 million for the tiny district.
Weymouth was one of several South Jersey districts to receive a reduction in state aid as part of the school funding law change, which eliminated growth caps on the state formula and phased out "adjustment aid" over seven years.
The bill was crafted to fund districts that were receiving less than the amount of money they were supposed to receive according to the formula, despite growing enrollment each year.
Mark Tabakin, the attorney representing the district, was not available for comment Tuesday.
Miss America's on-again, off-again relationship with Atlantic City:
When the decade started, the Miss America competition, which got its start in Atlantic City almost a century ago, was still in Las Vegas.
Then, in September 2013, the event returned to Atlantic City with the promise of funding for the event from the Casino Reinvestment Development Authority.
However, in 2019, CRDA declined to approve a new subsidy to keep the competition in Atlantic City and the event moved to Mohegan Sun Casino & Resort in Uncasville, Connecticut. The certainty of a 100th-anniversary competition is still unknown. This is the second time in the pageant's history it has left Atlantic City. It was held in Las Vegas from 2005 to 2013.
Stockton opens Atlantic City campus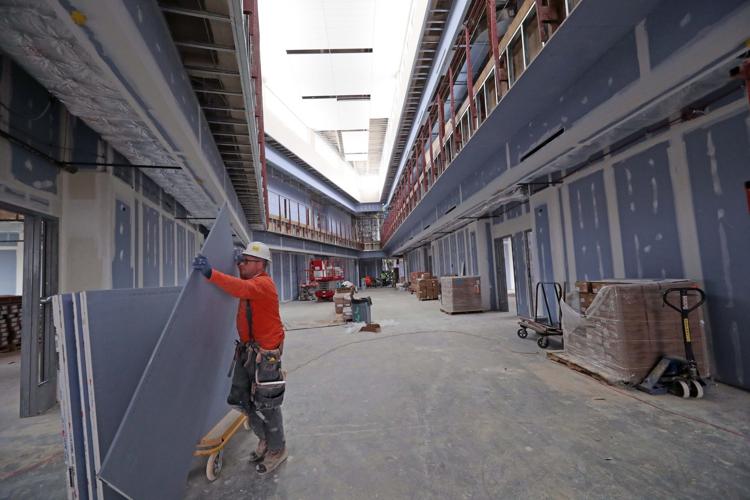 Stockton had long sought a campus in the resort and in 2014, the university bought the Showboat Casino hoping to turn it into a satellite campus. Three months later, the plan was in jeopardy as the school's then-president, Herman Saatkamp, announced that the owner of a neighboring property, Trump Taj Mahal Casino Resort, was threatening to enforce a decades-old deed restriction aimed at keeping Showboat a casino-hotel. With a new president, the college set it sights on building its own facility on Albany Avenue. In August 2018, Stockton University opened its 675,000-square-foot, $220 million Atlantic City campus, part of the Gateway Project that also included a new headquarters for South Jersey Gas. The new campus includes an academic building, housing for more than 500 students and a parking garage.
April Kauffman murder case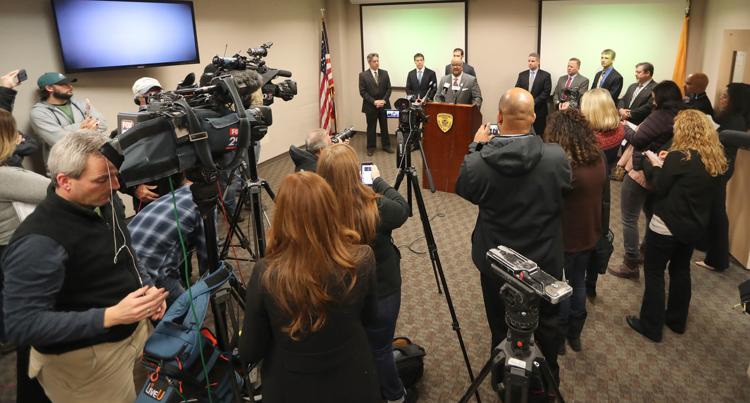 In 2012, veterans advocate and radio personality April Kauffman was murdered in her Linwood home. The case went unsolved for 5 ½ years before Atlantic County Prosecutor Damon G. Tyner charged Dr. James Kauffman, her ex-husband, and seven others in her death. On Jan. 26, 2018 James Kauffman was found hanged inside a Hudson County jail cell. The year ended with Ferdinand "Freddy" Augello, a sign maker and retired chapter president of the Pagans outlaw motorcycle club from Upper Township, being sentenced to life plus 30 years in prison for the murder of April Kauffman, conspiracy to murder James Kauffman and four charges related to running an illegal opioid ring out of James Kauffman's Egg Harbor Township medical practice.
Eagles finally win the Super Bowl
Some said it would never happen, but the Eagles won their first-ever Super Bowl, beating the New England Patriots 41-33 in Super Bowl LII on February 2018. Quarterback Nick Foles capped off a storybook playoff run by being named Super Bowl Most Valuable Player.
Sports betting approved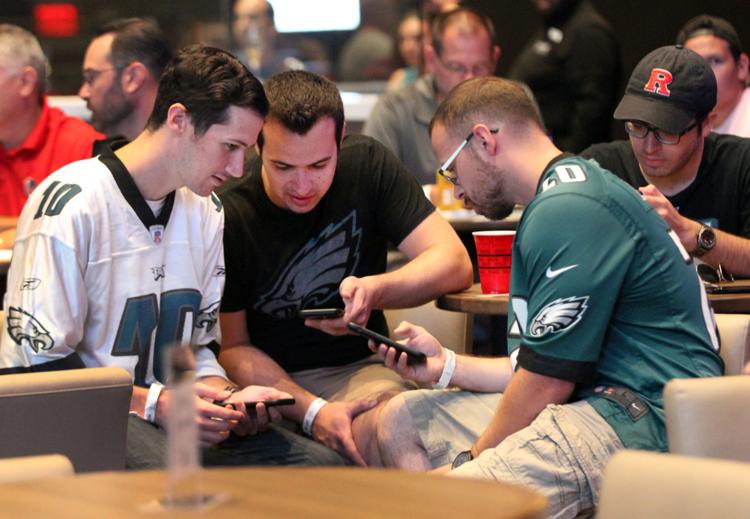 The Professional and Amateur Sports Protection Act of 1992 was overturned by the U.S. Supreme Court on May 14, 2018. On June 14, Borgata Hotel Casino & Spa became the first Atlantic City casino to offer on-site sports betting.
State takeover of Atlantic City
In November 2016, the state Local Finance Board approved the takeover of Atlantic City. The takeover gave the state control over the city's financial decisions, including authority to sell assets, fire workers and break union contracts. The city was hundreds of millions of dollars in debt and teetered on default and a government shutdown during that period. In 2018, newly elected Gov. Phil Murphy's administration announced in September the state would continue to oversee the city. However, the state gave the city a blueprint for regaining local control. A report authored by former U.S. Treasury undersecretary and 2017 Democratic gubernatorial candidate Jim Johnson listed several recommendations for city and state officials as well as a plan for implementing them.
Sandy makes landfall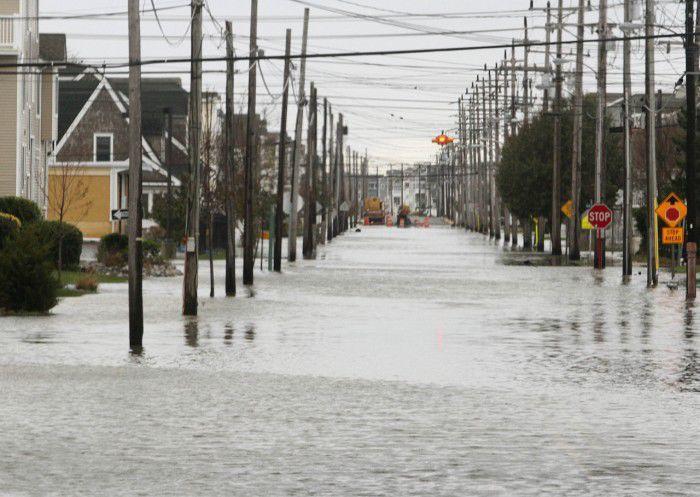 Hurricane Sandy was the deadliest storm of tropical origin to strike the states outside the South since Agnes in 1972. It made landfall near Brigantine on Oct. 29, 2012. At least 650,000 houses were damaged or destroyed by Sandy along the East Coast. In New Jersey, 346,000 housing units were damaged or destroyed, with 22,000 of those uninhabitable. Nearly 19,000 businesses each had damage worth at least $250,000. Utility and sewer infrastructure repairs were estimated at $4 billion.
Atlantic City casino industry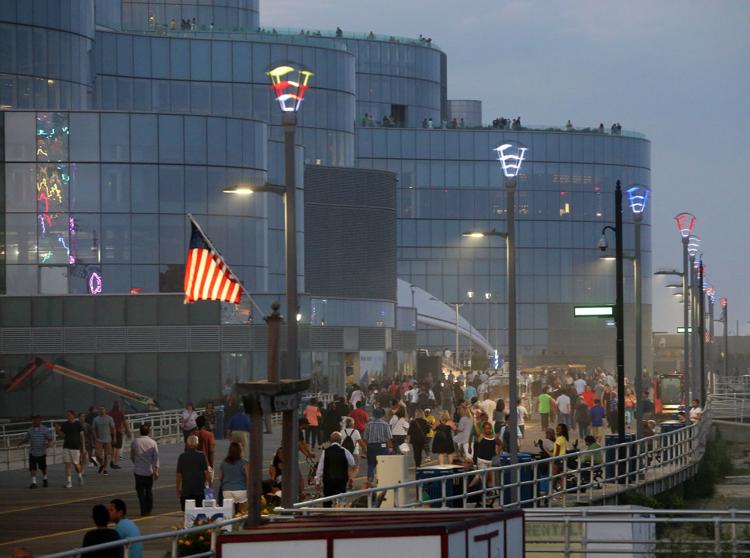 The resort casino industry had a roller-coaster decade. After a strong start, the city saw five casinos close during the middle part of the decade. A few years later, Hard Rock Casino & Hotel and Casino Atlantic City and Ocean Casino Resort opened their doors at the site of the former Trump Taj Mahal and at the former site of Revel, respectively. In 2019, total annual gaming revenue reported by Atlantic City casinos rose above $3 billion in November for the first time since 2012, when there was 12 operational properties.
Stockton under new leadership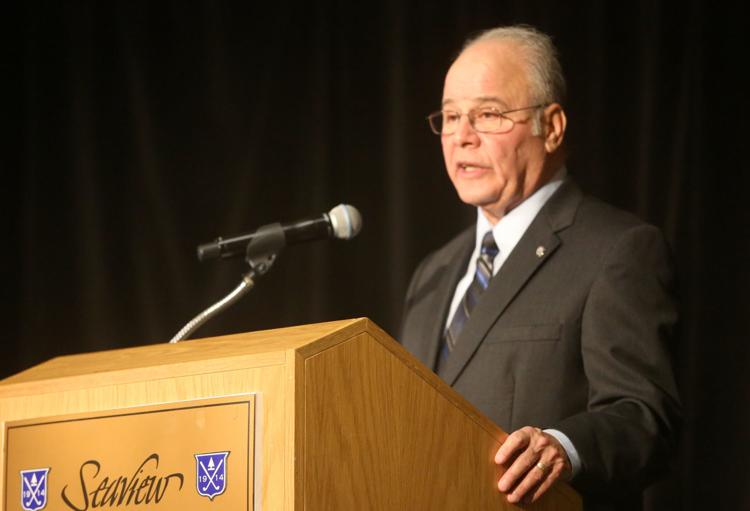 In December 2015, Harvey Kesselman was named president of Stockton. Kesselman, who was previously provost and executive vice president at Stockton, replaced Herman Saatkamp, who resigned amid controversy over the 2014 purchase of the former Showboat Casino, which he had planned to convert into an Island Campus until a land-use covenant dispute stalled the project.
LoBiondo out, Van Drew in
In November 2017, Republican Frank LoBiondo announced that he would not seek re-election for his House of Representatives seat, which he held for 24 years representing the 2nd congressional district in New Jersey. Democrat Jeff Van Drew won the seat during the Nov. 2018 General Election. After saying he would not support the House of Representatives' impeachment of President Donald J. Trump, Van Drew switched parties and became a Republican. Van Drew announced the switch in an Oval Office event with the president. During the event, Van Drew said Trump has his "undying support."